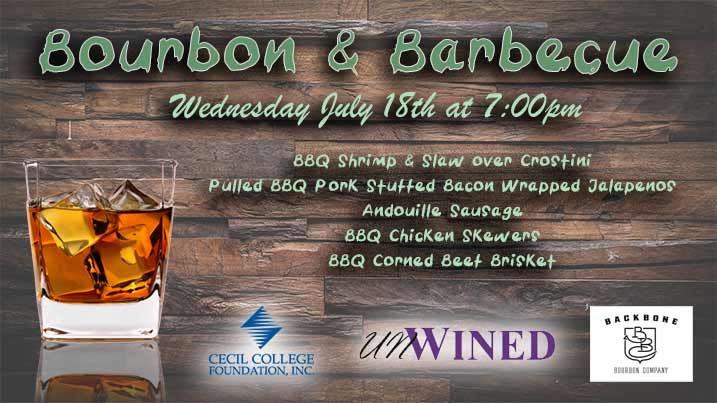 Evening of Bourbon and Barbecue
The Cecil College Foundation will host an Evening of Bourbon and Barbecue to benefit the college's scholarship fund.
Come sample some of the best barbecue in the region as it is paired with a selection of Bourbons and Ryes from Backbone Bourbon Company.
This year's event will be held on Wednesday, July 18, 2018, beginning at 7 p.m. at the UnWined Restaurant in North East, Maryland.
Barbecue Menu will include:
BBQ Shrimp & Slaw over Crostini
Pulled BBQ Pork Stuffed Bacon Wrapped Jalapenos
Andouille Sausage
BBQ Shrimp & Slaw over Crostini
BBQ Chicken Skewers
BBQ Corned Beef Brisket
Cole Slaw
Potato Salad
BBQ Baked Beans
Applewood Smoked Mac & Cheese
Non-Alcoholic Beverages: Iced Tea, Coffee, Soda & Water
Tickets are $40 with $10 per ticket supporting scholarships through the Cecil College Foundation.
Purchase tickets online or call (410) 287-4300 to make a reservation, credit card deposit required.