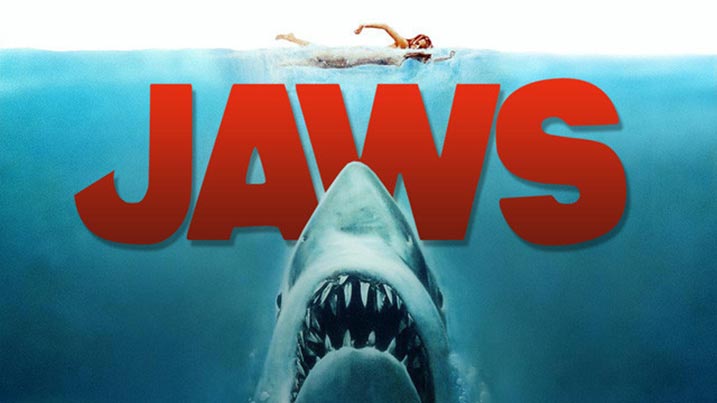 Milburn Stone Theatre presents Jaws
During a beach party at dusk on Amity Island, New England, a young woman, Chrissie Watkins, goes skinny dipping in the ocean. While treading water, she is violently pulled under. The next day, her partial remains are found on shore. The medical examiner's ruling that the death was due to a shark attack leads police chief Martin Brody to close the beaches. Mayor Larry Vaughn overrules him, fearing that the town's summer economy will be ruined. The coroner now concurs with the mayor's theory that Chrissie was killed in a boating accident. Brody reluctantly accepts their conclusion until another fatal shark attack occurs shortly thereafter. A bounty is placed on the shark, prompting an amateur shark-hunting frenzy. Local professional shark hunter Quint offers his services for $10,000. Meanwhile, consulting oceanographer Matt Hooper examines Chrissie's remains, and confirms her death was caused by a shark—an unusually large one.
When local fishermen catch a tiger shark, the mayor proclaims the beaches safe. Hooper disputes that it is the same predator, confirming this after no human remains are found inside it. Hooper and Brody find a half-sunken vessel while searching the night waters in Hooper's boat. Underwater, Hooper retrieves a sizable great white shark's tooth embedded in the submerged hull. He drops it in fright after encountering a partial corpse. Vaughn discounts Brody and Hooper's claims that a huge great white shark is responsible for the deaths, and refuses to close the beaches, allowing only added safety precautions. On the Fourth of July weekend, tourists pack the beaches. Following a juvenile prank in which the presence of a shark is simulated, the real shark enters a nearby estuary, killing a boater and causing Brody's oldest son, Michael, to go into shock. Brody then convinces Vaughn to hire Quint.
Quint, Brody, and Hooper set out on Quint's boat, the Orca, to hunt the shark. While Brody lays down a chum line, Quint waits for an opportunity to hook the shark. Without warning, it appears behind the boat. Quint, estimating its length at 25 feet (7.6 m) and weight at 3 tons, harpoons it with a line attached to a flotation barrel, but the shark pulls the barrel underwater and disappears.
It becomes a story of survival on the high seas.
Starring Roy Schneider, Robert Shaw and Richard Dreyfuss. Directed by Stephen Spielberg.
Recommended for ages 13 and up.
ALL TICKETS: $7 | POPCORN COMPLIMENTARY WITH ADMISSION