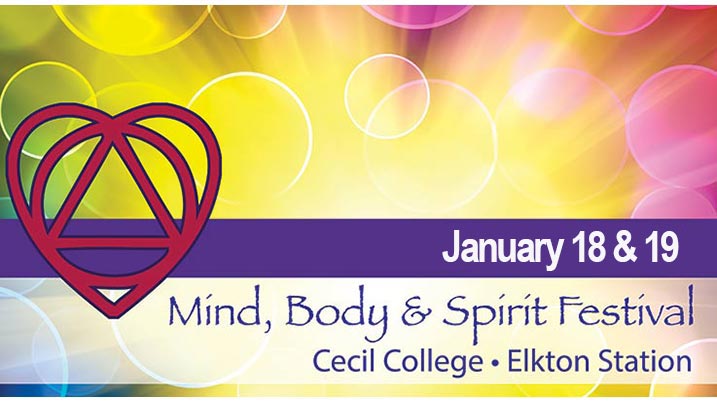 MIND • BODY • SPIRIT Festival
Expand your knowledge, relax your body, and bolster your spirit during this day of rejuvenation.
Friday Night Special: Come shop and indulge in vendor services. The holidays are over; join the festival and experience "me" time.
Saturday Main Event: Experts share their knowledge during informative breakout sessions. Vendors are located on all three floors of the building selling items to meet all of your holistic needs as well as unique gifts. Join us for this energizing day to learn more about aura photography, card readings, crystal energy, essential oils, health and nutrition, massage, meditation, reflexology, reiki, spiritual counseling and much more.
Wine, beer and other beverages available to purchase
Vendors • Breakout Sessions
January 18 & 19 (Snow Dates January 26 & 27)
Friday, 6 – 9 p.m. and Saturday, 9 a.m. – 6 p.m.
Pre-registration: $25 includes Friday night,
entrance and lunch on Saturday
Friday only entrance: $5
You may still walk in on Saturday and register for $25.
Cash only on day of event.
Elkton Station • 107 Railroad Avenue, Elkton