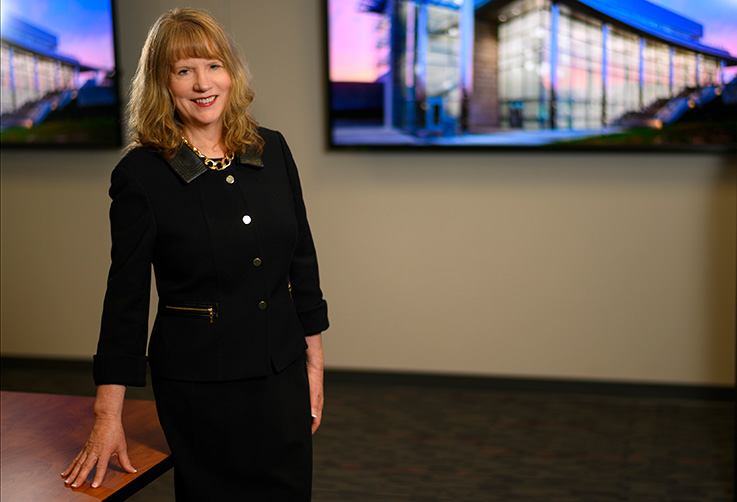 Dr. Mary Way Bolt
President
Tweet #CecilCollPres
A lifelong resident of Cecil County, Dr. Mary Way Bolt began her college education at Cecil College by earning an associate degree in nursing in 1986. She returned to the college in 1990 as a member of the nursing faculty and was promoted to nursing department chair, director of nursing education, acting dean of instruction, and associate dean for nursing, allied health and hea​lth services.
Bolt, who was named vice president of academic programs in 2004, earned a bachelor's degree in nursing from the University of Maryland Baltimore County, a master's in community health nursing from the University of Maryland Baltimore, and a doctorate in higher education and leadership from Widener University.
President's Staff
Dr. Kimberly Joyce's Profile
As Cecil College's chief student affairs officer, Kimberly Joyce provides leadership and oversight for admissions, advising, registration, financial aid, career services, student life, multicultural programs, and the library. She provides college-level outreach to students and has responsibilities to manage all of the programmatic logistics associated with student retention and completion.
Joyce began her position at Cecil College in 2017 bringing with her 25 years of higher education experience from leadership positions at both community colleges and universities. Joyce holds a bachelor's degree in English and psychology from Rutgers University, a master's of education degree in student personnel services from Rowan University, and a doctoral degree in educational leadership from Rowan University.
Brandon Brice's Profile
Brandon has stayed true to his commitment to service and education, by earning a Bachelor's in Business Administration from Howard University and a Master's of Science from Rutgers University. As a Graduate student, he served as a fellow for the United Nations Foundation and the Heritage Foundation in Washington, D.C.
Brandon began his career as a staffer working on Capitol Hill for the Office of former United States Speaker J. Dennis Hastert. Upon graduation, he would serve as an Associate with the National Urban League's Economic Opportunity Institute. He would then serve as Director of Education Affairs in the Office of the New Jersey Governor, Hon. Chris J. Christie. He later served as an Executive role with the Boy Scouts of America and as Director of Philanthropy for the United Way of Delaware. Today, Brandon Brice proudly serves as Vice President, College Advancement and Community Relations for Cecil College.
Brandon has given lectures at Princeton University, the Baltimore Harbor League, the National Black Law Students Association, the American Enterprise Institute and the Hamilton Society in Washington, D.C. He is a 2018 recipient of the Michigan Chronicle's Distinguished Men of Excellence Award, the Spirit of Michigan Award in 2018 and was appointed by Delaware Governor John Carney, D-DE to serve on the Magistrate Judicial Screening Committee. He is a proud member of Alpha Phi Alpha Fraternity, Inc., and is a founding member of the 100 Black Men of Delaware. Brandon serves on the Board of Directors of the Lincoln Club of Delaware, Caezer Rodney Institute, Boy Scouts of America Del Mar Va Council, Great Oaks Charter Schools Network and the Delaware Public Safety Council. He resides in Wilmington, DE.
Chris Mills' Profile
Cecil College's Vice President of Finance and Administration, Chris Mills, is responsible for the leadership, management, and supervision of the finance, facilities, and capital program operations of the College in addition to acting as liaison for the bookstore and the APGFCU campus branch. Mills is tasked with delivering strategic guidance on all fiscal, budgetary, and business operations matters. Mills provides oversight and leadership in the development of the annual legislative operating and capital budgets and is tasked with leading and managing the achievement of short-term and long-term institutional plans for administrative services and fiscal affairs. Mills assumed the role of Vice President of Finance and Administration after previously serving as the College's Director of Facilities and Capital Projects.
Mills earned a Bachelor of Science in Business Administration/Project Management from Columbia Southern University before completing a Master of Business Administration (MBA) - Finance Concentration from Columbia Southern University. Mills also completed the Duke University Executive Education Leadership Program and possesses certifications as an Accredited Marine Port Executive (AMPE), Certified Port Executive (CPE), and maritime facility security management Facility Security Officer (FSO).
Dr. Christy Dryer's Profile
Cecil College's Vice President for Academic Programs, Christy Dryer, DNP, manages a multi-faceted division as a vital member of the College's senior leadership and the President's Cabinet. Dr. Dryer serves as the senior liaison to academic program committees and primary advisor on academic matters, providing future-oriented, innovative and strategic leadership for the College's educational programs.
The Vice President of Academic Programs supervises and provides academic leadership for deans, department chairs, and faculty, directing development and implementation of strategic and operational plans for Academic Programs that support the College vision and mission, and prepares the annual budget for Academic Programs in alignment with the College's strategic plan.
Before becoming Vice President for Academic Programs, Dr. Dryer was the Dean of Nursing and Health Professions at Cecil College, where she was responsible for the overall management and supervision of the Associate Degree Nursing program, Licensed Practical Nursing program, non-credit healthcare career programs, Physical Therapist Assistant program, Health, and Physical Education division, and the Fitness and Wellness Center.
Dr. Dryer earned her Doctorate of Nursing Practice from the University of Maryland after completing a Bachelor of Science in Nursing and a Master of Science in Nursing, with a focus in education, from the Indiana University of Pennsylvania and the University of Delaware, respectively.
She is a licensed Registered Nurse in the State of Delaware and is a Certified Nurse Educator under the National League of Nursing.
NAME' Profile
Kelly McVeigh is the Chief Information Officer (CIO) at Cecil College where she provides leadership, management, and strategy for Information Technology and Institutional Research services.
McVeigh is a higher education leader in innovative information and instructional technologies, instructional and learning space design, and distance education. She mentors, coaches, and leads a highly-skilled, distributed information and instructional technology team that delivers exceptional learning, technology, and security solutions – resulting in increased student achievement, improved organizational operations, and award-winning performance.
McVeigh is highly effective at strategic planning and tactical execution with a unique skill set, including academic administration, information technology administration, change management, policy analysis and development, curriculum development, and faculty professional development.
Committed to access, equity, and quality issues, McVeigh engages resources to develop a culture of trust, teamwork, creative problem-solving, and leadership.
McVeigh began her career at West Chester University of PA, then served as the Director of Academic Technology Services for Ellucian at Immaculata University in Malvern, PA. She was the Director for Digital Innovation and eLearning at Fort Lewis College in Durango, CO and the Director for the Center for Creative Instruction at Delaware Technical Community College. Prior to becoming the CIO at Cecil College, McVeigh held the top IT leadership position as the Vice President for Information and Instructional Technology at Delaware Technical Community College.