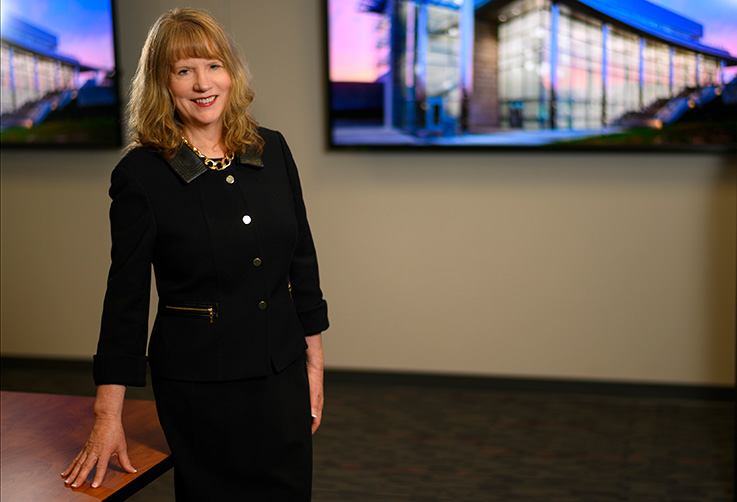 Dr. Mary Way Bolt
President
Tweet #CecilCollPres
A lifelong resident of Cecil County, Dr. Mary Way Bolt began her college education at Cecil College by earning an associate degree in nursing in 1986. She returned to the college in 1990 as a member of the nursing faculty and was promoted to nursing department chair, director of nursing education, acting dean of instruction, and associate dean for nursing, allied health and hea​lth services.
Bolt, who was named vice president of academic programs in 2004, earned a bachelor's degree in nursing from the University of Maryland Baltimore County, a master's in community health nursing from the University of Maryland Baltimore, and a doctorate in higher education and leadership from Widener University.
President's Staff
Dr. Kimberly Joyce
Vice President of Student Services and Enrollment Management
Personal Profile

Michelle Williams
Interim Vice President of Community Relations and College Advancement


Chris Mills
Vice President of Finance and Administration
Personal Profile

Dr. Christy Dryer
Vice President of Academic Programs
Personal Profile

Michelle Williams
Executive Director, Human Resources
Personal Profile

Ian Cooper
Interim Chief Information Officer
Personal Profile
Dr. Kimberly Joyce's Profile
As Cecil College's chief student affairs officer, Kimberly Joyce provides leadership and oversight for admissions, advising, registration, financial aid, career services, student life, multicultural programs, and the library. She provides college-level outreach to students and has responsibilities to manage all of the programmatic logistics associated with student retention and completion.
Joyce began her position at Cecil College in 2017 bringing with her 25 years of higher education experience from leadership positions at both community colleges and universities. Joyce holds a bachelor's degree in English and psychology from Rutgers University, a master's of education degree in student personnel services from Rowan University, and a doctoral degree in educational leadership from Rowan University.
Chris Mills' Profile
Cecil College's Vice President of Finance and Administration, Chris Mills, is responsible for the leadership, management, and supervision of the finance, facilities, and capital program operations of the College in addition to acting as liaison for the bookstore and the APGFCU campus branch. Mills is tasked with delivering strategic guidance on all fiscal, budgetary, and business operations matters. Mills provides oversight and leadership in the development of the annual legislative operating and capital budgets and is tasked with leading and managing the achievement of short-term and long-term institutional plans for administrative services and fiscal affairs. Mills assumed the role of Vice President of Finance and Administration after previously serving as the College's Director of Facilities and Capital Projects.
Mills earned a Bachelor of Science in Business Administration/Project Management from Columbia Southern University before completing a Master of Business Administration (MBA) - Finance Concentration from Columbia Southern University. Mills also completed the Duke University Executive Education Leadership Program and possesses certifications as an Accredited Marine Port Executive (AMPE), Certified Port Executive (CPE), and maritime facility security management Facility Security Officer (FSO).
Dr. Christy Dryer's Profile
Cecil College's Vice President for Academic Programs, Christy Dryer, DNP, manages a multi-faceted division as a vital member of the College's senior leadership and the President's Cabinet. Dr. Dryer serves as the senior liaison to academic program committees and primary advisor on academic matters, providing future-oriented, innovative and strategic leadership for the College's educational programs.
The Vice President of Academic Programs supervises and provides academic leadership for deans, department chairs, and faculty, directing development and implementation of strategic and operational plans for Academic Programs that support the College vision and mission, and prepares the annual budget for Academic Programs in alignment with the College's strategic plan.
Before becoming Vice President for Academic Programs, Dr. Dryer was the Dean of Nursing and Health Professions at Cecil College, where she was responsible for the overall management and supervision of the Associate Degree Nursing program, Licensed Practical Nursing program, non-credit healthcare career programs, Physical Therapist Assistant program, Health, and Physical Education division, and the Fitness and Wellness Center.
Dr. Dryer earned her Doctorate of Nursing Practice from the University of Maryland after completing a Bachelor of Science in Nursing and a Master of Science in Nursing, with a focus in education, from the Indiana University of Pennsylvania and the University of Delaware, respectively.
She is a licensed Registered Nurse in the State of Delaware and is a Certified Nurse Educator under the National League of Nursing.
Michelle Williams' Profile
Cecil College's Executive Director for Human Resources, Michelle Williams, is responsible for providing strategic leadership and management for all aspects of human resources. She is a member of Cecil College President Mary Way Bolt's executive team, working collaboratively to develop strategic programs and innovative practices supporting the College's mission and long-term strategic goals.
Williams joined Cecil College in 2022. The Executive Director's role is to foster innovative and creative problem-solving initiatives through listening and communicating with the College community. Obligations include strategic oversight of all Human Resources functions, including employee relations, compensation, benefits, recruiting, organizational development, policy development, training, and payroll.
Williams served seven years as executive director of human resources at Baltimore City Community College. She earned a Bachelor of Science in Business Administration from Sojourner-Douglass College before completing her Master's degree in Human Resource Management from Towson University. She also holds an Advanced Management Certification.
Ian Coopers' Profile
As interim Chief Information Officer, Ian B. Cooper oversees Cecil College's Information Technology operations. These include managing and implementing technology to support the goals and strategies of the institution, supervising the network systems, establishing IT-related projects, providing leadership to IT specialists, creating, and adapting technological platforms to improve the client experience, troubleshooting data-related issues and establish regular maintenance.
Cooper has more than a decade of experience supporting higher education systems as an administrator. His responsibilities covered project management, system administration, contract negotiations, team leadership, and budget planning. Cooper holds a Bachelor of Science in Information System Management from Wilmington University (WU) and is nearing completing a Master of Science in Information System Management from WU.
He is proficient with Microsoft Workstation Operating Systems, Microsoft Server Operating Systems, and other operating systems such as Macintosh OS10–11 and Linux. He has extensive experience with Teams, Zoom, WebEx, and Skype for Business video conferencing software, cloud environments, and many educational platforms and hardware.