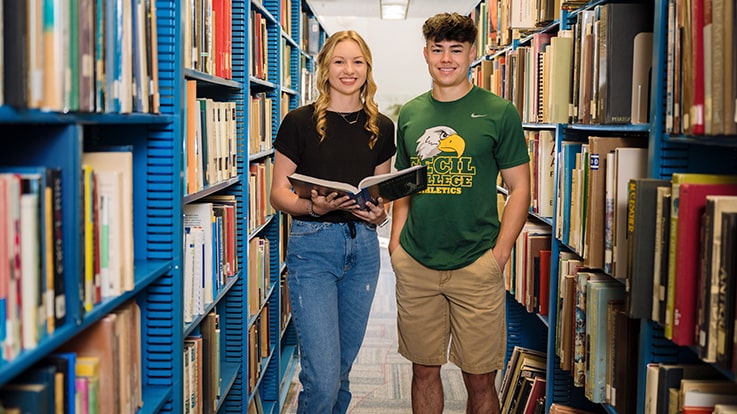 What's Available
Check out books with your free library card. All Cecil County residents are eligible, just bring verification of your local home address when you come in.
Use the computers. Plug in. Recharge.
Study. Chill out. Meet friends.
Browse newspapers, magazines, and the popular reading collection.
View the local weekly job listing and employment resources.
Library Hours
As the library reopens to the community, the library will continue to offer its services to students remotely as well as on-site. For more information, please visit the Virtual Support page.
Hours for the library change periodically. These are the current hours, which are valid through December 16, 2023:
| Days | Hours |
| --- | --- |
| Monday | 7:30 am – 8:00 pm |
| Tuesday | 7:30 am – 8:00 pm |
| Wednesday | 7:30 am – 8:00 pm |
| Thursday | 7:30 am – 8:00 pm |
| Friday | 7:30 am – 8:00 pm |
| Saturday | 11:00 am – 4:00 pm |
Scheduled Closures
The library will be closed on Wednesday, November 22 through Sunday, November 26 in observance of the Thanksgiving holiday.
Resources & Special Collections
Children's Literature Library

A collection of children's books for use by students in children's literature class and in their practice teaching experiences.

Maryland Collection

The library maintains a collection of materials dealing with the history of Cecil County and the state of Maryland. The collection includes magazines, books, maps and photographs. These materials may not be checked out but can be used in the library.

Bridges of Cecil County

The photographs in this collection were taken from original prints belonging to the State Highway Administration. Permission to use the digitized prints in an online collection for the public was generously granted by Neil J. Pederson, Administrator of the SHA. In addition to photographs, the library has a number of documents pertaining to historical properties, state roads, and bridges in Maryland.