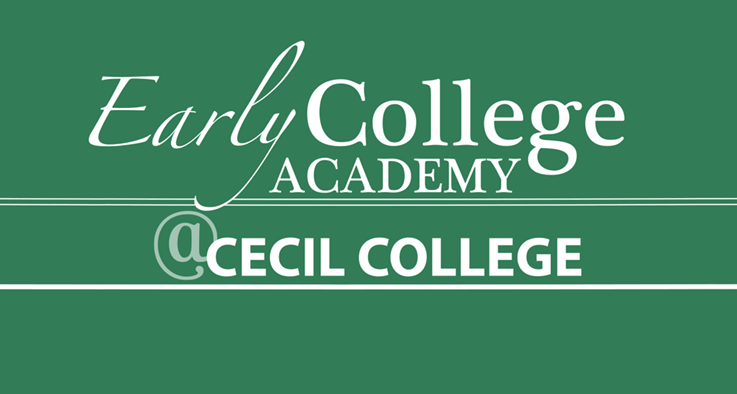 About Early College Academy
The Early College Academy (ECA) enrolls students beginning in grade 9. Successful students complete high school with a high school diploma (or its equivalent) and an Associates of Arts degree in General Studies from Cecil College.
Prior to their freshman year, ECA students participate in an orientation program to introduce them to academic expectations and resources available to them during their four years in the program. Throughout their enrollment, students are supported by tutors and advisors from Cecil College. While taking classes, students are guided through seminars and individualized advising to help them build the academic skills needed to succeed in high school and college coursework.
Cecil College has three separate Early College Academies. The first began in the 2014/2015 in partnership with Oxford Area School District in Pennsylvania. The second academy began in the 2017/2018 with local homeschool families and our third academy began in 2018/2019 in partnership with Cecil County Public Schools.
How to Enroll
For 8th grade students interested in enrolling in one of Cecil College's Early College Academies, the process varies depending on where they plan to attend high school.
Cecil County Public High School Students
Students planning to attend a Cecil County public high school can find information about enrolling in ECA on ccps.org.
Oxford Area High School Students
Students planning to attend Oxford Area High School can find information about enrolling in ECA on oxfordasd.org. Cecil College is conveniently located just 20 minutes from Oxford, PA. Bus transportation is provided by OASD for Oxford High School ECA students traveling to the College.
Homeschool Students
Homeschool students can find information about enrolling in ECA below.
Application Process for Homeschool Students
The ECA application packet includes all the steps and forms needed to apply.
Applying
Submit the documents contained in the application packet by July 15th. Incomplete or late applications will not be considered.
Selection Process
Admission into the Early College Academy will be based on the following factors:
Students must be 14 years of age by December 31st
Minimum of 3.0 unweighted grade point average
Successful completion of Algebra I (or higher) in mathematics
Official middle school transcript or its equivalent
Review of student questionnaire
Note: No preference will be given for early applications. Applications will only be reviewed for completeness prior to the application deadline. All applications for acceptance will be evaluated at the same time.
Confirmation of Acceptance
After applications are reviewed, students accepted into the ECA will receive a letter of acceptance by July 15th. Upon receipt of an acceptance letter, students must sign an ECA letter of intent, confirming acceptance into the Academy by August 1st. Signed letters can be sent via:
Email as a PDF attachment to April Stern, Assistant Director of Advising/ECA Coordinator, at astern@

null

cecil.edu.
Mail to:
Cecil College
Attn: April Stern, Assistant Director of Advising/ECA Coordinator
1 Seahawk Drive
North East, MD 21901
Fall Orientation
Accepted students will attend the mandatory orientation night at Cecil College in August. ECA schedules will be provided the night of orientation.
More Information
If you have any questions or want more information about ECA, please contact April Stern at (410) 287-1045 or astern@nullcecil.edu.