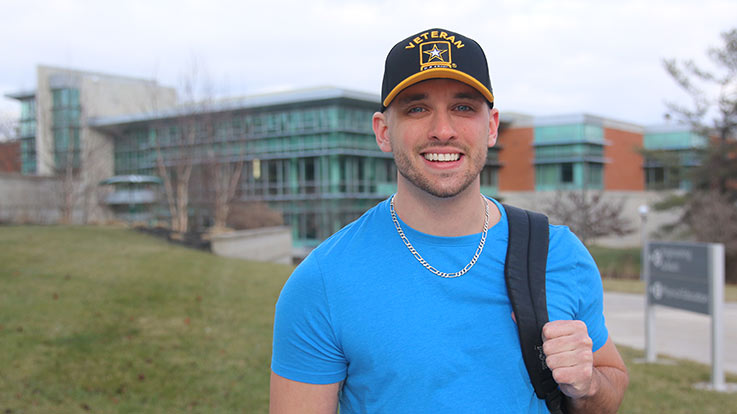 Cecil College is a member of the State of Maryland's College Collaboration for Student Veterans. Every effort is made to ensure the educational success of our returning Veterans, including their recruitment, successful transition to higher education, retention and eventual graduation.
Resources & Programs
Through the Office of Student Life and the VA Certifying Officials, the College offers the following resources and programs:
Student Veterans Club

Veterans and Service Members Lounge

Campus Support Services

Veteran Benefits
Checklist for Benefits (Chapter 33 / Post 9/11 GI Bill®)
Enrollment Requirements
The courses you register for must be applicable to the degree requirements of your major (VA regulation).
Dual majors are not approved for VA payment at Cecil College. The VA will only approve courses towards the primary degree plan.
You may repeat a course if you failed the course with a grade of F or R. The GI Bill® will not cover the costs associated with repeats if you received a grade of D or higher in the previous attempt unless your degree requires a higher grade.
You are required to notify your Certifying Official and complete a VA Form 22-1995 when you change your major.
When you add, drop, or withdraw from courses, you are required to notify your Certifying Official immediately. If an overpayment occurs, you will be responsible for making arrangements to pay the VA for the balance due.
Your schedule of classes is used by the VA to determine your housing allowance eligibility.
GI Bill® is a registered trademark of the U.S. Department of Veterans Affairs (VA). More information about education benefits offered by VA is available at the official U.S. government website at www.benefits.va.gov/gibill.
Payment Information
If you have not received your Certificate of Eligibility (COE) or printed your eBenefits Statement, you are required to make payment in full or set up the payment plan at the time of registration.
If you are eligible for less than 100% of the benefit, you are required to pay the remaining portion of tuition and fees not covered by the VA at the time of registration.
If you are an out-of-state student, the VA will pay up to the in-state tuition rate. The cost differential in tuition and fees is payable to Cecil College at the time of registration. Out-of-state students should see VA Certifying Official to determine if a tuition waiver is applicable.
Monthly Housing Allowance (BAH)
You must be a full-time student to receive the full BAH payment.
BAH payments will be prorated if your rate of pursuit is 51% to less than full-time.
Veterans enrolled in only online courses will receive housing allowance payable equal to half the national average BAH for E5 with dependents.
Active Duty members and their spouses are not eligible for BAH.
Your rate of pursuit is calculated based on your stop and start dates. A term that is less than the standard length may have BAH eligibility requirements.
Books and Supplies
You will receive up to $1,000.00 for books and supplies per academic year.
The books and supplies stipend is $41.67 per credit hour for up to 24 credit hours.
The stipend is prorated based on the percentage of your benefit level.
Payments are issued directly to the student in a lump sum for each semester.
You must register early in order to get your book stipend before the start of your classes.
VA Contacts