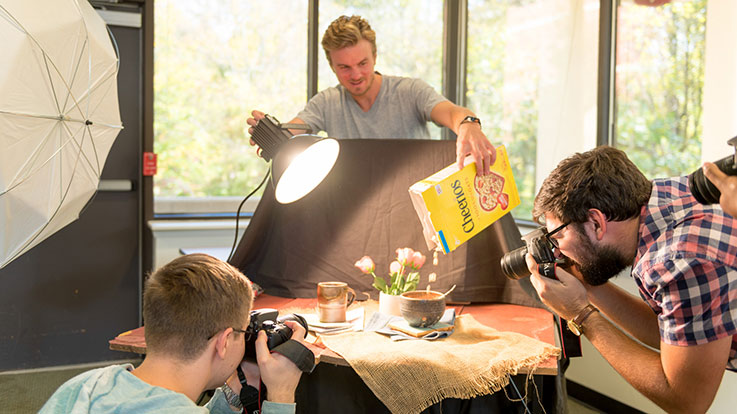 Our clubs and organizations, which are coordinated through the Student Life Office, each work with a faculty advisor to plan events, participate in college and community functions, and provide a space for interested students to gather.
---
Cecil College students are welcome to join any of our clubs to gain practical experience and valuable professional skills. Students are also encouraged to start their own club. Being a part of student clubs and organizations is a great way to meet new friends, have fun, and try new things! Contact the Student Life Office by email at studentlife@nullcecil.edu or call (443) 674-1987 if you have questions or want to know more.
Academic Clubs
Alpha Alpha Theta (AAT)

The Cecil College chapter of the Phi Theta Kappa (PTK) National Honor Society is Alpha Alpha Theta (AAT). PTK recognizes college students' academic achievement and provides opportunities for members to grow as scholars and leaders. Students who meet the chapter's eligibility requirements are invited to join AAT.
Diversity and Inclusion Clubs
Black Student Union (BSU)

For students interested in advocating the needs of students while empowering, teaching, discussing, and exploring the Black experience. Provides opportunities to engage in community efforts to promote cultural diversity and peaceful coexistence of multicultural groups.

Cecil's International Affinity Organization (CIAO)

Dedicated to promoting global awareness and organizing programs emphasizing cross-cultural understanding and appreciation.

Multicultural Student Union (MSU)

Students that sponsor monthly cultural and educational events/celebrations.

Seahawk Pride

Social, supportive, and solidarity group for LGBTQ+ students.
Service and Social Action Clubs
Student Leadership Council (SLC)

Committed to leading campus initiatives, representing student thoughts and opinions, and voicing student needs and concerns. Provides opportunities for leadership through volunteerism on campus and in the community.

Student Veterans

Offers programs, resources, and support to students who are active duty, veterans, reserves, or dependents.
Special Interest Clubs
Art

Creates an environment for those interested in the arts, to encourage an awareness and appreciation of the arts, and to provide opportunities that support the visual arts within the College and the community.

Biology

For students with an interest in biological sciences who wish to connect with other science-minded people and expand their scientific knowledge and skill set.

Chess

Welcome to all students who are interested in the game of chess, whether they are beginners or seasoned veterans. The club provides a playing location and an opportunity to learn from one another.

Computer Science/Cybersecurity

Provides enjoyable and challenging activities, networking events, and opportunities to successfully develop, advance and enhance technological skills, abilities and awareness.

Criminal Justice

Gives students the opportunity to broaden their understanding and familiarity with the growing criminal justice fields and career paths.

Esports

For students interested in organized video game competitions, either individually or as a team.

GeekDom

Offers students a place to increase their enjoyment of science fiction and fantasy literature, films, and video games.

Music

Open to all students interested in music. This club strives to encourage all students to contribute and enjoy their musical abilities/talents, as well as to provide an outlet for all students interested in music.

Pickleball – The Dink Tank

For students interested in learning and playing pickleball, meeting new people, and staying active on campus. The club welcomes players of all skill levels.

Robotics

Open to any students interested in learning about and working with robots.

Seahawk Squawk

Cecil College's student-run news publication. The Seahawk Squawk is looking for students to serve as reporters, section editors, copy editors, photographers, and web designers.

Visual Communications

For students interested in using visual elements to communicate ideas and information through media. This includes, but is not limited to, photography, digital imaging, graphic design, web design, video production, animation, gaming, and multimedia.
Spirituality Clubs
Amazing Grace

Focuses on equipping students to serve others on their campus and in their community, to share the Gospel with them, and to connect them with God and His Word.