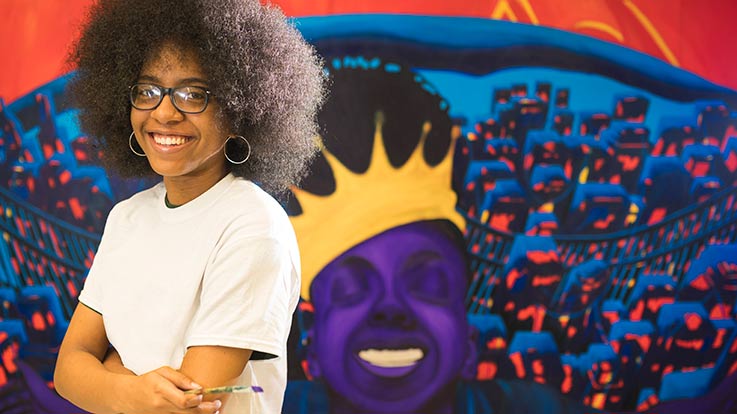 The Office of Diversity and Inclusivity is devoted to enriching the lives of all students by focusing on diversity, inclusion, equity, scholarship, leadership, and service.
Multicultural Student Union (MSU) Club
Open to all Cecil College students, the Multicultural Student Union Club sponsors annual celebrations and values diversity in social, cultural, educational, and volunteer activities. The club assists in the planning of multicultural programs and activities, such as:
Heritage Celebrations: African American, Asian, Hispanic, Native American
Martin Luther King, Jr. Celebration
Cultural and leadership conferences
LGBTQ+ Resources
Cecil College Student Life offers a comprehensive list of resources/available support for LGBTQ+ students both on campus and at local, regional, and national levels. In addition to resources, Cecil College also provides gender-neutral bathrooms on our North East and Elkton Station campuses.
Cecil International Affinity Organization (CIAO) Club
The Cecil International Affinity Organization Club is dedicated to promoting global awareness. CIAO organizes programs emphasizing cross-cultural understanding and appreciation.
Peer-to-Peer Mentorship
Cecil College offers a Peer-to-Peer Mentorship program for all underrepresented students (African American, Asian, Latino, Native American, Native Hawaiian or Other Pacific Islanders and Military-Related students). New Cecil College students are paired with more seasoned students to assist them in finding College resources to help them succeed.
Multicultural Student Services Advisory Board (MSSAB)
Community representatives join the College in recruitment and retention of underrepresented students. The Board also assists the College with its yearly Cultural Diversity Plan.
Scholarships
The Cecil College Foundation is the parent organization for students seeking need-based and merit scholarships. The Office of Student Diversity and Inclusivity and MSAAB assists with raising money for the Eva M. Muse Endowed Scholarship and the Laney Hoxter Scholarship. Cecil College is privileged to receive scholarship support from Alpha Phi Alpha Fraternity, Inc. The Iota Alpha Lambda Chapter (MD) awards a full scholarship to a Cecil College student.