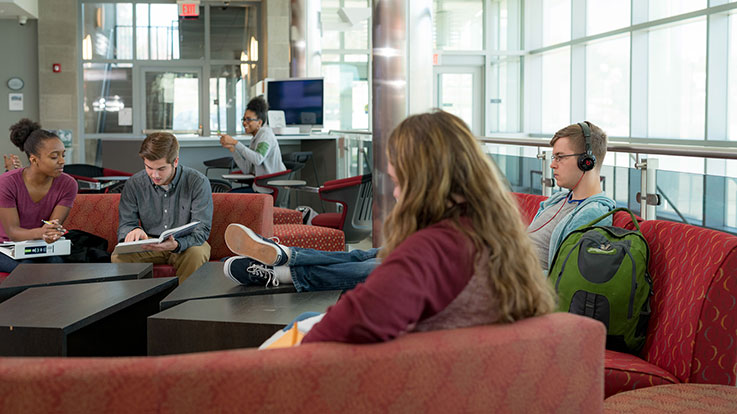 Cecil College provides several options for our students to study, relax, or grab a bite to eat while on campus.
Student Lounges & Spaces
The Technology Center is a popular space for students to utilize and offers the following:
Student Lounge

Located on the first floor, this is a community space available for students to gather, study, eat, watch TV, or just relax. The APG Federal Credit Union at Cecil College is also located here.

Veterans and Service Members Lounge

The lounge is located on the third floor of the Technology Center, Building D, Room 301. For keypad access, please contact Student Life at studentlife@

null

cecil.edu or phone (443) 252-7494. This is a great place for our veteran and service member students to study or meet other veterans on campus.

Zen Den

Located in the Student Life suite, room 114, the Zen Den offers the following services to students:

Relaxation – space can be used for meditation, prayer, relaxing respite, etc.
Lactation Room – furnished with a comfy chair along with hand sanitizer and magazines. Door can be locked and a sign posted for room in use for additional privacy.
Food Pantry – easy access to snacks and meals. Grab and go snack stations are also located in the Library, PE Building lobby, Writing Center, and Elkton Station, located on the third floor, Adult Education Hallway near room 302.

The Zen Den is open Monday–Friday from 8:00 am – 4:30 pm. For more information on any services, please email studentlife@nullcecil.edu.

Student Life Office

Provides a device charging station, campus resource and activities information, board games, and much more!
iStudy Spots
Do you need a place to study or take an online class? Visit our full list of iStudy Spots on campus.
Barnes and Noble Bookstore Cafe
An assortment of hot and cold food options that meet a variety of dietary needs are available at the College Bookstore on the first floor of the Technology Building on the North East campus. Hours of operation are listed on the Bookstore page. Dining areas are available in the Technology Center Student Lounge.
Additional Food Options
Food Trucks
Full schedule coming soon for both North East and Elkton Station campuses!
Vending Machines and Microwaves
Vending machines are available for snacks and beverages (cash or debit/credit card) in each building on the North East and Elkton Station campuses. In addition, microwaves are available in the following locations if you choose to bring your own meals:
Physical Education Building (Building E, North East Campus): 1st floor vending
Engineering and Math Building (Building G, North East Campus): 1st floor vending
Technology Center (Building D, North East Campus): 1st floor, Student Lounge
Microwaves at Elkton Station are located in the vending areas on each floor
APG Federal Credit Union
Created as a unique, new partnership between a community college and a credit union, the APGFCU collegiate branch offers services to the Cecil College community and all local customers. Beyond providing students with easy access to banking services, APGFCU fulfills its mission to make financial education an empowering part of every member's life by partnering with Cecil College's faculty to bring expert advice and real-world experience into the classroom. The branch is the site of growing partnerships with cybersecurity, marketing and, of course, finance classes.