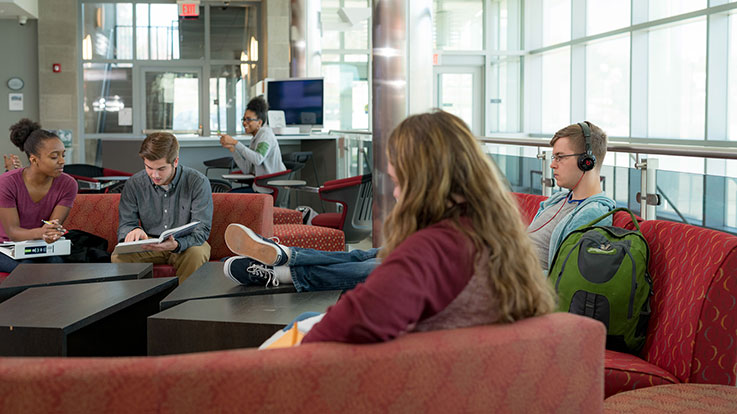 Cecil College provides several options for our students to study, relax, or grab a bite to eat while on campus.
Student Lounges & Spaces
The first floor of the Technology Center is a popular space for students to utilize and offers the following:
Student Lounge

A community space available for students to gather, study, eat, watch TV, or just relax.

Seahawk Roost Cafe

Offers a variety of food and drink options including fresh fruit, salads and yogurt, sandwiches, pizza, snacks, and a large selection of beverages including coffee and fountain sodas.

Media Lounge

A space for club meetings, gaming, or quiet studying.

Ping-Pong Room

Students can checkout paddles and ping-pong balls from the Student Life Office in Room 114.

Student Resource Office

Dedicated space for campus and community resources.

Veterans Lounge

A great place for our veteran students to study or meet other veterans on campus.

Zen Den

A private space located in the Student Life Office that can be utilized as a quiet study area, a lactation room for nursing mothers, or a place to relax between classes.

Student Life Office

Provides a device charging station, campus resource and activities information, board games, and much more!
The Seahawk Roost Cafe
The cafe is located on the North East Campus on the first floor of the Technology Center and offers many delicious products.
Healthy choices:
Lean Cuisine meals
fresh fruit and yogurt
fresh salads and sandwiches
soup (seasonal)
Herr's baked chips
Other offerings:
pizza
Pepsi and Coca Cola products
Monster energy drinks
Wawa coffee
Asti water ice
candy
fresh muffins
Cafe Hours
Days
Hours
Fall/Spring Semester
Monday – Thursday
7:30 am – 6:30 pm
Friday
7:30 am – 4:00 pm
Summer Semester
Monday – Thursday
8:00 am – 4:00 pm
Friday
8:00 am – 2:00 pm