Cecil College is a unified, learning-centered educational institution with an established visual identity and brand that reflects its vision, mission, and culture. In order to promote and maintain this identity, the College will communicate through shared voice as one cohesive institutional brand. In doing so, we elevate Cecil College's reputation and build brand equity. The resources below are meant to help campus partners and stakeholders support the Cecil College brand.
The Department of Marketing and Communications is responsible for supporting the quality and consistency of Cecil College's image and reputation. Any graphics concerns you may have that are not addressed in this manual should be directed to the Department of Marketing and Communications.
Thank you for your active support in maintaining and supporting the identity of Cecil College.
Brand Positioning
Cecil College has been dedicated to providing affordable, quality education for the strengthening of Cecil County and the region both economically and socially since 1968. At Cecil College, our students come first. In fact, every decision made both begins and ends with the question, "How will this benefit our students?"
From our state-of-the-art facilities, exceptional faculty and staff, and free tutoring centers to our internship and career services, Cecil College students receive the full support needed to truly succeed. We also provide financial aid and scholarships to help students realize their dreams. Whether one is seeking a career in the trades, an associate degree, or looking to transfer to a 4-year college or university, Cecil College has the resources to help you reach your goal.
Mission Statement

Cecil College provides a supportive learning environment that focuses on innovation, student success, academic progress, and workforce development. We are committed to promoting opportunities that enrich the quality of life for the diverse communities we serve.

Vision Statement

Transforming the lives of our students and enriching our community.

Unique Value Proposition

As facilitators of independence at an affordable investment, Cecil College helps you "Own Your Future".

Brand Pillars

Quality Education
Close to Home
Affordable Investment
Financial Aid and Scholarships Available
Graphic Identity/Style Standards
To maintain a consistent identity and quality of image to all Cecil College internal and external customers, no document, marketing material, or publication will be printed or duplicated without the proper use of the College name, official College color palette, logo(s) and/or tag line (where appropriate).
The Style Guide and Standards Manual is designed for use by all College staff and faculty to promote:
uniformity in public relations, marketing, and business correspondence for the College at large,
the College in the best possible light to the public, to our students, potential students and vendors.
Colors
Official College colors are green (PMS 356) and gold (PMS 116).
Official College Logos
Use of all official College logos shall adhere to the following guidelines:
Any use of College logo(s) both within the College community and by the public must be approved by the Marketing department prior to use.
College logo(s) may be obtained by contacting the Marketing department with a request and intended use so it can be sized accordingly and the correct version can be provided.
College logo(s) should not be redrawn, rescaled, stretched or altered with graphic elements. Any alteration of the College logo(s) must be approved by the Marketing Department prior to usage.
College logo(s) must be printed/displayed in a single official college color only (black, white, grey, College green, College gold).
College logo(s) must be embroidered or printed on merchandise or clothing items which are in the official College color palette (black, white, grey, College green, or College gold). Please contact the Marketing department for PMS colors and exceptions.
Official College logo(s) must not be accompanied by other graphics such as clip art or images.
Official College logos must not be overlaid or adjacent to any other graphics, images, wording, ideologies or slogans (on any literature, merchandise, clothing, etc.) unless prior approval is obtained from the Marketing department.
The primary mark is preferred for all uses, especially on formal marketing literature. The primary logo must be proportionate to the size of the piece. When using the primary mark, and any other official college logo from Cecil College, please keep these prohibited treatment guidelines in mind: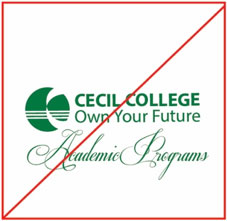 The primary mark should never appear in an unapproved lockup.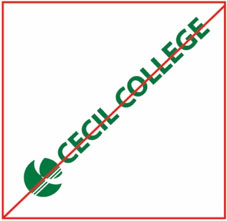 The primary mark should never be rotated.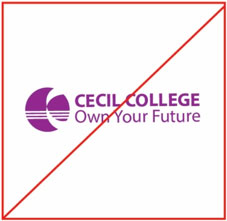 The primary mark should never appear in an unsupported color.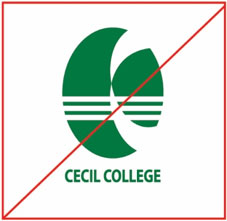 The primary mark should never be stretched or reshaped.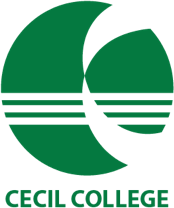 Primary Mark
The Primary Mark is the official College logo including the word mark and will be used on all print and digital materials representing Cecil College to the public including:
all credit and non-credit College recruiting brochures, posters, promotional items, invitations, commencement programs, and catalogs,
all sponsorship opportunity brochures, posters, and print/digital items in the community,
all College business cards and stationery except for Athletics which may use the Primary Athletics Mark,
all College websites. Athletics may use the Primary Athletics Mark (Seahawk) but the Primary Mark (Cecil College Logo) must also be present on the Athletics website,
all College department/program uniforms except Athletics and some informal Student Life clothing, which use the Primary Athletics Mark.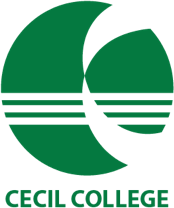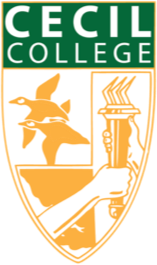 Institutional Seal
The Cecil College seal will be used only on documents of a formal, academic, and official nature. The College seal is not to be used as a logo. Documents that should bear the seal include:
certificates,
diplomas,
legal documents.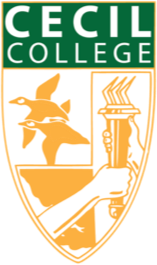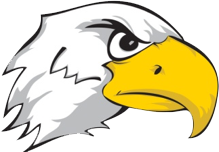 Primary Athletics Mark
Representing the College mascot, the Seahawk logo (and any iterations, thereof) is the primary athletics mark of the College and can only be accompanied by "Cecil College", "Cecil College Athletics", or "Cecil College – (specific athletic team)" word marks. This includes but is not limited to formal uniforms, clothing/merchandise, or literature/print material. It is used in association with athletics, overall College promotion, and, less formally, student life/student ambassadors, in the following manner:
athletic brochures and uniforms ("Cecil College Athletics" and "Cecil College - team specific")
schedules, event programs, clothing and promotional items for students (with "Cecil College", "Cecil College Athletics", or "Cecil College - team specific"), or less formally with "Student Life" referenced in signage/designs
general college literature (accompanied by the primary mark and/or "Cecil College")
The primary athletics mark is not to be used to denote any other College department, division or area/program of study. It is used primarily to promote the entire college, the athletics division/department, and informal student life promotions/signage. The primary athletics mark is not to be combined with the "Own Your Future" tagline.
Official Mascot
Name: Gibson the Seahawk
Named after Robert A. Gibson, who was instrumental in founding the College, the College mascot name was chosen through a committee-executed social media and collegewide contest.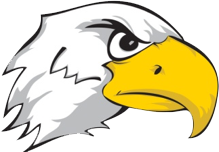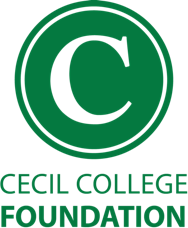 Foundation Mark
The Cecil College Foundation, Inc. logo is used on Foundation brochures, stationery, uniforms, and promotional items only and must be printed, displayed or embroidered in either College green or white. It must be printed, displayed or embroidered on literature, merchandise, or clothing items which are in the official College color palette only (black, white, grey, college green, college gold).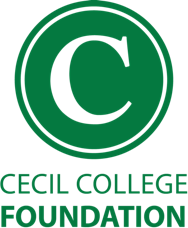 Other Marks
Limited programs, departments, and events within the College have their own logos, such as:
Milburn Stone Theatre
Cecil College department specific/programs of study specific logos. These consist of and are limited to the primary mark with official department/official program of study listed underneath, with a horizontal line separating them. These logos are subject to all official College logo usage guidelines and must represent official departments/programs.
With the exception of the department/program specific logos, all printed materials representing these programs, departments, and events will also include the College's primary mark.
Uniforms
Uniforms or logo clothing representing general or specific college departments/divisions must go through the Marketing Department for design and approval and adhere to the following guidelines:
All department/division specific clothing must utilize the standard primary mark template displaying the official college logo and the official department underneath.
Uniforms or logo clothing must be embroidered/printed in and on the official college color palette (black, white, grey, College green, College gold).
Uniforms may use either the primary mark or the department specific version.
Athletics department uniforms use the primary athletics mark (Seahawk logo), all other departments must use the primary mark with the exception of Student Life/Student Ambassadors, who may use either.
Co-Promotions, Co-Branding, Co-Mingling of Logos, Co-Sponsorships
Any promotion involving another brand requires the approval and proof-approval of the Cecil College Marketing Department. Any person or business using the Cecil College name to market the College's or another's services requires the approval and proof-approval of the Cecil College Marketing Department.
Cecil College Stationery
All stationery and letterhead is created by the Marketing department. All stationery should include the College's main website address. The return address on College envelopes should include only the campus on which the division or unit is located. Envelopes with the College's postal indicia must include the return address of One Seahawk Drive, North East, MD 21901.
Letterhead
In addition to a general College letterhead, major divisions or units of the College have unique letterheads as follows:
Academic Programs
Athletics
Board of Trustees
Continuing Education and Workforce Development
Community and Government Relations and College Advancement
Facilities
Financial Services
Human Resources
Records and Registration
Student Services and Enrollment Management
A letterhead may be obtained in printed hardcopy from Duplication or as a Word document from Marketing. If requesting the Word document to print your own letterhead please also request 24# (24 pound) weight paper from Duplication. This will ensure the paper matches the envelope.
Envelopes
College envelopes are printed in bulk out of house as follows:
Continuing Education and Workforce Development
Cecil College Bulk Mail
Cecil College First Class Mail
Cecil College Transcript
Cecil College Window Envelope
Envelopes may be obtained from Duplication.
The President's Office and Admissions Office have unique letterhead and envelopes that are printed out of house.
Cecil College Email
Profile pictures attached to work email accounts should be limited to professional headshots. Email signatures should contain only the following:
Name and degree designations
Title
Cecil College
Campus address
Work email address and www.cecil.edu
Office and/or cell phone number
Optional: preferred pronouns
Cecil College Business Cards
Business cards will include the following information and style:
full name (with degree designations) and title,
address of the campus where you receive your mail,
direct-dial lines for phone numbers (if you do not have a direct line, the 410-287-1000 exchange will be used with the extension number for those on the North East campus, while the 410-287-1078 exchange with the extension number will be used for those on the Elkton Station campus),
appropriate fax numbers,
appropriate email address,
the College website (main site) only (cecil.edu).
Depending on the division, complete the business card order form found on MyCecil and submit it to Purchasing with the appropriate prior approvals for processing. There is a choice between vertical and horizontal layouts. Business cards are printed by an outside vendor on 80#, white card stock with designated green ink. Example: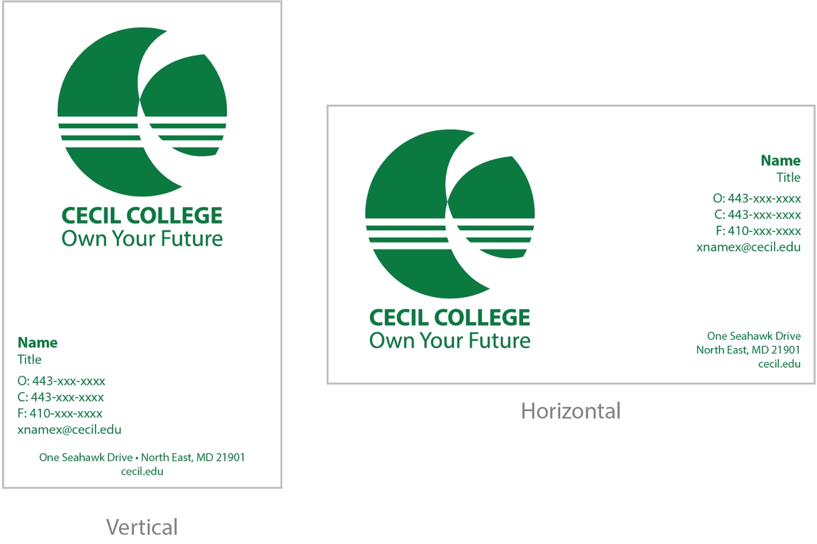 Non-Discrimination Statement
The current College non-discrimination statement is as follows:
It is the policy of Cecil College to not discriminate against any individual by reason of race, color, sex, marital status, citizenship, national or ethnic origin, age, religion, sexual orientation, or disability. Please refer to the College catalog for the complete and detailed nondiscrimination statement.
Capitalization
Capitalization rules will vary, for the purposes of consistency within the College community, the following rules should be followed when writing correspondence, College documents, etc.
The word "college" will be capitalized when it refers to Cecil College.

Example:

Classes start at the College today.

In text, when identifying an individual by name and title, do not capitalize the title. When referring to an individual by title only, capitalize the title only.

Examples:

Jane Doe, the director of marketing, will speak at All College Day.

The Director of Marketing will speak at All College Day.
Social Media Channels/College Websites
The creation of any official College website or social media channel must receive prior approval from the Marketing department. Once approved, full access and administration rights of the site must be provided to the Marketing department.
The Marketing Department reserves the right to edit/alter the branding and content of any college social media channel or website. Any students posting to official College channels must complete Social Media Assistant training, regardless of department. Please contact Marketing for this protocol.
No photos of anyone under 18 years of age should be posted on official College social media sites or websites without a signed release from a parent/guardian. Photos that do not identify minors (do not clearly show their face) are acceptable. Students should not be "tagged" in College social media posts, and student posts should not be reposted in a way that reveals their personal social media accounts, regardless of whether they are public or private accounts.
In-House Monitors
The collegewide monitor system is maintained primarily by the Information Technology department with the content created, added, and/or approved by the Marketing department.