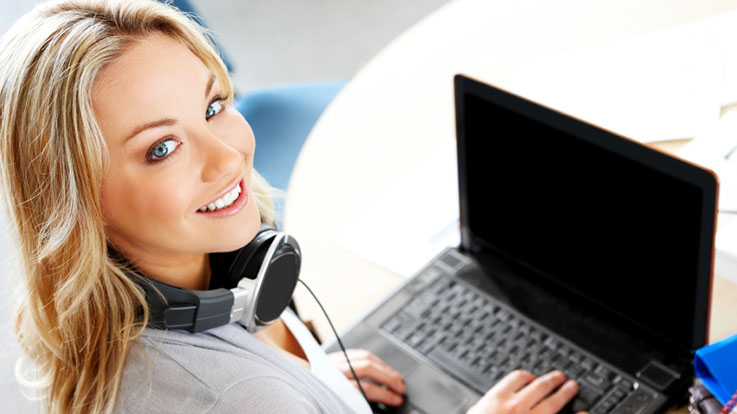 Cecil College offers a variety of online courses to accommodate your schedule and allow you to choose the learning environment that works best for you.
Online classes mean less time commuting and more time for learning. Never miss a class due to inclement weather or transportation problems. Our online classes offer flexibility with the same access to expertise as our on-campus courses.
Are You Ready for Online Learning?
Taking an online course is different than going to a classroom. A "yes" answer to most of the following questions indicates that online courses may be right for you.
Do you have reliable access to a computer and the internet?

To be a successful online student, you need to have regular unlimited access to a computer and the internet. At a minimum, we recommend using at least a Pentium II-based PC or a G3 PowerMac machine. You will also need a reliable internet connection. If you experience frequent busy or dropped signals, you may have difficulty completing courses on time and participating in chat sessions.

Do you enjoy writing and participating in discussions?

Most communication in an online class consists of written messages between you and the instructor and discussions among class participants. If you have difficulty with an assignment or have questions, you must be willing to "speak up" to inform the instructor. Good typing skills also are a plus.

Do you frequently use email and browse the web?

You must login to your online course and interact several times a week. This can include working on assignments, participating in discussions, and responding to email. If you're not accustomed to routinely accessing the internet, it may be difficult to motivate yourself to do the work. You must be disciplined enough to keep your coursework current.

Do you read course material carefully?

All of the material you're required to read for this course is online and you must read it carefully. Some students just print out the syllabus and key information to read offline. It's important to realize you can't just skim over the content and be able to have a clear understanding of when assignments are due and what is expected of you.

Does your schedule make it difficult to attend classes on campus?

One of the major reasons students register for online classes are for the convenience of being able to take the course without having to travel to the course location. Do keep in mind you still must spend about the same amount of time on coursework as for any normal course or workshop.

Do you like to plan ahead and finish assignments a few days ahead of schedule?

It's often tempting to wait until the last minute. If you're a procrastinator, you may have already learned that sometimes things don't work quite as well as you had hoped. With online courses, it's better to get your work done a little ahead of time so if problems do occur, they can be resolved prior to the deadline.

Do you enjoy solving problems and learning new programs on the computer?

Sometimes learning new programs or applications on the computer can be frustrating if they don't work exactly as you expect. Taking an online course may require you to learn new techniques beyond just email for interacting with other students in the class.
Qualities of a Successful Web Course Student
Successful web course students are committed to their studies. While web courses offer more flexibility and convenience, they can be more demanding of time and energy than regular courses or workshops. Web course students need to:
Know how to use technology (e.g., email, use a web browser, learn to navigate through the course).
Login regularly to participate in the class; at least 3 times per week. Some students login as much as twice a day.
Commit approximately 6 hours per week.
Use good time management skills and exercise self-discipline to ensure enough time to study and complete all assignments.
Take notes as they study.
Enjoy communicating in writing and reading the writing of others.
Seek help when problems arise.
Good communication is an essential element of taking any online course. You must be willing to share your thoughts, experiences, and ideas with the group and carefully consider your responses with professional respect and courtesy.
---
The above content has been used with permission from the American Library Association; source.
Online Courses and Programs
Online Courses
The following online courses are available for the spring semester of 2019:
Online Programs
Earn your Associate of Arts in General Studies or a certificate in a number of business disciplines, all completely online.
Degree Programs
Certificate Programs
Online Learning Resources
The Online Writing Lab (OWL)
You can share an essay draft with one of our professional tutors and get feedback in as little as 24 hours. The OWL is always open and available to students on Blackboard.​
Cecil College Library Online
Online Catalog
The online catalog makes it easy to get the books and eBooks you need from the convenience of your computer, tablet, or phone.
Databases
Journal, magazine, and newspaper articles can be located using the databases. The library subscribes to a variety of databases that cover a wide range of subjects. In addition to the traditional databases, the library also subscribes to e-references that contain reports, encyclopedia articles, articles from other reference books, videos, maps, images, paintings, and standardized test preparation materials.
Subject Guides
Covering everything from Biology to Western History, these subject guides pull together only the best resources for each specific course. Take the guesswork out of research and find everything from the best books, to the best databases to search, to citation help for each one of your classes.
Tutorials
Need help with your research? Consult these short tutorials, most of which are videos, to help answer the most common questions about using the library's resources.
Frequently Asked Questions
Do I need to apply to Cecil College if I want to take an online course?

Yes, the registration process is the same for online courses as it is for on campus courses.

Do online courses cost the same as on campus courses?

Yes.

Can I receive financial aid for online study?

Online courses qualify you for the same financial aid and scholarships that on campus courses do.

Can I use my personal email address to take online courses?

No. When you register for an online course you will get a Cecil College email address. You must use your Cecil College email address to log onto your online courses.

I don't know much about computers. What happens if I need help?

Cecil College's Instructional Technology Office has an IT helpline available to you Monday through Friday from 7:30 am to 8:30 pm and Saturday from 8:00 am to 2:00 pm at (410) 287-4357. The IT helpline can also be reached by email at helpdesk@cecil.edu.

Do I need special software to take online courses?

In general, at a minimum, you will need a web browser (Chrome, Firefox, Internet Explorer, etc.), a reliable internet connection, and access to word processing software. Some classes may require other specialized software.

Do I need to come to campus for an online course?

No. Online courses can be taken from anywhere with a reliable connection to the internet. For some classes, you may need to take an exam on campus or at one of many approved testing sites around the country.

When do online courses meet?

Most online courses are taught asynchronously, meaning that you do not need to log onto your computer on a set day or time. The advantage to online study is that you decide when and where you want to work: day or night, at home or on the go, when and where you study is up to you.

Are online courses easier or more difficult than on campus courses?

Online courses are neither easier nor more difficult than traditional on campus courses—the work is the same. What makes online courses more challenging is that it is up to you to keep your coursework current. If you do not log on to do your work on a regular basis, it is easy to fall behind. Readings and assignments will have deadlines. Work submitted after a deadline will receive a reduced grade or possibly even not be accepted. Read the course syllabus carefully for complete deadline information.

How often do I need to be online and for how long?

You need to log on to your online courses several times a week. Failure to do so will cause you to fall behind in your coursework and miss deadlines for work to be submitted. You can log on as often as you like. If you prefer to do your work for shorter sessions, such as an hour a day, you can do so. If you want to get more done in one sitting, you can stay online longer. The important thing is to set and maintain a pace that allows you to get your work done on time.

How big are online classes? Will I get individual attention when I need it?

At Cecil College our classes are small so you get the attention you need. Your instructor will reply to your questions and concerns in a timely manner. Whether on campus or online, we want you to succeed in your studies.

I like classroom discussions and I learn a lot from them. Will I still get to hear from other students and the teacher online?

Online classes usually require class participation in the form of online discussions. Just like an on campus class, your final grade will often require participation in discussion groups on specific topics throughout the term.