Discover all of the support and resources available to you as a Cecil College student.
Campus Tours
Walk the Cecil College campus and get a firsthand look at the beautiful facilities. Tours are led by Student Ambassadors and College staff and highlight classrooms and labs, student support locations, and popular student hangouts.
Attend a Class
Request to attend one Cecil College class in your academic area of interest and observe as our faculty and students engage and interact during a lecture. Experience, first-hand, what it's like to be a student at Cecil College and what to expect in the classroom. At times, prospective students may get the opportunity to participate in class discussions, assignments, and experiments!
Open House
Open House provides an opportunity for you to learn everything that Cecil College has to offer! Discover Cecil College's academic programs, inquire about our student support services, talk to athletics as you visit various breakout rooms and tour the North East Campus. You will also speak with Admissions staff, Financial Aid, scholarship representatives, Career Services, Advisors, Student Life, and much more.
See upcoming dates for Open House.
College for a Day
What's it like to be a Seahawk? Join us as you experience life as a Cecil College student! You will observe a college class, meet current students, participate in a campus event, win Cecil College gear, and gather resources. Parents are welcome to attend.
See when the next College for a Day event is scheduled.
Meet with Admissions
Meet with admissions staff about your enrollment steps. Available on a walk-in basis.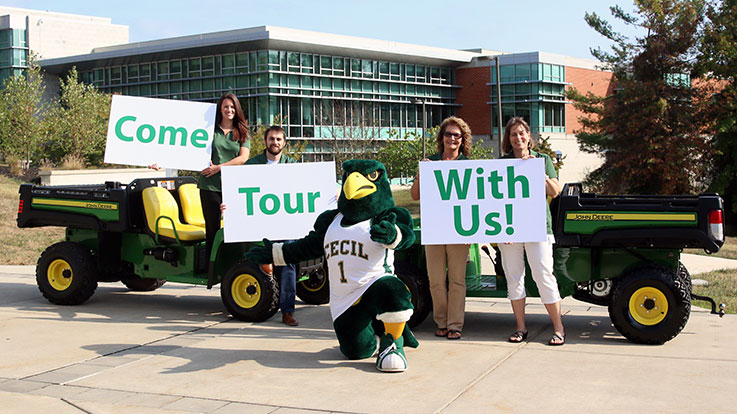 Cecil College Tours
Thank you for your interest in Cecil College! Due to Covid-19, onsite tours are currently suspended, but please enjoy our virtual tour and contact Admissions for more information via live chat on our home page or by calling (410) 287-1006. You can also visit cecil.edu/coronavirus for many helpful FAQs and resources. We hope to hear from you soon!