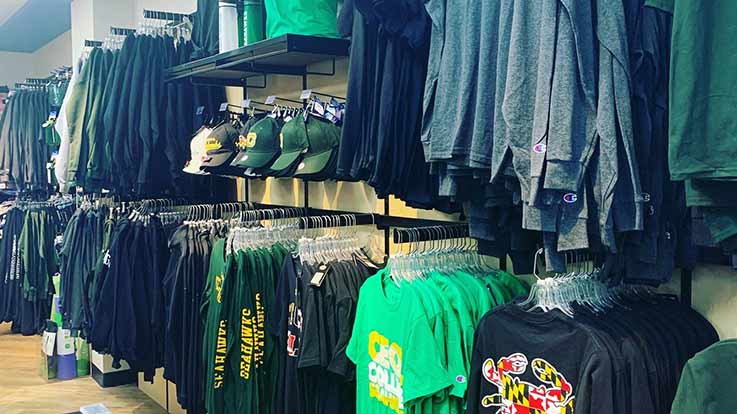 Barnes & Noble College Bookstore's First Day® Complete program starts with the Fall 2023 semester. Visit cecil.edu/firstday for more information. If you have questions, please contact your bookstore team at (410) 287-5436 or bookstore@nullcecil.edu.
The Cecil College Bookstore is conveniently located at the College's North East Campus on the first floor of the Technology Center.
---
Buy or Rent Textbooks (New, Used & Digital Options)
For textbook rentals, ​students must be at least 18 years old with a photo ID. Otherwise, a parent will need to accompany the student to rent textbooks. All rentals need to be secured with a credit card. Rentals need to be returned with no physical damage by their due date.
Search for required textbooks by visiting www.cecil.bncollege.com and using the "Find Textbooks" feature in the "Textbooks" dropdown navigation bar. You will need your current schedule to look up your required textbooks. You can also bring your current schedule to the Bookstore and we will assist you.
For online orders, please allow 3-5 business days for shipping.
Digital items have almost instant access! They are emailed within the hour, after purchase.
For more detailed information regarding the cost of textbooks for courses, visit our Course Textbook List to view your courses and textbook options/costs.
Returning Textbooks
For all returns, you must have the receipt for the textbook(s), and the item(s) must be in the original saleable condition. You can return textbooks within the first week of classes with just your receipt. To return them beyond that date (it must be within 30 days of the start date of the class), you will need a copy of the add\drop form for that class. Your refund will go back to the original form of payment (if you paid with a credit card, you must also bring that credit card for a refund). Our full return policy is located on www.cecil.bncollege.com.
There are opportunities to sell back your textbooks during finals week of the fall & spring semesters! Please email us at bookstore@nullcecil.edu or call (410) 287-5436 with any questions or for more information regarding selling back your textbooks.
Did You Know?
Students spend an average of $200 -$500 on textbooks.
You can use your financial aid in the Bookstore or on our website to purchase various items (gift cards excluded).
We also have school supplies, laptops, and Cecil College gear!
Bookstore Hours
Fall 2023 Hours
| Days | Hours |
| --- | --- |
| Monday | 8:00 am – 6:00 pm |
| Tuesday | 8:00 am – 4:00 pm |
| Wednesday | 8:00 am – 6:00 pm |
| Thursday | 8:00 am – 4:00 pm |
| Friday | 9:00 am – 2:00 pm |
Questions?
For questions or assistance, please contact us at bookstore@nullcecil.edu or call (410) 287-5436.