The Annual Fund
Cecil College means many things to many people, including opportunity, advancement and success for our students and our community. Whether completing a degree, earning a professional certification or learning a skill that will accelerate a student's career, education improves everyone and everything.
Thanks to the generosity of many supporters, the Cecil College Foundation was able to provide scholarships to more than 300 students taking credit and certification courses last year. Those students will transfer to four-year programs to earn a bachelor's degree, use their skills to obtain gainful employment and become leaders in our community.​
Please support student success by donating to the Annual Fund.​
Cecil College Cares Cards
Our colleagues throughout Cecil College have been sharing stories of hunger and food insecurity from our credit and Continuing Education and Workforce Development students. ​Unfortunately, COVID has raised numerous challenges around maintaining a food pantry on our campuses.
In response to increased hunger and food insecurity throughout our college community, the Cecil College Foundation is asking for monetary donations to purchase gift cards to Walmart. Student Life is assessing student need and the cards will be distributed in a manner that follows the Cecil County Health Officer's COVID guidelines. We are currently unable to accept food donations.
Your donation of any amount will be used to purchase cards and ensure the only thing our students are hungry for is education. To donate please visit:
Select "Food Pantry" under "Gift Designation"
Complete the donation form and finalize your gift
Feel the joy in knowing you once again supported student success!
If you have any questions or would like more information, contact us by email at foundation@nullcecil.edu.
News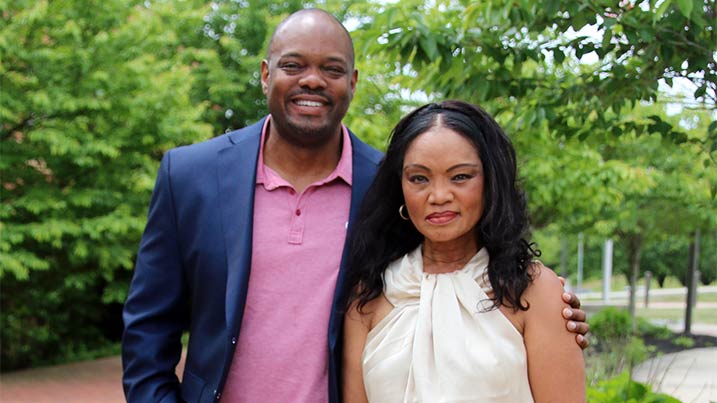 Mother and Son Honored for Passionate Work
The Cecil College Foundation is excited to celebrate the philanthropic work of Jacqueline Brown and her son Hiram Brown, Jr., who have funded scholarships that have changed lives in Cecil County. Both Jacqueline and Hiram Jr. live under the axiom of public service to make the community a better place. Read more.