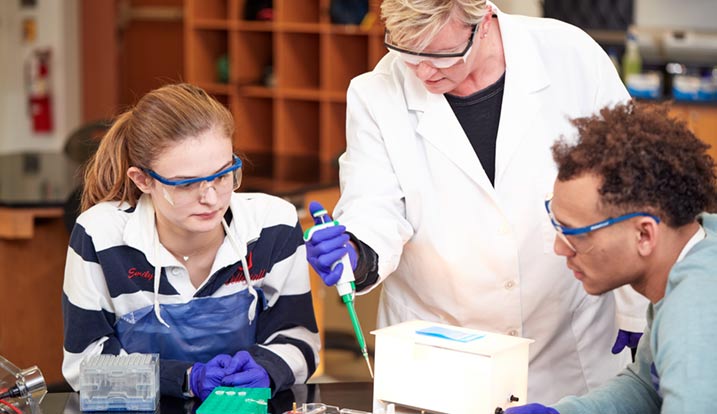 Cecil College faculty bring the classroom to life and life to the classroom. Students benefit from relationships with instructors who know them well and provide hands-on opportunities that enrich the Cecil learning experience.
Meet the Faculty
See what some of our expert faculty have to say and understand why our students are so successful in the classroom.
J. Andrew Dickenson

Professor of Music/Performing Arts Coordinator
Teaching is something I fell into by a happy accident. After graduating from college, a colleague asked me to substitute for him, and I enjoyed it so much that I continued to pursue additional teaching opportunities. I never thought I would enjoy it as much as I do. It's extremely rewarding to be in the classroom and to be a part of a student's development.

I have the opportunity to be involved with most of the music students throughout their entire tenure at Cecil. Over the course of the program, I get to see their progress and growth as both musicians and people. I am constantly inspired by my students. They have a genuine passion for music, and I will often find myself engaged in very sophisticated conversations with them.

Each student at Cecil comes from a different background. They arrive here at various levels and with many different musical interests. In the music world, there is no single road to success, but we can help our students find the path that is right for them.
Veronica Dougherty

Professor of Biology
I've taught at institutions large and small all over the country, including the University of Connecticut, the University of Arizona, and Seton Hall. But I've spent the past 30 years as a biology professor at Cecil College because I like the diversity of students. I have students who are adults returning to the classroom and students who are fresh out of high school. I love what happens when they all come together.

We have small class sizes so we really get to know each other. We joke with one another and everyone helps each other out. I see students go from being unsure and insecure to becoming confident and successful. That's the prize.

I tell students they're just opening the door to their future. I encourage them to continue their studies at a four-year institution. For many, that's the first time they've been told they can succeed in college.

Cecil does provide a very supportive environment for students, from their advisors to the free services we offer, such as our writing and math labs, and peer tutoring.

Cecil truly opens doors and allows students to express themselves and their potential.
Cynthia Horton

Professor of Nursing
I had always loved teaching but couldn't get a full-time physical education job in New Jersey. I started running on a rescue squad and loved it, so I moved back home to enroll at Widener University to become a nurse. I then spent a few years in emergency nursing before coming to Cecil in 1994.

I love coming to work because the faculty and leadership have a genuine care and concern for the students. The small class sizes and personal nature of faculty advisement enable us to provide a level of one-on-one support that most public four-year institutions can't offer. If you feel your needs are not being met, just ask someone for help.

I have stayed at Cecil for a long time because I have always been encouraged to develop myself professionally. There is a very collegial environment in the nursing program, which has grown through the years and does a great job of keeping current, even with the larger colleges.
Candace Vogelsong

Associate Professor of Business
I have been known to say that it would take dynamite to blow me away from teaching at Cecil College. I love the campus, the students and the overall college environment.

I grew up in North East and am amazed with how the college has grown over the years. The infrastructure has been enhanced to the point that it is almost unrecognizable from what I remember it being.

I became a professor because I wanted to inspire students to have a love for business and entrepreneurship like I do. I advise you to take advantage of every opportunity that we have to offer. Cecil College loves its students.
Inaugural Faculty Recognition Awards 2019
Teaching
Application of skills and knowledge in an innovative or particularly enlightening way, creating a supportive and engaging classroom environment that challenges students, while supporting student success.
Dr. Nancy Vinton for her work revising and developing lab manuals and other supportive materials for Anatomy and Physiology classes. Nancy's extensive work addresses the college's strategic priorities of Driving Academic Achievement and Fostering a Dynamic Learning Environment. Illustrations, photos and digital histology atlases are just a few of the innovations created and implemented by Dr. Vinton, supporting students and their diverse learning styles. These tools can now be utilized off campus by students, increasing their access to course materials and supporting their academic success.
Innovation
Develops, implements or promotes an innovative technique related to teaching, support or mentoring students, that promotes student success.
Andrew Dickinson for his teaching and mentoring of students at all levels of ability, providing them with multiple opportunities to actively participate, perform and grow as musicians. Andrew's work addresses the college's strategic priorities of Fostering a Dynamic Learning Environment and Expand and Deepen Community Alliances. Andrew fosters relationships throughout the local and college community, providing multiple opportunities for his students not only to develop and perform, but also to communicate and coordinate with other performers and employers. As one of Andrew's students stated, "I have seen students enter his programs with no ability to read music, who graduate and went on to excel in four-year music programs."
Service
Supporting the mission and vision of Cecil College in a unique or extensive way, going above and beyond required committee or college community member requirements.
Dr. Meredith Lutz-Stehl for her outstanding and extensive service to Cecil College and its students. Dr. Lutz-Stehl's work addressing the strategic priorities of Driving Academic Achievement and Fostering a Dynamic Learning Environment. Meredith has strengthened the academic environment in multiple ways. Meredith serves as a member of the Steering committee for the College's Great College initiative, representing the voice of faculty; Meredith has championed and been a key member of the team that developed the First-year Experience, now the Introduction to Critical Inquiry course; Meredith is one of the faculty leaders in the development of the College's Institutional Review Board; Meredith conducted a study across college disciplines, evaluating the impact of motivational interviewing on student success; Meredith is a member of the campus inclusivity group and is also an active participant in the reflective structured response initiative. In addition to all of this work, Meredith also makes time to mentor and support her colleagues.