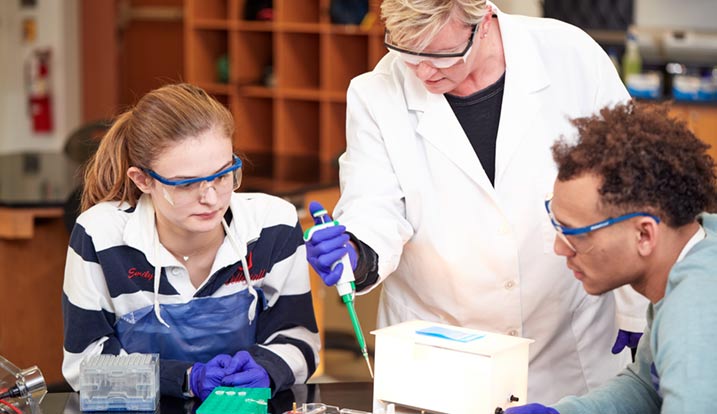 Cecil College faculty bring the classroom to life and life to the classroom. Students benefit from relationships with instructors who know them well and provide hands-on opportunities that enrich the Cecil learning experience.
Meet the Faculty
See what some of our expert faculty have to say and understand why our students are so successful in the classroom.
J. Andrew Dickenson

Associate Professor of Performing Arts/Music
Teaching is something I fell into by a happy accident. After graduating from college, a colleague asked me to substitute for him, and I enjoyed it so much that I continued to pursue additional teaching opportunities. I never thought I would enjoy it as much as I do. It's extremely rewarding to be in the classroom and to be a part of a student's development.

I have the opportunity to be involved with most of the music students throughout their entire tenure at Cecil. Over the course of the program, I get to see their progress and growth as both musicians and people. I am constantly inspired by my students. They have a genuine passion for music, and I will often find myself engaged in very sophisticated conversations with them.

Each student at Cecil comes from a different background. They arrive here at various levels and with many different musical interests. In the music world, there is no single road to success, but we can help our students find the path that is right for them.
Veronica Dougherty

Professor of Biology
I've taught at institutions large and small all over the country, including the University of Connecticut, the University of Arizona, and Seton Hall. But I've spent the past 30 years as a biology professor at Cecil College because I like the diversity of students. I have students who are adults returning to the classroom and students who are fresh out of high school. I love what happens when they all come together.

We have small class sizes so we really get to know each other. We joke with one another and everyone helps each other out. I see students go from being unsure and insecure to becoming confident and successful. That's the prize.

I tell students they're just opening the door to their future. I encourage them to continue their studies at a four-year institution. For many, that's the first time they've been told they can succeed in college.

Cecil does provide a very supportive environment for students, from their advisors to the free services we offer, such as our writing and math labs, and peer tutoring.

Cecil truly opens doors and allows students to express themselves and their potential.
Patricia D. Richardson

Instructor of Interpersonal Communication and Public Speaking
When I was 14 years old, my dance teacher let me start working with the young dancers at the studio and I found out right away that I liked teaching and sharing knowledge with others. I previously worked at public high schools in more urban areas before coming to Cecil more than 20 years ago.

Looking to raise our children in a suburban location, my husband and I moved our family here from Staten Island, N.Y. and I began my Cecil College career by choreographing for the Covered Bridge Theatre. This position led to adjunct teaching, which then led to full-time employment.

Whether you are a prospective or current student, I advise you to be serious about college even though we may be just a few miles from your home and are not a large university. The opportunities here will prove valuable for those who take advantage of all that we offer.

I really like the location of Cecil with its rural flavor. We have a lovely campus with a welcoming atmosphere and provide quality education to students of all ages.
Cynthia Horton

Professor of Nursing
I had always loved teaching but couldn't get a full-time physical education job in New Jersey. I started running on a rescue squad and loved it, so I moved back home to enroll at Widener University to become a nurse. I then spent a few years in emergency nursing before coming to Cecil in 1994.

I love coming to work because the faculty and leadership have a genuine care and concern for the students. The small class sizes and personal nature of faculty advisement enable us to provide a level of one-on-one support that most public four-year institutions can't offer. If you feel your needs are not being met, just ask someone for help.

I have stayed at Cecil for a long time because I have always been encouraged to develop myself professionally. There is a very collegial environment in the nursing program, which has grown through the years and does a great job of keeping current, even with the larger colleges.
Candace Vogelsong

Associate Professor of Business
I have been known to say that it would take dynamite to blow me away from teaching at Cecil College. I love the campus, the students and the overall college environment.

I grew up in North East and am amazed with how the college has grown over the years. The infrastructure has been enhanced to the point that it is almost unrecognizable from what I remember it being.

I became a professor because I wanted to inspire students to have a love for business and entrepreneurship like I do. I advise you to take advantage of every opportunity that we have to offer. Cecil College loves its students.