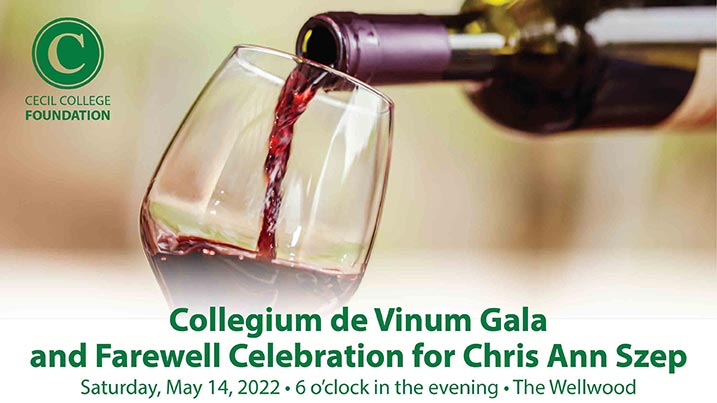 Annual Collegium de Vinum Gala and Farewell Celebration for Chris Ann Szep
Thank you for joining our gala "Paddle Raise" portion of the event, which will take place live, tonight. Your contribution will help Light the Path to the Future of our students through the gift of education.
About the Gala
The Cecil College Foundation cordially invites you to join us on Saturday, May 14th at 6:00 pm, for the annual Collegium de Vinum Gala featuring a live auction, live music, dancing, wine tasting, and more! The event will be held at the Wellwood in Charlestown, Maryland, and will host a special "farewell to Chris Ann Szep." Individual tickets are $175 (must be 21 to purchase tickets). All proceeds from the gala benefit Cecil College programs and scholarships.
Tickets
RSVP by April 29. You can purchase tickets online or by calling (410) 287-1146.
Donate
If you are unable to attend this year's gala, you can still donate or become a sponsor to support this event.
Sponsors
This year's sponsors for the gala include:
Cecil College Foundation
To learn more about the Cecil College Foundation, send an email to foundation@nullcecil.edu or call (410) 287-1146.