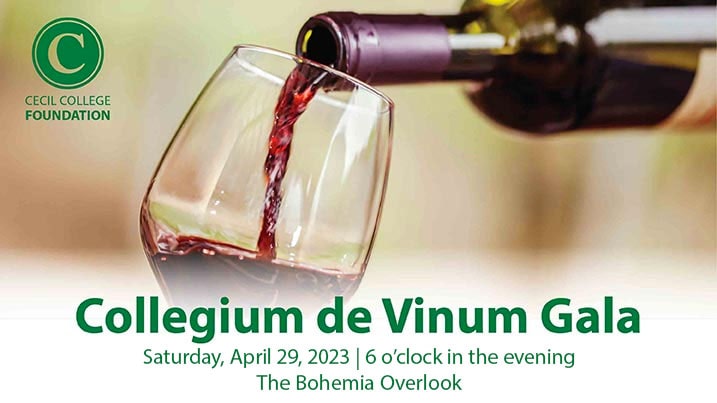 Collegium de Vinum Gala
About the Gala
Tickets sales for this event are now closed, but you can still donate.
The Cecil College Foundation cordially invites you to join us on Saturday, April 29 at 6:00 pm, for the annual Collegium de Vinum Gala featuring a live auction, live music, dancing, wine tasting, and more! The event will be held at the Bohemia Overlook in North East, Maryland. Individual tickets are $175 (must be 21 to purchase tickets). All proceeds from the gala benefit Cecil College programs and scholarships.
Donate
If you are unable to attend this year's gala, you can still donate or become a sponsor to support this event.
Sponsors
This year's sponsors for the gala include:
Mr. and Mrs. Guy Palmeri
Dr. Dick Nadeau
More Information
To learn more about the Cecil College Foundation, send an email to foundation@nullcecil.edu or call (410) 287-1146.
Gala Menu
Appetizers
Charcuterie — Chef's selection of house and imported meats and cheeses accompanied by fig jam, crostini's, local fresh honeycomb, candied nuts, house pickled veggies, grilled artichokes and much more. Served one board per table on custom hand-made boards.
Butlered Hor d'oeuvres
Prosciutto Wrapped Melon — Seasonal fresh melon wrapped in 24-month aged prosciutto, finished with truffle oil, aged fig balsamic, sea salt, cracked rainbow peppercorn.
MD Blue Crab Jambalaya — A classic with a Maryland twist loaded with holy trinity vegetables, smoked sausage, crab claws, jumbo lump crab, finished with scallion.
Mushroom Arancini — Roasted exotic mushrooms, arborio rice, aged parmesan Reggiano, fresh herbs, truffle aioli, pomodoro sauce, arugula micros.
Entrées
Sea Scallop — Dry pack U-10 sea scallop, cast iron seared, with maple soy gastrique, parsnip puree, shaved pear, crispy leeks, served in scallop shell topped with local arugula micros (1st course). Wine pairing: Aymara Chardonnay.
Pear Sachetti — Poached pear and bleu cheese stuffed fresh pasta purse, topped with gorgonzola bechamel, pancetta lardons, luxardo cherry agro dolce, chiffonnade Thai basil (2nd course). Wine pairing: La Joya Syran.
Beets By Chef — Apple cider poached tri-color beets, baby arugula, local goat cheese, toasted walnut, red onion, granny smith apple, aged balsamic dressing (3rd course). Wine pairing: Aymara Syran Grand Reserve.
Short Rib — 14-hour braised short rib, basil and parmesan whipped Yukon potato, charred lemon broccolini, red wine bone marrow braising jus, local celery micro greens, saffron truffle drizzle (4th Course). Wine pairing: Aymara Malbec.
Dessert
Chocolate Souffle Cake — Warm molten chocolate cake, Taharka Brother's pistachio ice cream, chocolate ganache, shortbread sea salt tuille, Chantilly cream (5th course). Wine pairing: Antis Cabernet.