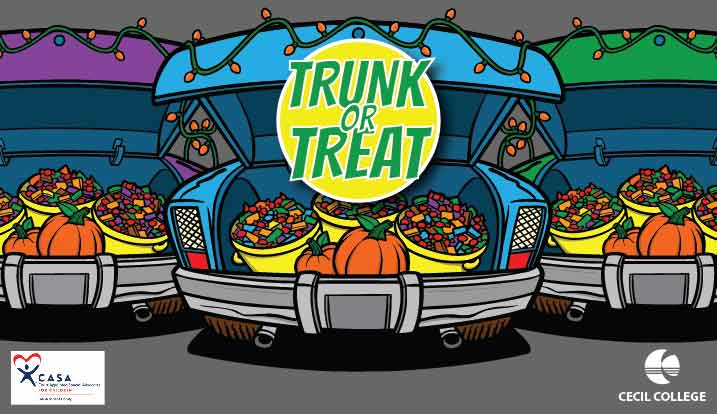 Trunk or Treat
For everyone's safety, all CDC, state of Maryland and Cecil County Health Department COVID-19 guidelines will be followed during this event. Attendees over the age of five (5) and vendors must wear a face mask that covers the nose and mouth​ and secures under the chin the entire time on campus. ​Hand sanitizing stations will be placed at all event starting places. Trunks (vehicles) providing treats will be spaced away from each other and treats will be disseminated in a manner that does not require interaction with other individuals. The flow of "treaters" walking to each trunk will be managed to ensure social distancing. ​ If you are not feeling well the day of the event, please refrain from participating. The CDC's Coronavirus self-checker tool can be found at www.cdc.gov/coronavirus/2019-ncov/symptoms-testing/coronavirus-self-checker.html.
Join CASA of Cecil County and Cecil College on Saturday, October 24 for our community Trunk or Treat event! It's a fun and safe place for the children in the community to trick-or-treat. Event details are as follows:
When: Saturday, October 24, from 1:00 – 4:00 pm (rain date is set for Sunday, October 25)
Where: Cecil College's North East campus
This is a free event; there is no cost for registering or attending
Family friendly (not too spooky)
All candy will be prepackaged
Host a Trunk
Want to host a trunk at this event? Just fill out our sign up form.
Questions?
Have any questions about attending or hosting a trunk at the event? Just contact Michael or Alesha:
CASA/Cecil College Trunk or Treat Vehicle Trunk Registration Form
Please note the following prior to registering to host a trunk:
This is a family friendly event, so your theme can't be too spooky.
All candy must be prepackaged and provided by the host.
Please show up 1 hour prior to the start of the event so that you can check in and have time to set up.