17 students earn LPN certification
Published on July 31, 2019 under Academics, Alumni, Faculty & Staff, General News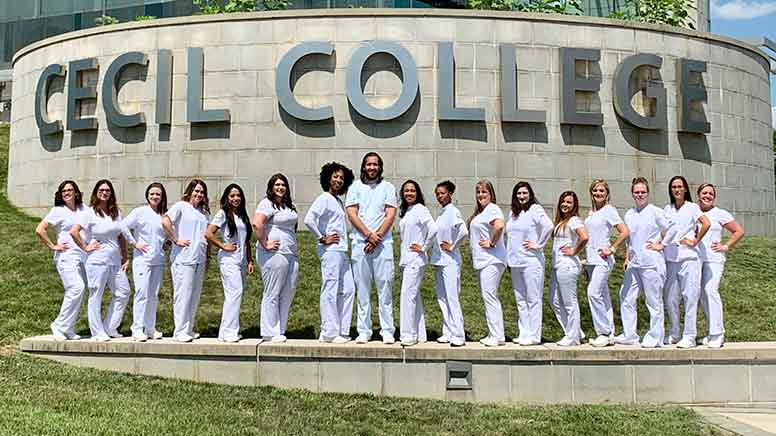 ---
NORTH EAST, Md. – It was an afternoon of smiles, cheers, and a few tears as the Cecil College's School of Nursing honored the Class of 2019 during the annual pinning ceremony on the North East Campus.
The faculty and staff joined friends and family of the 17 students who have spent years preparing to reach this milestone. Many of these Licensed Practical Nurses will continue in pursuit of their Registered Nursing degree.
"Each of us had our challenges going into school, but each of us reached these milestones in our education, and we deserve to be exceptionally proud. More so, we should be proud of how we supported each other," said Vivian Aiken, class spokesperson during her speech during the ceremony. "Nursing school is difficult, beyond belief, but no one understands what we have gone through quite like each other."
The Class of 2019 includes:
| Name | Hometown |
| --- | --- |
| Vivian Aiken | Claymont, De. |
| Helen Brown | Cecilton, Md. |
| Krysta Chambers | Elkton, Md. |
| Taylor Clark-Hartman | Perryville, Md. |
| Rachel Cox | North East, Md. |
| Bria Evans-Stanley | New Castle, De. |
| Melissa Fitzsimmons | North East, Md. |
| Samantha Funk | North East, Md. |
| Tiffany Godfrey | North East, Md. |
| Shineek Grimes | Joppa, Md. |
| Drew Howell | North East, Md. |
| Amber Massimiano | Rising Sun, Md. |
| Cassie Mease | North East, Md. |
| Beniliz Ohl | Rising Sun, Md. |
| Cynthia Rodriguez | North East, Md. |
| Melissa Semenkow | Port Deposit, Md. |
| Lisa Solomon | Havre de Grace, Md. |
"The two words, 'Thank You.' They just don't seem like enough to express our gratitude for the amount of support each of you provided us," said Aiken about the support and understanding the students received from their families.
The graduates concluded the ceremony by lighting candles in honor of Florence Nightingale and reading the Professional Nursing Pledge.