2021 Spring Capstone Exhibits
Published on April 26, 2021 under Faculty & Staff, Fine Arts, General News, Student Life, Visual Communications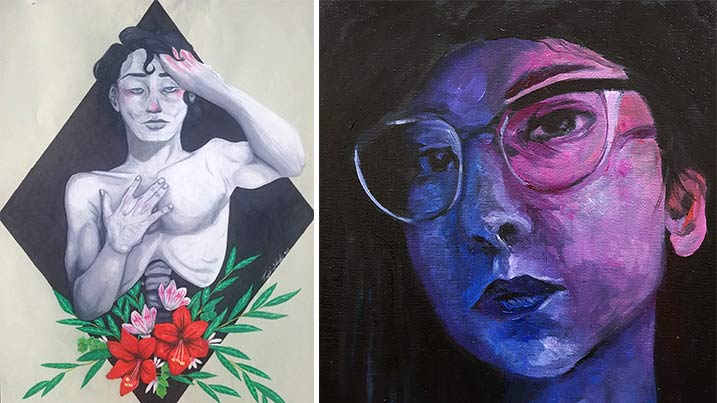 ---
NORTH EAST, Md. – Cecil College will highlight students' artistic works from the art and design program and the visual communications program in the Arts and Communications Virtual Student Exhibit featuring the 2021 Spring Capstone Exhibits. Capstone Projects are long-term investigative projects that culminate in a final product or presentation. Due to the pandemic, this year's exhibit will be in a virtual format. The exhibit can be viewed on the Cecil College Online Gallery (https://arts.cecil.edu/2021-spring-exhibit/) beginning on Friday, May 7 in conjunction with the Elkton First Friday Art Loop.
This spring's art and design Capstone students are Sam Braun, Mary Jo Fitz, Kat George, Allison Leftridge, and Taylor Stanley. The visual communication Capstone students are Stephanie Anderson, Julianna Beazley, Robert Creech, Makenzie Evans, Darrell Frison, Christel Hayduk, Jarod House, Stephanie Jeric, Clifford Jones, Abigail Parisan, Jody Perez, Olivia Uleau, and Ethan Vogt.
Capstone Projects are long-term investigative projects that culminate in a final product or presentation.
The Arts and Communications Virtual Student Exhibit will feature drawings, paintings, photographs, designs, sculptures, ceramics, video, and much more. The exhibit highlights pieces selected by the arts and communications faculty, representing the range of work created in the department.
Kat George is a Maryland-based artist with experience in traditional and digital art, including illustration, graphic design, painting, and printmaking. Her Capstone series includes traditional and digital art pieces that explore the theme of people seeking connection and defining their meaning through emotional journeys. The Cecil County Arts Council, Harford Artists' Association, and Chester County Art Association have displayed Kat's works.
Mary Jo Fitz is a resident of Cecil County. Currently focused on ceramics as a Cecil College student in Maryland, she draws inspiration from the natural world, myths, stories, and dreams. Her work focuses on finding within vulnerability, shelter, nurture, and resilience. Regional and national juried shows have displayed Mary Jo's work. Her 2D and 3D work have received numerous awards, including multiple Excellence in 3D Media and People's Choice awards.
A native of Cecil County, Allison Leftridge has been showcased in eight art exhibits within Maryland, produced branding materials for regional institutions, and owns an art business – AlliLeftStudios.com. Her vision is to create inspiring and encouraging pieces of art that leave the viewer uplifted in spirit. From her humble beginnings as a crayon muralist in her childhood bedroom to rigorous art camps throughout high school, she uses multiple mediums to achieve bright, funky artwork sure to brighten anyone's day.
Sam Braun was introduced to the elements and principles of design early, instilling a strong sense of creativity in many mediums. She was introduced to ceramics while attending Rising Sun High School. She learned to draw inspiration from nature and to incorporate motifs, textures, and colors reflecting her vision for each piece. Focusing on how the user will interact with a piece, Sam creates unique forms designed to fit the person's life. She is currently pursuing an Associate of Fine Arts in Art and Design at Cecil College and plans to attend Salisbury University for a Bachelor's degree in Fine Arts.
Taylor Stanley's upbringing in Chesapeake City, Md., provided her with a unique perspective on the world. Her family were caretakers of a local cemetery and provided funeral site services. Taylor's interest in art was supported by her father who challenged her to perfect her skills. When her father passed away when she was just twelve years old, she immersed herself into her art to cope with his passing and express the loss she felt. She utilizes portraits and atmosphere to express hidden emotions and to encourage audiences to recognize mental illness and trauma as well as the devastating impact on an individual. Her disturbing images provoke the conversation about how terrifying it is to live with a mental illness. Taylor is a fine art major at Cecil College with plans to continue her education at Wilmington University.
To view the Arts and Communications Virtual Student Exhibit: Spring 2021, visit https://arts.cecil.edu/2021-spring-exhibit/