3 Cecil basketball players sign Letters of Intent
Published on May 9, 2019 under Alumni, Athletics, Faculty & Staff, General News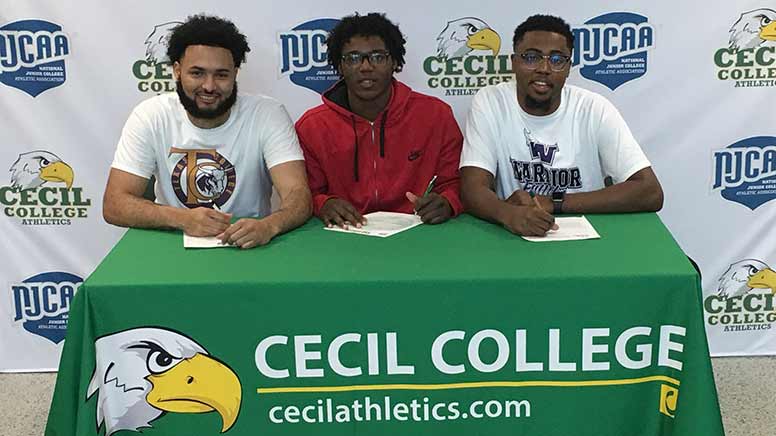 Seen here are Carl Bradley, Cornell Corbin, and Darrell Jenkins during their signing ceremony.
---
NORTH EAST, Md. – Three sophomore members of the Cecil College men's basketball team, which placed third at the NJCAA Division II National Tournament in Danville, Ill. this year, signed "Letters of Intent" to continue their academic and athletic careers at NAIA-sponsored four-year institutions.
Carl Bradley (Baltimore, Md. / Dundalk High School)will graduate from Cecil College with his associate degree this month and will go on to Texas College, located in Tyler, Texas, to further his academic and athletic career. Bradley started 46 of the 66 games he played over two years as a Seahawk. This included 33 games of his freshman campaign. He contributed 302 career points and grabbed 235 rebounds.
Texas College is a member of the Red River Athletic Conference where the program finished the 2018-2019 season with an overall record of 9-22. Texas College finished 7-11 in the conference for a sixth seed in the RRAC tournament.
Cornell Corbin (Lincoln, De. / Woodbridge High School)will transfer to Webber International University located in Babson Park, Fla., to compete for the Warriors next season. Corbin played in 69 games as a Seahawk and started in all but one. He tallied an impressive 904 career points, 526 rebounds, 199 assists, and 119 steals during his two-year career as a Seahawk. Corbin was a two-time All-Region XX and All-Maryland JUCO selection and, as a sophomore, was selected as Maryland JUCO Defensive Player of the Year. He was given the Sportsmanship Award at the 2019 NJCAA Division II National Tournament.
Webber International University is a member of the Sun Conference and finished this past season 13-17 overall and 4-14 in the conference, failing to make the SC tournament.
Darrell Jenkins (Middletown, De. / Appoquinamink High School), a transfer student from Delaware Technical Community College, played one year for the Seahawks and will transfer to Waldorf University in Forest City, Iowa. The 6-foot, 7-inch forward helped the Seahawks in 34 games, making ten starts. Jenkins scored 129 points, grabbed 59 rebounds, and blocked nine shots in his single season as a Seahawk.
Waldorf University is a member of the North Star Athletic Association, finishing the 2018-2019 season with a record of 6-22 overall and 2-12 in the conference. The Warriors ended their season with a loss in the NSAA Quarter-final round of the tournament.
Bradley, Corbin, and Jenkins helped the Seahawks earn the title of NJCAA Region XX Division II Champions after their 91-73 win over top seeded and nationally ranked Potomac State College of WVU.
After starting their season 2-8, the Seahawks made the necessary turn around with a win over Monroe Community College on Dec. 14 and eventually went on to win 15 of the next 16 games, including an eleven-game winning streak. The regional tournament victory qualified the Seahawks for the NJCAA Division II National Tournament where they entered the tournament as the fourteenth seed out of 16 programs. Cecil College went on to upset the third seed, eleventh seed and fourth seed teams to finished its season with an overall record of 24-12 and a rank of third in NJCAA Division II.