A Taste of the Arts
Published on November 29, 2017 under Academics, Fine Arts, General News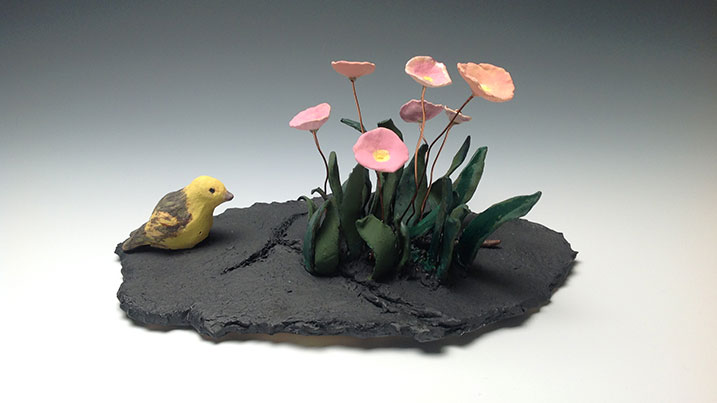 Resilience by Mary Joe Fitz
---
Cecil College student artwork and performances on display at Elkton Station Dec.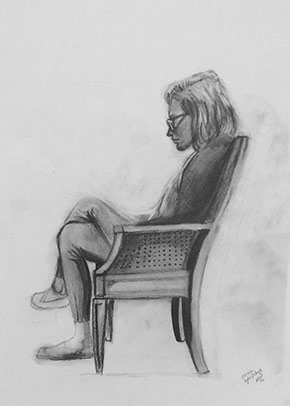 Celebrating student work in Cecil College's fine arts and performing arts programs, "A Taste of the Arts" will be presented Dec. 1 in the college's Elkton Station Gallery and Performing Arts Hall at 107 Railroad Ave.
The event, which is being coordinated in conjunction with Elkton's monthly First Fridays Celebration, includes a free opening reception for the Fine Arts Student Exhibit, from 5 to 8 p.m.; a pottery sale from 5 to 8 p.m.; and a Performing Arts Showcase at 7 p.m. ($15 per person).
Featuring students from the music and theatre departments, the Performing Arts Showcase will be "Rock n Roll Holiday!", with shows on Thursday, November 30 and Friday, December 1 at 7 p.m. Rock the halls and bring joy to the world with these revved-up versions of your favorite holiday songs!
Drawings, paintings, designs, sculptures, ceramics and digital images will be on display in the Fine Arts Student Exhibit, which will include works by Ashley Williams and Jason Cambria.
Ashley Williams earned her BFA in Graphic Design and Marketing from Frostburg State University in 2017. She has exhibited in multiple galleries including the Elkton Station Gallery in Elkton, MD, The Roper Gallery in Frostburg, MD, and the Cecil County Arts Council in Elkton, MD.  Ashley works as a freelance artist accepting commissions in a wide variety of media and is teaching art workshops to children. She is currently a student at Cecil College, working to expand her portfolio in preparation for career advancement and graduate study in art.
"I am a graduate of Cecil College and I have returned to expand and refine my portfolio for use in the professional world as well as grad school. Overall, in my artwork, I would say that I value the human being and all the emotions that come with them. My aesthetic is to draw the familiar and convey emotions through the human figure as well as small elements. I love when I can step back and be proud that I executed my composition correctly and achieved the overall mood of the work that I wanted to convey."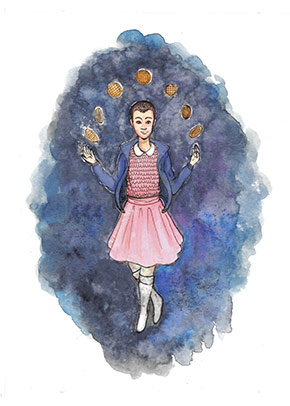 Jason Cambria received an Associate of Fine Arts in Drawing and Painting from Cecil College. Inspired by everyday life, Jason's process begins with thumbnail drawings and then conceptual research.   His work explores formal design, imagination and the human figure through oil, charcoal and pastel.  Jason's work has been shown at the Elkton Station Gallery and the Milburn Stone Gallery at Cecil College.  He earned the Faculty Choice Award in 2016 for his self-portrait: "Watcha Lookin' At". He has been commissioned by the Milburn Stone Theatre to create large scale paintings for the lobby.
"My work often depicts the female figure. I focus on personality, emotion, and gesture. Like a puzzle, I challenge myself to create an experience for the viewers as they engage with the work and within the spaces I create. Through illusion and humor, the viewers can interact with the work and change the way they participate in a typical gallery experience."
Open from 8 a.m. to 8 p.m. Monday to Friday, admission is free to the Elkton Station Gallery. The Fine Arts Student Exhibit will be on display through Jan. 11. Proceeds from the pottery and gallery sales benefit art students.
Cecil College's Art Program offers an Associate of Fine Arts degree in art and design with concentration areas in art history, ceramics and sculpture, drawing and painting, graphic design, interactive and motion arts, photography and digital arts, and studio arts.  The Program also offers an Associate of Arts degree in ceramics, drawing/painting, and graphic design. The Performing Arts Program offers degrees in music, voice, audio, music education, and theatre. Both programs help students prepare for transfer to four-year colleges, initial employment, or career advancement in the fine and performing arts. Check out the programs at: facebook.com/CecilCollegeFineArtsProgram and facebook.com/CecilCollegePerformingArts.