Cecil College Virtual Gallery presents 'Art Responds: Cecil United'
Published on November 6, 2020 under Academics, Fine Arts, Visual Communications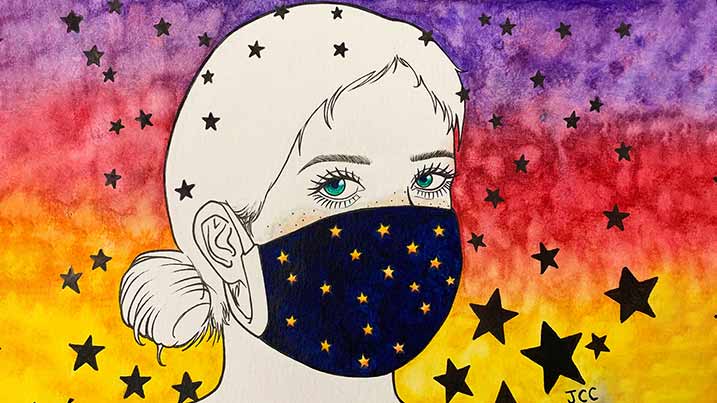 "Current Events" by Jesse Cooke, mixed media
---
NORTH EAST, Md. – During a time of global pandemic where social distancing is necessary, Cecil College is hosting a series of virtual art exhibits highlighting the works of local and regional artists. The newest exhibit presented in the Art and Design Program's Virtual Gallery is entitled "Art Responds: Cecil United."
This exhibit will be revealed on Friday, Nov. 6, in conjunction with Elkton's First Friday Art Loop Celebration. Cecil College entered the academic year facing a global pandemic, civil unrest, and intensified climate change. The Art and Design Program assembled the artwork from more than 14 students, alumni, and faculty representing these times as a form of unity. Art has the power to unite, heal, and connect.
"The arts and culture represent one of the few areas in our society where people can come together to share an experience even if they see the world in radically different ways," said renowned artist Olafur Eliasson.
Art is how we bear witness, how we speak our minds, and how we begin to build the world we seek to inhabit. This exhibit represents the vision of the artists for the world and how they will share it. To view the gallery, visit cecil.edu/responds.
Other virtual exhibitions the Art and Design Program currently shows include "Layered Surfaces: Wood-Fired Work" by Margaret Seidenberg-Ellis. This is a collection of ceramic vessels exploring surface, process, and function. This exhibit is slated to run through Friday, Nov. 20.
A third virtual exhibit is "Distancing: In a Time of Pandemic," works of Jane Kavanagh Morton and Nancy Kavanagh O'Neill. This exhibition demonstrates how two sisters living 75 miles apart can collaborate on their vision. The sisters explore social distancing and pathways that seem to fade in and out, as well as connections that endure. This exhibit runs through Friday, Nov. 27.
The entire Art and Design Program's Virtual Gallery can be viewed at: www.cecil.edu/exhibits