APG Federal Credit Union makes donation to Cecil College
Published on February 6, 2018 under 50th Anniversary, Academics, Alumni, Faculty & Staff, Foundation, General News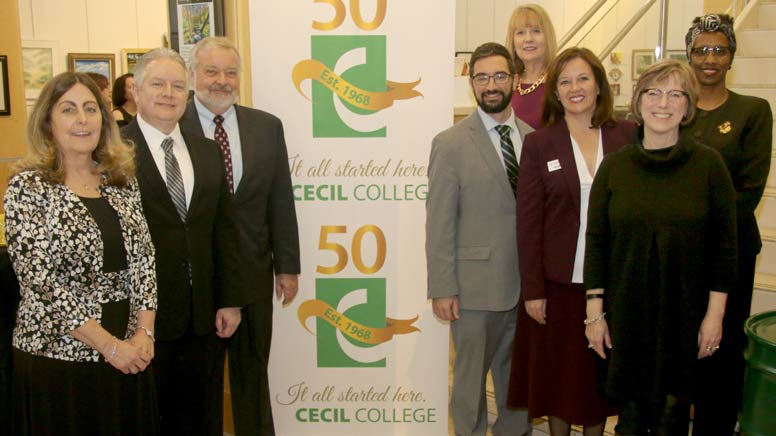 APG Federal Credit Union made a $50,000 donation to the Cecil College Foundation to support two programs that will enhance educational opportunities for Cecil County and Harford County residents. Present for the donation were from left: Carol McBrien, APGFCU Executive Vice President; Brian Wilcox, APGFCU Chief Marketing Officer; Wayne Beall, APGFCU Chief Information Officer; John Beck, Executive Director of Cecil College Foundation; Dr. Mary Way Bolt, President of Cecil College; Liz Leoni-Monti, APGFCU Financial Education Director; Genene LaCour, APGFCU Chief Administration Officer; and Josalyn Gregory, APGFCU Senior Executive Assistant to the CEO.
---
APG Federal Credit Union and Cecil College
partner to offer new student programs
NORTH EAST, Md. – In their continuing work to transform lives through education, APG Federal Credit Union and Cecil College have announced the establishment of two new programs, which will enhance the educational opportunities for Cecil County and Harford County residents.
APGFCU has made $50,000 in funds available for these programs through the Cecil College Foundation. The first gift of $25,000 will go toward the creation of an APGFCU Scholarship endowment fund. The interest generated from this endowment will provide scholarship support for Cecil College students.
Criteria preference will be given to students residing in Cecil and Harford counties who are pursuing a continuing education certification or licensure or are enrolled in a business degree program. The Cecil College Foundation will begin awarding the APGFCU Scholarship for fall 2018.
The second gift of $25,000 will provide financial support for Cecil College's First-Year Experience Program. The First-Year Experience Program introduces students to the processes of self-evaluation and self-improvement, with a portion of the course instruction dedicated to financial literacy as one of the four habits for academic success.
"Partnering with Cecil College will further our financial literacy efforts, which are a major focus at APGFCU," said Don W. Lewis, President/CEO. "Through this collaboration, we will empower the newest generation of young adults with the knowledge and tools they need to achieve a lifetime of financial independence and success."
"This partnership avails our students the opportunity to learn the importance of being fiscally responsible as they progress in their academic careers," said Cecil College President Mary Way Bolt, Ed.D. "We are honored to have been chosen as the first college-based branch of APGFCU and are extremely appreciative of the financial and professional development this partnership will provide our students."
Offering more than 90 degree and certificate programs designed to meet the needs of tomorrow's emerging industries, Cecil College is on the forefront of higher education as a comprehensive, open admission institution providing career, transfer and continuing education coursework.
To learn more about supporting scholarships at Cecil College, contact John Beck, Executive Director of Cecil College Foundation, at 410-287-1041 or jbeck@cecil.edu.
APGFCU is committed to building strong families for a stronger community, with 11 branches and two loan centers in Harford and Cecil counties. Membership is free and open to everyone who lives, works, worships, volunteers or attends school in Harford and Cecil counties. For more information, call 410-272-4000 or visit apgfcu.com.