Art and Design's Capstone students exhibit
Published on November 19, 2019 under Academics, Faculty & Staff, Fine Arts, General News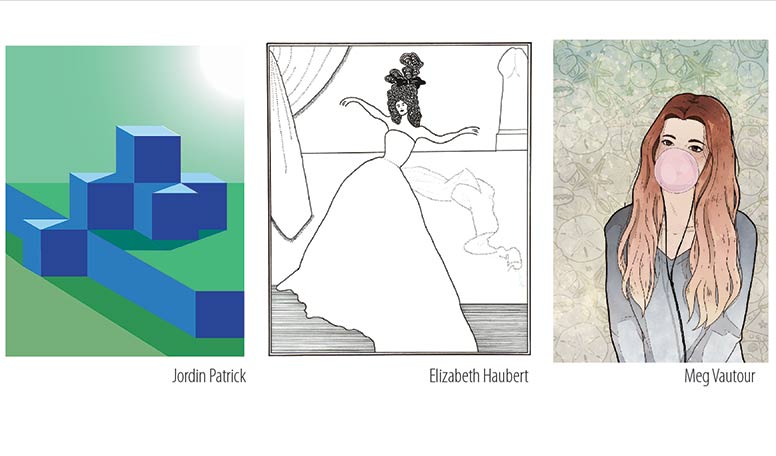 ---
ELKTON, Md. – Cecil College will reveal its fall 2019 Taste of the Arts Exhibit and Pottery Sale with a reception on Friday, Dec. 6, at 5 p.m. in the Elkton Station Gallery, located at 107 Railroad Ave. Featured at this year's exhibit will be Capstone Projects from Elizabeth Haubert, Meg Vautour (Megan Williams), and Jordin Patrick. Capstone Projects are long-term investigative projects that culminate in a final product or presentation.
This exhibit will feature drawings, paintings, designs, sculptures, and ceramics selected by the art faculty which represent the range of work created in the program. Proceeds from the pottery and gallery sales benefit art students. Visitors can purchase pieces during the opening reception and throughout the exhibit. This exhibit runs through January 8 and is part of the First Friday Art-Loop in Elkton.
Originally from Rome, N.Y., Elizabeth Haubert received an AAS degree from Cazenovia College in Advertising and Design before moving to Dallas to work in the commercial photography industry. She returned to Rome and worked as a project manager in the commercial printing profession before relocating to North East, Md.
Haubert, whose mantra is 'Simplicity is the essence of good design,' is pursuing an Associate of Fine Arts in Art History at Cecil College and is scheduled to transfer to Towson University for the Spring 2020 semester.
"When an idea or inspiration comes to me for a project, I generally try to find a concise solution. I pay attention to details but try not to detract or deflect from getting to the source of the original purpose," said Haubert. "I look for clean lines in most of my compositions due, in part, to my professional experiences in design."
Meg Vautour is a digital illustrator originally from a small town just outside Pittsburgh. She began using art as a form of expression and took a keen interest in her inner and outer environments early in life. Her artwork is primarily inspired by music, mental health, nature, manga, and horror.
"I take inspiration for my art from mental health, my dreams, the environment, and any other thoughts or experiences that happen to come along unpredictably. I can't say much about those things either, which is why I make the artwork instead. I try not to overthink it. Otherwise, art loses its mitigating quality, and it no longer is something I can use to destress," said Vautour, who uses a Wacom 13HD Cintiq and Photoshop to make the majority of her artwork. "I mostly work digitally and create simple illustrations and designs, but I will dabble in ink or gouache every once in a while. I try to mimic the aesthetics that I enjoy as a viewer. This ranges from dark, grungy, macabre, or psychedelic art and ink work to soft and minimalistic imagery."
Her work has been exhibited at the Elkton Station Gallery and the Milburn Stone Gallery. She is currently studying art at Cecil College, graduating in December 2019 with an Associate of Fine Arts in Graphic Design.
Jordin Patrick's passion lies in architectural and isometric design, pulling inspiration from everyday life and the environment to utilize three-dimensional designs to generate a visual experience for the viewer. He draws other influences from skew lines, color, and space, looking to develop as a graphic designer. Patrick is pursuing an Associate of Fine Arts in graphic design with plans to transfer to a four-year institution.
"Art is a way for me to express myself and communicate my views of the world. Using low contrast colors, my three-dimensional designs rely on skewed lines and angles to create a three-dimensional form on a two-dimensional surface. These "Iso Metric" designs represent an object in a 3-D form, a type of visual perspective. This type of design offers a more realistic look using flat shapes with depth," said Patrick.
Patrick is pursuing an Associate of Fine Arts in Graphic Design with plans to transfer to a four-year institution. For more information on all the exciting activities taking place at Cecil College, visit www.cecil.edu/campus-life/galleries-theaters. Or check them out on Facebook at facebook.com/CecilCollegeFineArtsProgram.