Awards Flow for Cecil College Women's Volleyball After Successful Season
Published on December 8, 2017 under Athletics, Student Life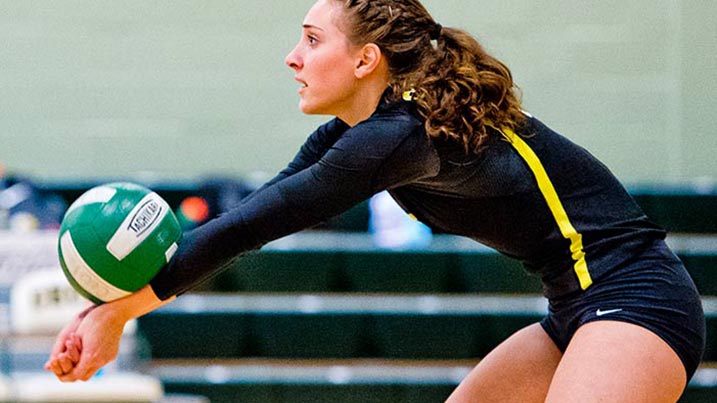 ---
by Brooke Fisher
Two members of the Cecil College women's volleyball team were recognized by the conference and region for their accomplishments on the court during a successful fall 2017 season.
Sophomore outside hitter, Brittany Atkins, and freshman setter, Sarah Blevins, were among the eighteen women's volleyball players in the Maryland Junior College Athletic Conference (MD JUCO) to be named to the All-Conference Team. The women's volleyball All-Conference team is made up of outstanding student-athletes from the twelve volleyball programs in MD JUCO.
Brittany Atkins, a native of Elkton, Md., was named First Team All-MD JUCO after recording 226 total kills and 48 services aces in her second year as a Seahawk. Atkins finished second in the conference in kills per set, fourth in total kills, and eighth in service aces. Atkins was also recognized by the National Junior College Athletic Conference (NJCAA) as a member of the NJCAA Region XX Tournament Team after her 20-kill showing in the Seahawks' post season regional match-up against Frederick Community College.
After graduating from Cecil College in the spring of 2018, Atkins plans to transfer to Wilmington University, on an athletic scholarship, to continue her academic and athletic career at the NCAA Division II level.
Sarah Blevins, a native of Quarryville, Pa., was named All-MD JUCO Honorable Mention after making an immediate impact on the Seahawks' squad in her freshman campaign. Blevins recorded 565 assists, marking her first in the conference during regular season play, with an average of 8.07 assists per set. Blevins also added 52 service aces, which landed sixth in the conference.
Blevins was also crowned with the title of MD JUCO Women's Volleyball "Student-Athlete of the Month" for the month of October in honor of her outstanding month of play. This award is nominated by coaches and voted on by the MD JUCO Student-Athlete of the Month Committee, which is made up of Sports Information Directors from around the conference. In her eight matches of play during the month of October, Blevins averaged 32.9 assists per match, including three matches with 40+ assists.
With combined efforts from Atkins and Blevins, along with the rest of the Cecil College women's volleyball team, the Seahawks ended their season with a regular-season record of 12-7 overall and 9-2 in the conference, occupying the third spot in the standings of twelve programs.
To read more about Cecil College women's volleyball and the college's eight other NJCAA-sponsored athletic teams, please visit www.cecilathletics.com or follow Cecil College Athletics on Facebook, Twitter, and Instagram.