Beaupre named Director of Public Safety
Published on September 30, 2019 under Faculty & Staff, General News, Student Life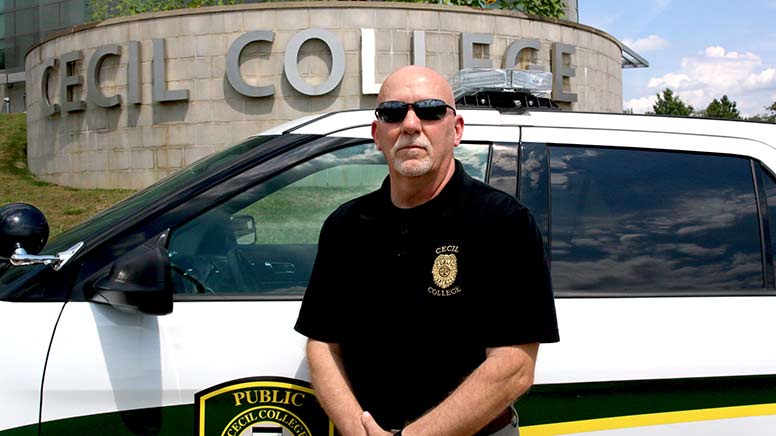 ---
NORTH EAST, Md. – Cecil College is proud to announce the appointment of Walt Beaupre as the new Director of Public Safety for all the College properties. Beaupre brings more than 30 years of professional law enforcement and Public Safety experience to the position.
"Coming from a four-year institution where we had students living on campus, it is a lot easier to get to know the students. Because Cecil College is a two-year commuter college, it is important to make sure the Public Safety staff are being proactive and interacting with the students," said Beaupre, who was the Director of Public Safety and Chief Constable at Wesley College in Dover, Del., for 13 years.
At Wesley College, Beaupre was responsible for the documentation of incidents occurring on campus and the ensured compliance with state and federal reporting requirements including statistical data for Clery and Title IX reports. As the supervisor of constables on campus, he made sure they maintained training and certification to including firearms certification.
A key aspect for Beaupre was the maintenance of communications with college departments, students, faculty, and staff for promotion and improvement of safety and security programs. He also provided presentations to incoming students and their parents.
"For the Public Safety personnel to be effective on any college campus, we need to make certain we are part of the campus community. We need to be out there building those relationships with the faculty as well as the students. If someone has a concern, regardless of what it is, they can come to us and trust us to take the appropriate action," said Beaupre. "These are relationships we will build over time."
Before his time at Wesley College, he was the Associate Director of Public Safety at Washington College in Chestertown, Md. During his seven years in that position, he managed and organized the 24-hour operation and duty schedule of Public Safety patrols for a staff that included sworn and non-sworn officers as well as full and part-time employees. He also managed the Public Safety staff for all campus special events.
At Cecil College, he will be responsible for the safety training of the Public Safety personnel and the ALICE training for students, faculty, and staff. Most recently, he completed the certification to be an ALICE instructor at the College. Beaupre is a 20-year Veteran of the United States Air Force, where he rose through the ranks from an officer to shift supervisor to the director of police operations.
He is a member of the Northeast Colleges and Universities Security Association, International Association of Campus Law Enforcement Administrators, Delaware College and Public Safety Association, Maryland Crime Prevention Association, West Dover Neighborhood Coalition Committee, and Restoring Central Dover Safety Committee.