Brockell was the foundation of Cecil College athletics
Published on April 5, 2019 under Alumni, Athletics, Foundation, General News
---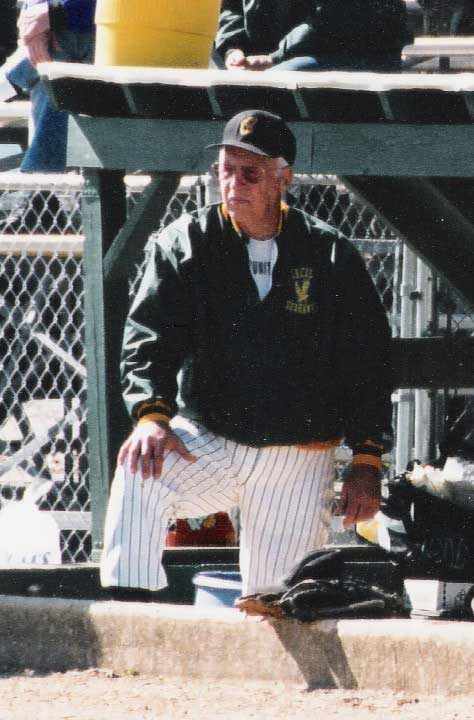 NORTH EAST, Md. – When discussing the history of athletics at Cecil College, the one name mentioned as the rock its foundation was built upon is Dick Brockell. A humble man who let his actions speak for his accomplishments, he was honored this past week by being inducted into the Cecil College Athletics Hall of Fame during the inaugural induction ceremony on Saturday, March 30.
"I am honored and humbled to say our hall of fame is a testament to the tremendous loyalty, passion, and excitement that alumni and friends have for Cecil College and our student-athletes," Cecil College President Dr. Mary Way Bolt.
His induction was posthumous, but his name joined seven of the institution's icons who were all pioneers in the creation, development, and growth of the Cecil athletics program. They included longtime administrative assistant Shirley Weaver; Cecil College's winningest men's basketball coach William Lewit; former Cecil College Board of Trustee member and executive director of the College Foundation Mary Maloney; former women's volleyball and basketball coach Mary Etta Reedy; former men's soccer coach, student-athlete advisor and mentor Dr. Thomas Topping; and former assistant athletics director Thomas Wilhide.
"Dick spent his life dedicated to baseball and this college. He was very instrumental in helping a lot of folks come to Cecil College," said Cecil College Athletics Director Ed Durham, who played for Brockell during the 1981-83 seasons.
Charlie "Dick" Brockell, a 1952 graduate of Elkton High School, joined Cecil Community College in 1978 when the baseball team practiced in the basement of the library because they did not have a field of their own. During his 20-year career as head coach, he compiled a 404-201-2 record.
With just 11 players on that initial team, including the scorekeeper who popped up in his lone plate appearance, the Seahawks went 21-7 and were only one out away from a trip to the NJCAA World Series. Two members of that team went on to play professional baseball as the Oakland Athletics signed pitcher Steve Oliver and catcher Mike McCardell signed with the Pittsburgh Pirates and Cincinnati Reds.
One of his proudest moment during his career was the opportunity to coach his son Rick, a pitcher and first baseman for the Seahawks in 1996 and 1997. The 1997 squad returned from a spring break trip to Cocoa Beach, Fla. with a perfect 7-0 record and celebrated with a specially made keychain which he carried with him the rest of his life.
"My dad bled Cecil green. He was so proud of Cecil College and Cecil baseball," said Rick Brockell as he accepted the plaque for his father during the induction ceremony. "He always took pride in that he never cut a player. He felt that even if you weren't good enough to play, it was important to be part of a team."
Two of Brockell's baseball players came to love Cecil so much, they returned to continue his legacy. Durham was a member of Brockell's squads in 1982 and 1983, and he returned to Cecil College in 1995 as an assistant men's basketball coach to Bill Lewit. "I can remember being in his office as a student and he said 'someday you'll be sitting in this chair,' " said Durham, the Middletown, Del. native who was named athletics director in 2004. "He was right. When I saw him, the first thing he said was, 'I told you you'd be back.'"
Taking the reins of the baseball program was former player Charlie O'Brien. O'Brien played for the Seahawks in 1984 and 1985. "I think I have the best job in the world coaching baseball at Cecil, and I wouldn't be where I am today without him," said O'Brien.
The Cecil baseball program earned winning records 19 of the 20 years Brockell was at the helm. He became athletics director in 1985 and held both positions until his retirement in 1998. As athletics director, he continued to encourage life-long learning with athletics being an integral part of the total experience. Cecil's varsity offerings increased from four to nine sports, and he implemented a student-athlete monitoring system that led to a near-perfect retention rate.
The National Junior College Athletics Association Region XX Hall of Fame inducted Brockell on Nov. 5, 2005. In July 2007, he was honored by having the Cecil College baseball field named after him. Including Oliver and McCardell, 12 of Brockell's Cecil College players were drafted and signed by Major League Baseball organizations. More than 150 of his players moved on to four-year colleges after going to Cecil, a face of which he was very proud.