Brown named Director of Facilities
Published on July 12, 2021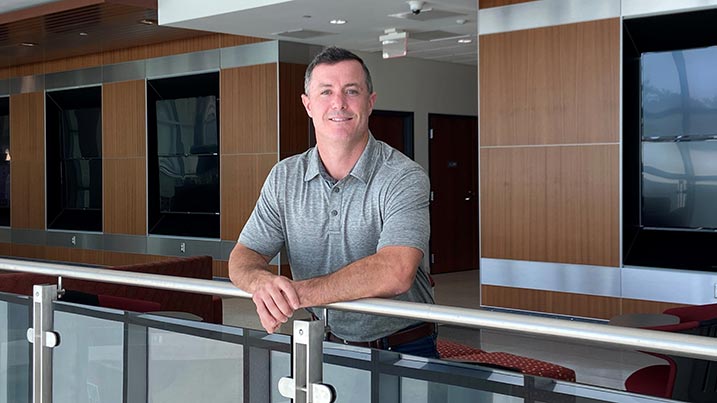 ---
NORTH EAST, Md. – Cecil College is pleased to announce that Keith Brown has accepted the promotion to Director of Facilities.
"This is a great opportunity, and I am pleased to be working with the same team as I was in my previous role as facilities manager at Cecil College. We have a great team in place, and I am excited to continue the great work the supervisors and staff have been performing," said Brown.
Brown's responsibilities include the supervision of all physical plant operations on the North East and Elkton Station campuses, including maintenance and operations in College buildings and grounds, utilities, energy management systems, and security systems to provide a safe, healthy, and comfortable environment for students, faculty, and staff.
Brown has an excellent understanding of the operations at Cecil College, having been the Facilities Manager for two years under the direction of Christopher Mills, vice president of finance and administration. Brown has been involved in every facilities-related project at the College, from building maintenance and custodial operations to grounds improvement.
"Chris has been very influential and helped me develop in my role and prepare for this new opportunity," said Brown.
With the foundation laid, Brown has seamlessly transitioned, keeping existing projects on task while preparing for other initiatives waiting in the wings. His proven track record as the assistant division manager for Henrico County Recreation and Parks prior to coming to Cecil College gave him the experience necessary to anticipate the College's needs.
Brown earned a Bachelor of Arts degree in sports management from Lynchburg College before earning his Master of Science in recreation, parks, and sports leadership from Virginia Commonwealth University. He lives in Middletown, De., with his wife Rachel, three-year-old son Declan, and one-year-old son Dawson.
Since 1968, Cecil College has been serving the community and shaping its future through its open admissions policy to provide learning opportunities for all who have the desire and ability to benefit from its courses and programs. Centrally located in Maryland's most northeastern county adjacent to Interstate 95, Cecil College boasts a diverse student population, approximately 2,500 credit students and 3,400 non-credit students. Cecil offers associate degrees, certificate programs, and non-credit classes.