Butler joins academic advisement team
Published on October 26, 2018 under Academics, Faculty & Staff, General News, Student Life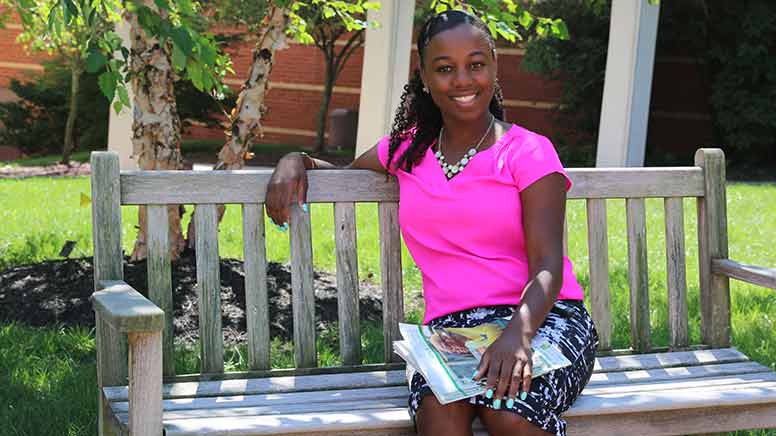 ---
NORTH EAST, Md. – Cecil College is excited to welcome Sheena Butler as the newest member of the Academic Advisement Office on the North East Campus. Butler comes to Northern Maryland from Drexel University, where she was an advisor in the College of Engineering for more than five years.
Butler is responsible for helping students define their enrollment pathway, create realistic goals and class schedules and understand campus and community resources. Butler is also the transfer advisor who assists students with identifying resources and programming for transfer with Cecil College's partners; four-year universities and colleges. She is an exceptional addition to Cecil College's Academic Advisement Office as the institution has expanded its STEM programs in the last five years.
"I worked as an advisor in the mechanical engineering department at Drexel, which I was not overly familiar with, so I had to learn so much more beyond the basics of advising. These students knew early on in their lives that they wanted to be an engineer, so they knew the curriculum. But they needed so much more from me," said Butler.
Working with those Drexel University engineering students provided Butler insight that has proven beneficial for Cecil College's engineering students. The professional development the university provided went beyond academic advising to counseling students on overcoming personal challenges and goals and the techniques needed to improve program retention.
Butler earned a bachelor's degree from Cheyney University of Pennsylvania in Business Management. She continued her studies at West Chester University to complete her master's degree in Administration: Training and Development.
Prior to her position at Drexel, Butler worked for West Chester University, as the program coordinator for the Psychology Department where she successfully contributed to the success of an after-school program funded by a grant from the National Institutes of Health. She worked with underprivileged high schoolers from the West Philadelphia area who were interested in attending college. Working with these high schoolers, she came to realize the importance of community colleges for these students.
"I knew that I wanted to work in a community college setting to help students like them. Being part of the National Association of Collegiate Academic Advising (NACADA), I connected with advisors who worked at the Community College of Philadelphia. They talked about the difference of working at a four-year college compared to a two-year college, and their jobs seemed to be a lot more meaningful at the two-year institutions," said Butler.
Butler is looking forward to working with a diverse group of students from different backgrounds. She also plans to continue her work with the NACADA to help other advisors in her field with her knowledge and experience. Her best advice to the students she has met in her time at Cecil College is to take advantage of every opportunity whether it is academic, professional, or personal.