Capstone students featured in Art and Design Student Exhibit
Published on November 23, 2020 under Academics, Faculty & Staff, Fine Arts, General News, Student Life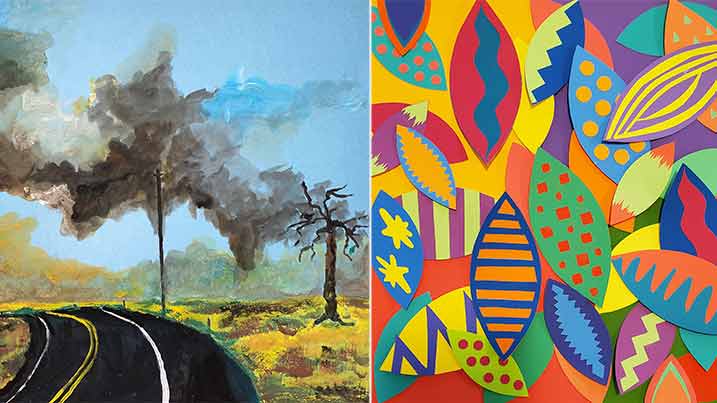 ---
NORTH EAST, Md. – The Cecil College Capstone Exhibition is a biannual event drawing hundreds of guests to its opening receptions at the close of each semester. Due to the pandemic, the fall 2020 Capstone Exhibition is on a virtual platform.
This year's Capstone artists are Juliette Miller and Heather Morris, whose work will go on display in the Art and Design Program's Virtual Gallery on Friday, Dec. 4, in conjunction with the Elkton First Friday Art Loop. Capstone Projects are the long-term investigative projects by students that culminate in a final product or presentation.
This year's show is entitled "Art and Design Student Exhibit: Fall 2020", on display through Sunday, Jan. 24, 2021. It will include drawings, paintings, photographs, designs, sculptures, and ceramics. This year's exhibit highlights pieces selected by the art faculty and represents the range of work created in the program.
The Capstone Project features a bit of international flare as Juliette Miller was born in Brussels, Belgium in 1961 before moving to the United States in the 80s. Miller is a full-time artist and student, creating work that brings happiness to her and her audience. She began her studies as a nursing major, but she decided to realize her dreams and focus on an art degree shortly after.
"My main artistic value is to bring about joy to those who see my art. This is important to me because I create art to enhance my mood and transfer that enhancement. I want my art to bring people together," said Miller.
First introduced to art from the elaborately framed paintings within her family home, she had the opportunity to travel to museums throughout her youth. Her first art teacher was her mother, who taught her how to paint and draw after noticing her fondness for art as a child.
In addition, she visited her grandmother's garden where she admired the beautiful flowers and vibrant colors. Her grandmother was the President of Le Botanic in Brussels, the center of Belgium. This event, which brought people from different parts of Belgium to display exquisite flowers, profoundly influences Juliette's work. Juliette strives to create art that shows the beauty of art, culture, and nature. She does this by painting natural motifs to look as real as possible.
"One of my favorite works is my piece titled "A Rose". This piece sparks joy to the viewer because it reflects the aspect of rebirth and renewal by depicting a freshly bloomed rose. The piece was created with oil pastels, which helped bring a sense of softness to the drawing compared to the harshness of a pencil," said Miller.
Miller is currently pursuing an Associate of Arts in Art and Design at Cecil College and plans to continue her studies at a four-year college or university.
The Capstone Project's second artist, Heather Morris, was born in Camden, N.J., and grew up in Northeast Philadelphia. Morris' mother taught her art as a young child and encouraged exploration and play with art materials. She studied visual communications at Cecil College and photography at Drexel University, and will be graduating with an Associate of Arts in Art and Design from Cecil College in December 2020.
Drawn to abstract art, Morris creates work that allows viewers to make associations and interconnect their experiences. She also explores black and white photography, which exhibits characteristics like depth and occasional graininess resulting in a unique and classic look. By placing characters in unexpected locations, her work encourages the viewer to investigate the scene.
"My process involves gathering elements and arranging them in a way to communicate an idea, express an emotion, or to please the eye. As a photographer, I place elements to develop a narrative. As a floral designer, I explore color and texture through the arrangement and pairing of different flowers. As an artist, I manipulate and combine paper, paint, and color to create visual effects," said Morris.
As a professional floral designer, Morris created elaborate designs for prestigious events such as the President of the United States' inaugural balls. She also produced arrangements for weddings and other events. Her work has been featured in "Style Me Pretty", a popular online wedding magazine.
"The act of drawing and organizing visual elements in a composition is a way for me to focus. Drawn to simple shapes and lines, I am interested in repeating elements to create rhythm and patterns. Circles are a reoccurring motif in addition to organic and geometric shapes with floral references. Both the process of making art and the final product are of importance, exploring the push and pull between chaos and order," said Morris.
To view this year's Art and Design Student Exhibit: Fall 2020, visit www.cecil.edu/2020fallexhibit.