Capstone students featured in Virtual Exhibition
Published on May 4, 2020 under Academics, Faculty & Staff, Fine Arts, General News, Visual Communications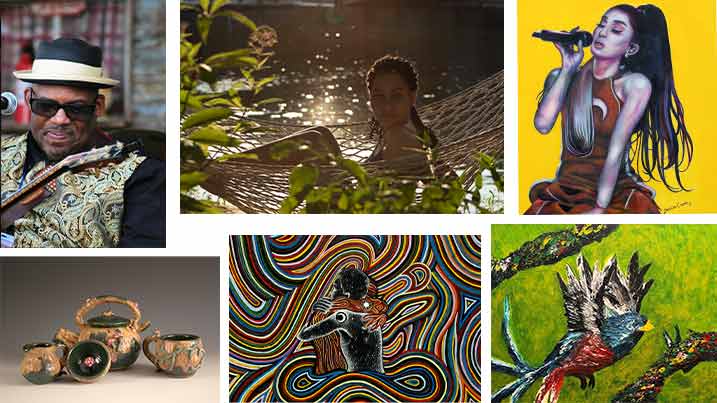 This is a compilation of works submitted for the 2020 Spring Capstone Project. These works are: Jazz Music by Gabe Smith, Crystal by Arnel Lablanc, Ariana Grande by Jessi Cook, Wooden Tea Set – Ceramic by Arnel Leblanc, Sun and Moon by Jessi Cooke, Tropical by Gabe Smith.
---
ELKTON, Md. – While the COVID-19 pandemic has prevented stewards of the arts from visiting museums, Cecil College's Art and Design Program is presenting the 2020 Spring Capstone Project in a virtual format. This season's Virtual Student Exhibit can be viewed at cecil.edu/cecilarts.
This spring's Capstone Project students are Jessi Cooke, Arnel Leblanc, and Gabe Smith. Also featured this season are the works by Portfolio Production students Madison Area and Mary Jo Fitz. Capstone Projects are long-term investigative projects that culminate in a final product or presentation.
This exhibit will feature drawings, paintings, designs, photographs, sculptures, and ceramics created by students, which represent the range of work created in the program. Artist biographies and statements are included with the online exhibit.
Gabe Smith is an expressionist artist from Maryland who enjoys creating art to portray certain moods and atmosphere using lines, shapes, and space. Working with graphite, paint, and photographs, the artwork involves abstraction, vivid color, and emotional and complex ideas. Smith, who plans to pursue a Bachelor of Fine Arts degree in drawing, painting, and photography, has been featured in exhibits hosted at the Elkton Station Gallery in Elkton, Md.
Jessi Cooke is a multimedia artist from Cecil County, Md., whose passion extends to exploring surface and design through her vibrant mixed media paintings and wheel-thrown ceramic pieces. By experimenting with a variety of materials, she creates stylized imagery evoking feelings of serenity.
Cooke's work has been displayed at the Elkton Station Gallery and earned multiple honorable mention awards. Upon completing her Associate of Fine Arts in Studio Arts from Cecil College this spring, she is enrolled in Salisbury University's Fine Arts degree program.
A native of the Commonwealth of Dominica, Arnel Leblanc rekindled her love for art after initially pursuing a degree in biology. Encouraged by her mother and family to focus on what makes her happy, Leblanc draws inspiration from her childhood experiences in the Caribbean. Having followed her passion, Leblanc will graduate this spring from Cecil College with an Associate of Fine Arts in Drawing and Painting, Photography and Interactive Motion Arts. Leblanc works as the Ceramic Studio Work-Study Assistant at Cecil College and is engaged in many activities at the institution. After graduation, she plans to return home to open her studio.
Mary Jo Fitz is a resident of Cecil County. Currently focused on ceramics as a student at Cecil College in Maryland, she draws inspiration from the natural world, myths, stories, and dreams. Her work focuses on finding within vulnerability, shelter, nurture, and resilience. Her work has been exhibited in regional and national juried shows. Both her 2D and 3D work have received numerous awards, including multiple Excellence in 3D Media and People's Choice awards.
Madison Area is a graphic designer and fine artist based in Cecil County Maryland. Influenced by surrealism and impressionism, a majority of her works depicts the human eye in different mediums and styles. Her work has been exhibited at the Elkton Station Gallery in Elkton, MD and the Technology Building at Cecil College in North East, MD. Her work is currently on display at The Maryland Arts Education Festival virtual gallery. Madison will graduate from Cecil College with an Associate degree in Graphic Design.