Career and Community Education holds Completion Ceremony
Published on May 30, 2019 under Academics, Alumni, Faculty & Staff, Foundation, General News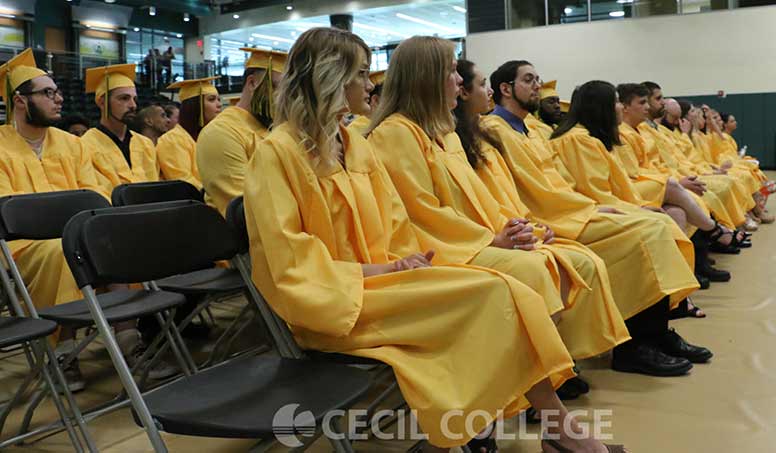 ---
Cecil College's Division of Career and Community Education held its inaugural Completion Ceremony on Tuesday, May 21, in the Physical Education Complex, honoring more than 40 students. These students completed their GED studies or Non-Credit Program certifications. 
The ceremony opened with a welcoming from Cecil College President Dr. Mary Way Bolt and the Dean of Career and Community Education Miles Dean. The keynote speaker for the event was Cecil County Circuit Court Judge William W. Davis, Jr. He congratulated the students for their tenacity and drive to better themselves and the community where they live. 
One of the highlights was the student reflections by Krysta Baker on Workforce Development, Joseph Bittner on obtaining his GED, and Brenda Bourke on earning her certificate in healthcare careers studies. 
Students receiving their certificates in healthcare careers were: Susie Nagle and Carly C. Wheeler – Medical Administrative Assistant; Brenda Bourke, Klaire Victoria Mitchell, Kaytlin Dawson, Alana Sarles, and Katelyn Hutchinson – Medical Assistant; Diamond Ivana Harrid – Phlebotomy; Jamie Lyn Griffin and William L. Ridner – Physician Professional Coder. 
Students receiving their certificates in workforce development were: Heriberto Caraballo and Gregory Ward Howe – HVAC/R; Krysta Baker, Whitney Smith, Amelia Rose Larkin, Tiffany Leigh Tomczak, Philip Mastrippolito, Linda Wallace, Autumn Shank, and Alexis Zgleszewski – Veterinary Assistant. 
Students receiving their GED were: Joseph Bittner, Jessica M. Brown, Pamela S. Cage, Kati Carhart, Shirley Carter, Jelissa Colon-Davila, Mackenzie Cooper, Megan Davis, Herman Deloatch, Shalousie Graves, Keylandra Gray, Lucille McCall, David Cody McDaniel, Andrew Ledbetter, Onuma Lewis, Terry Partain, Sr., Victoria E. Richardson, Danina Rodriquez, Chantel. Sandoval, Timothy Joseph Sturgis, Kianna Summers, and Richard A. White. 
Here are the photos from the Completion Ceremony. These photos can be download directly from Flickr. #cecilGEDgrad #cecilcollege #CCEcompleter #OwnYourFuture #college #maryland #cecilcounty
Click here for the direct link: 2019 Completion Ceremony Photo Gallery