CCE Open House is May 22
Published on May 15, 2018 under 50th Anniversary, Academics, Alumni, Faculty & Staff, General News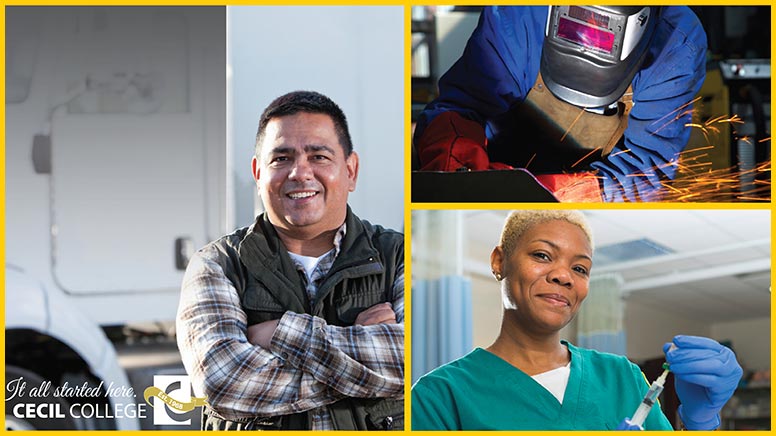 ---
ELKTON, Md. – Cecil College's Division of Career and Community Education will hold an Open House and President's Workforce Forum to showcase programs designed to assist individuals interested in starting a career or advancing in a current career, seeking to obtain a GED, and anyone interested in personal enrichment. This event will be on the grounds of the Elkton Station Campus on Tuesday, May 22, from 5 – 8 p.m. This event is free and open to the public.
This event is an opportunity for the public to learn and experience what the Division of Career and Community Education has to offer in professional training, whether it be in the trades, healthcare field, or the computer sciences. Visitors will also have the opportunity to meet with faculty and view demonstrations in the areas of lifelong learning, adult education, transportation, and the arts.
Another element of the open house will be to connect employers with job seekers and the training they will need to obtain a position.
"We are working to meet the needs of what is happening in today's industries. We aim to connect people with community education for them to learn new skills to find the perfect job or advance in the one they currently have. It is also to connect businesses with the college to show the programs we have to help them better train their employees," said Andrew Coston, Director of Career Services at Cecil College.
The evening will begin with opening remarks from Miles Dean, Dean of Career and Community Education; Dr. Mary Way Bolt, President of Cecil College; James Rzepkowski, Maryland's Assistant Secretary of the Division of Workforce Development and Adult Learning; and Sharon Markley, Director of Education and Innovation for Maryland.
There will be a President's Workforce Forum held from 5:30 – 7 p.m. featuring employers from around Cecil County. Attendees will have the opportunity to hear from and communicate with local employers about hiring needs, skill development, and the latest industry trends.
More than 15 employers will be on hand to talk with job seekers. These employers will range from APG Federal Credit Union to Delmarva Power and Susquehanna Workforce Network. These employers can inform job seekers of the procedures they need to follow.
Throughout the three floors of Elkton Station, Career and Community Education will have demonstrations in HAVC, healthcare studies, welding,  computer programming, languages, yoga, drivers' education, and much more.
Elkton Station is at 107 Railroad Avenue, in Elkton, Md. To learn more about this event or any of the programs offered by Career and Community Education, call 410-287-1000.