Cecil alumna thanks Foundation for changing her life
Published on December 13, 2019 under Alumni, Faculty & Staff, General News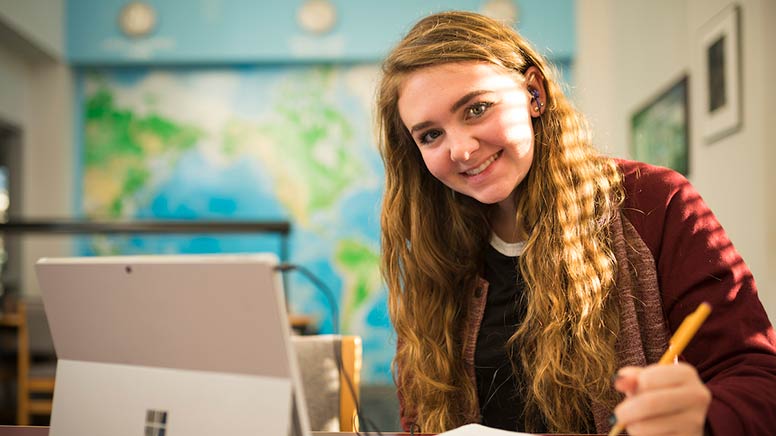 ---
NORTH EAST, Md. – With the ever-growing burden of college debt, never before have students been in more need of a protagonist to realize their full potential. Hundreds of patrons of education have supported the Cecil College Foundation for years, allowing students such as Erin Elburn to realize her potential and live out her dream of becoming an engineer.
"Without the financial support of the scholarships I received from the Cecil County Government Scholarship and the Cecil College Foundation, I don't know if I would be where I am today," said Elburn, who is currently in her junior year at the University of Delaware.
A native of Rising Sun, Elburn graduated from Cecil College in May 2019 with associate degrees in mechanical engineering, mathematics, physics, and engineering science. She wanted to stay close to home to begin her college education, allowing her to avoid racking up massive college loan debt.
"It was a good financial move for me, and when I learned I was receiving those scholarships, everything fell in place. I was able to be completely focused on my academics knowing that the financial burden of going to school wouldn't fall on the shoulders of my parents," said Elburn.
Annually, the Cecil College Foundation provides more than 300 scholarships, benefiting traditional and non-traditional students.
National data shows students in a degree program who have received a scholarship, were twice as likely to complete the degree as those who didn't apply for a scholarship. The data also revealed more than 90 percent of Cecil College students work 20 hours a week to make ends meet. Over a 15-week semester, a $100 scholarship means that students can work one less hour a week to put toward their academic pursuits and family.
"Their generous donations have helped people within the community who would otherwise not have had the opportunity to go to College, and in turn, the community suffers. It enabled me to have a good start to my college career," said Elburn.
With the financial burden lifted, Elburn was able to embrace the full college experience by getting involved in the Student Leadership Council, working as a social media assistant for the College's marketing department, and volunteering in the physics lab for the annual Girls in STEM workshops.
Going forward, Elburn has secured a summer internship at Aberdeen Proving Ground collecting data.
In its inception, Cecil Community College was founded to be a local, affordable alternative to a four-year education. Cecil College has become much more, providing students a way to a better life and community through the pursuit of an education. Annually, the Cecil College Foundation gives out more than 360 scholarships totally more than $355,000 in aid.
To donate to the Cecil College Foundation, visit cecil.edu/donate. To contact the Foundation, call (410) 287-1146, or email to foundation@nullcecil.edu.