Cecil College alum named CNA of the Year
Published on June 5, 2020 under Academics, Alumni, Faculty & Staff, Foundation, General News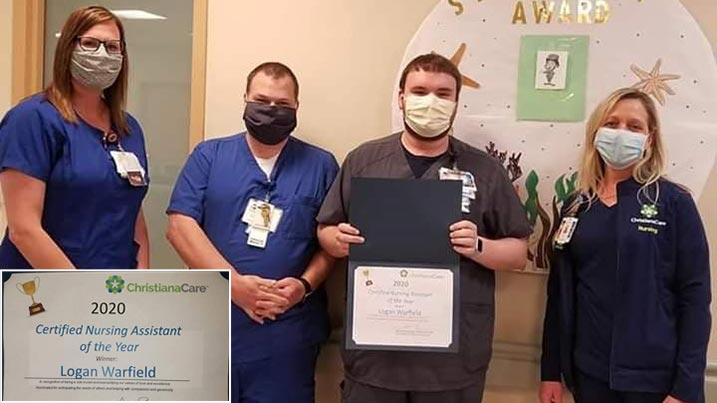 Photo submitted by ChristianaCare, Union Hospital
---
ELKTON, Md. – It takes a particular person who can interact professionally with individuals and families daily during the worst moments of their lives and maintain a sense of self. Empathy and compassion are balanced with self-preservation and emotional fortitude.
This challenge is tackled every day by Logan Warfield, whose virtue has enabled him to be there in the moment with his patients to ensure they are confident of their treatment. This professional commitment to patient care was recognized when he was named Certified Nursing Assistant of the Year for 2020 at ChristianaCare, Union Hospital in Elkton, Maryland.
"I could not be more blessed to work with better people. I truly believe I am where I am meant to be right now. I couldn't do what I do without the support and help of my awesome coworkers. We work well together, and each shift we work for the greater good for our patients," said Warfield, who has been on the front line of this pandemic from the beginning.
Warfield has been credited with placing patient care first, with a proactive approach to ensure nursing is made aware of any necessary changes or vital signs of those in his care. Checking in frequently with his patients ensures they have everything they need to be as comfortable as possible.
"I have come to realize that life is so short, and we should not take it for granted. What puts this into perspective is when I am taking care of patients during times that maybe some of the worst days of their lives. Regardless of age, circumstances can drastically change suddenly," said Warfield.
"I am so excited and proud of him. You can see the compassion he has for the patients when you talk with Logan," said Cecil College CNA instructor Mary Beth Naggie, RN.
This North East, Md., resident has been a Certified Nursing Assistant for three and a half years at ChristianaCare, Union Hospital after graduating from Cecil College's CNA program. Having worked in the healthcare field, it has exposed him to opportunities of which he has begun to take advantage. He will apply in January for acceptance into the Cecil College Nursing Program for the Fall 2021 term. His ultimate goal is to pursue a master's degree in nursing.
"There are so many options in the nursing field, which is one of the many things I love about this career path. I am not certain yet whether I will use my degree to work in management, hospital education, teaching, or other areas of healthcare," said Warfield.
In the wake of the COVID-19 pandemic, Warfield's awareness is heightened by the necessities of added risks and encounters. Learning to be comfortable with the added precautions and safety measures, the importance of patient care is emphasized daily, with each person having unique, essential needs.
"This pandemic has made me become more flexible and adapt to new environments and people. Personally, emotionally, I work in the moment and try not to think too much about it. I take the necessary precautions to stay as safe as possible, but I am not so worried about myself as I am about the people around me," said Warfield.
Studies have shown that this heightened awareness places added stress on healthcare providers, especially as they strive to keep their families safe from the COVID-19 virus and the realizations of what they see daily. Working the nightshift, Warfield has been challenged with finding the right balance between work and personal life. He has developed a coping mechanism for dropping everything at the door when he returns home as well as when he returns to the hospital.
"Patients can tell when there is something wrong, and they need a positive person to be there to assist them. Learning to be selfless can be difficult and is still challenging for some days. You are going to have rough shifts with lots of emotional up and downs, but it is over when your shift is over. That concept can still be difficult after three and a half years," said Warfield.
Warfield's compassion for his patients goes beyond his time as he has been known to use his own money to buy a patient a meal. Not because they asked for it, just because he thought it was the right thing to do. Examples such as this go a long way in showing how a CNA can make a patient's day just a little better. His coworkers have viewed him as an asset to the unit and always willing to do what it takes.