Cecil College alumna uses her art as a voice for change
Published on November 9, 2020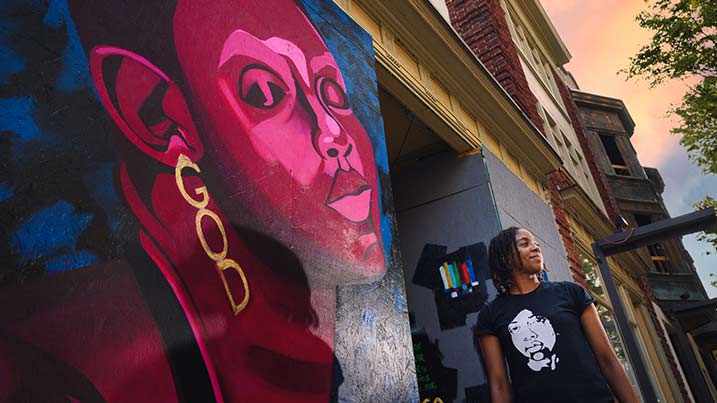 Cecil College alumna Erica Jones stands in front of her mural of slain Black Lives Matter activist Oluwatoyin "Toyin" Salau in Wilmington. Photo by Moonloop Photography
---
As the leaves become more vibrant with the changing of the seasons, the City of Wilmington, De., is just a little bit brighter these days, thanks in part to the efforts of several community leaders who view art as the pathway to the civic soul. Popping up across the city are vibrant murals turning drab canvases of brick walls and boarded up windows into welcoming communities and neighborhoods.
Renowned muralist Grace McCammond said in a 2014 NPR interview that murals build a sense of community, making towns welcoming and walkable. "You are making it a place you want to visit."
This sentiment can be heard when regional artist Erica Jones describes her work and the passion she has embedded in her latest piece that was completed earlier this fall on the 200 block of West 9th Street in Wilmington.
"I wanted to make a statement to create something that stands out. The committee gave me free rein, and initially, the background was going to be yellow to pop out. But after discussing my vision with others, I settled on a black and blue background to be a collaboration with JaQuanne Leroy (who was also commissioned to create a piece at the same location) so it flowed together versus having two completely separate pieces," said Jones.
Jones' vision was to spotlight the inherent violence against women, especially women and girls of color. Her inspiration was to paint a portrait of slain Black Lives Matter activist Oluwatoyin "Toyin" Salau, who was murdered in Florida earlier this year. Jones is the third artist of color selected to paint murals on plywood sheets that volunteers and business owners secured over storefront windows after rioters smashed them on May 30, during the protests for the murder of George Floyd.
The idea behind Wilmington's grassroots mural project came out of a conversation between Jonathan Whitney, Eliza Jarvis, and Joe del Tufo – three community members dedicated to embracing their community. del Tufo, co-owner of Moonloop Photography, felt covering the damaged building with lively photographs of people from the city would be inspirational. As the Delaware Art Museum's Manager of Performance Programs and Community Engagement Whitney and Jarvis, Manager of Youth Learning and Creative Partnerships in Wilmington, felt something more personal was needed to heal the community's wounds.
Having seen the positive impact other cities have experienced with these large murals, they decided to reach out to city officials and sought corporate sponsorships that allowed them to raise enough money to commission the artists.
Wilmington artist James Wyatt was top of the list as he designed and painted the first mural at Spaceboy Clothing on Market Street. JaQuanne Leroy was the second artist commissioned who produced a piece next to Jones' mural where the pop-up holiday bar Blitzen once stood. They were selected for their style and ability to convey the message of unity.
The uniqueness of Jones' talent caught the attention of del Tufo two-years ago while he was photographing students for Cecil College's marketing campaign.
"I was immediately taken by Erica's artwork and her ability to express the intent of it. I then ran into her randomly at The Contemporary, a museum in Wilmington, De., where she was working. We had a long conversation about art and music and photography, which brought her to mind for this campaign," said del Tufo.
Jones graduated with an art degree (Drawing, Painting, Graphic Design) from Cecil College, where she developed her style of enhancing vibrant colors through the use of shadows and depth of field on a large canvas. A native of Aberdeen, Md., she supplements her talents in the arts, music, and design as a machine operator at a local plant. In her home studio, she hones these talents and promotes them through a recently completed website and YouTube videos; writing, and recording under the name E.Lizé.
"When I arrived at the site in Wilmington, they had painted the wood panels covering the windows in preparation for me. I began by snapping chalk lines to make a grid. That works best for me. In planning, I tried to trust my instinct because other artists have created their murals differently," said Jones.
As this was her first public mural, Jones wanted to remain true to who she is to let the public appreciate her style. She is hopeful that people will be able to see her growth in artwork as she hopes to have more opportunities, such as this one. With the stage set, she was onsite from dawn to dusk, perfecting her creation on the largest piece she has worked on to-date.
"People were driving by or walking by and stopped to talk with me about what I was doing. Their enthusiasm and appreciation for my work were very inspiring and uplifting," said Jones, as she climbed up and down the ladder in front of the 6-foot by 11-foot panel.
"I love her use of colors and the level of intention she puts into her work. It is rarer than people realize. I watched her work for over a week, into the night, exhausted but determined to make the work match her vision. Since the scale of the work was so large, over 11 feet, she would continually walk across the street to make sure the perspective was accurate," said del Tufo, who documented the project.
For the final touch of this project that enhanced the meaning behind the mural, Jones painted names of 400 black women and girls who have been victims of violence on the adjacent wall.
The grassroots mural project has commissioned an additional two artists. The ultimate goal is to have the buildings renovated, and as these plywood panels are removed, the artwork will be preserved as iconic representations of Wilmington's rebirth.
"We are now raising money to preserve what can be delicate work as we see these as important, historic pieces of art. We hope to have the works tour in other locations in the state," said del Tufo.