Cecil College hosts virtual Seahawk Turkey Trot '20
Published on September 16, 2020 under Alumni, Athletics, Faculty & Staff, Foundation, General News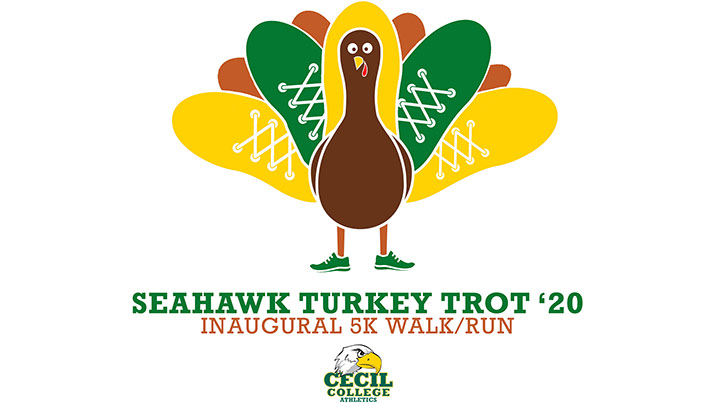 ---
NORTH EAST, Md. – Cecil College Athletics is sponsoring its inaugural Seahawk Turkey 5K Trot (walk/run) this fall to allow participants to get outdoors to stretch their legs. This virtual race will be from Saturday, Nov. 14, through Thursday, Nov. 26.
A virtual run is a race where participants can run (or walk) from any location of their choice, promoting social distancing. They can run, jog, or walk on the road, on the trail, on the treadmill at the gym or the track (or even at another race). Participants get to move at their own pace, at a time of their convenience.
The registration fee is $25, with proceeds going to fund student-athlete scholarships at Cecil College. Participants will receive a t-shirt (which can be picked up on the North East Campus or mailed for an additional $5). The race will feature awards and "Social Media Shout Outs."
Please register by Friday, Nov. 13, to allow for the ordering of the t-shirts for this 5K. Registration can be done online, along with further information at www.cecil.edu/turkeytrot.