Cecil College celebrates the Class of 2020
Published on June 19, 2020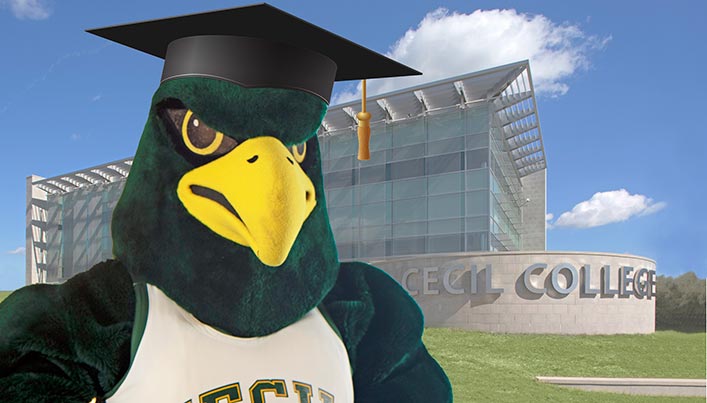 ---
NORTH EAST, Md. – Cecil College celebrated the Class of 2020 during historic times by hosting a virtual graduation ceremony with more than 232 students completing an associate degree or certificate program this past December and this Spring.
Due to the COVID-19 pandemic and the Stay-at-Home Order in the State of Maryland, Cecil College's 2020 Virtual Graduation Ceremony was held May 17 with graduates experiencing the ceremony remotely. Following opening remarks from Cecil College President Dr. Mary Way Bolt, students and guests were welcomed by Samaah Wahid, a student-athlete who graduated with honors. Student Reflections on their experiences at Cecil College were offered by Lauren Guzman and McKale Williams.
The following is a list of graduates, their hometown and the degrees and certificates they earned.
| Name | Hometown | Degree / Certificate |
| --- | --- | --- |
| Jeffrey Sexton | Aberdeen, Md. | Fire Science Technology |
| Taylor Wood | Bear, De. | Nursing |
| Nicholas Bader | Bel Air, Md. | Cybersecurity |
| Lauren Guzman | Bel Air, Md. | Civil Engineering |
| | | Aerospace Engineering |
| | | Engineering Science |
| | | Mathematics |
| | | Mechanical Engineering |
| | | Physics |
| Micayla Velez | Bel Air, Md. | Equine Studies |
| Jodi-Ann McNaughton | Belcamp, Md. | General Studies |
| Helen Brown | Cecilton, Md. | Nursing |
| Leah Dows | Cecilton, Md. | Nursing |
| Brandi Forman | Charlestown, Md. | Management |
| Madison Jo Area | Charlestown, Md. | Graphic Design & Multimedia |
| Emily Adams | Chesapeake City, Md. | Nursing |
| Alexandra Nelson | Chesapeake City, Md. | Nursing |
| Vivian Aiken | Claymont, De. | Nursing |
| Allison Brown | Cockranville, Pa. | General Studies |
| Racheal Boyd | Colora, Md. | Accounting |
| Garrett Jolly | Colora, Md. | Cybersecurity |
| Alexander O'Toole | Colora, Md. | Cybersecurity |
| Adam Sendzia | Colora, Md. | Cybersecurity |
| Sara Campana | Conowingo, Md. | Elementary Education |
| Courtney Cummings | Conowingo, Md. | Social Work |
| Elijah Ehrhart | Conowingo, Md. | Mechanical Engineering |
| Jared Hoag Jr. | Conowingo, Md. | Civil Engineering |
| | | Mechanical Engineering |
| George Hipkins IV | Conowingo, Md. | Music – Audio Technology |
| | | Music – Music |
| Katherine Kerfoot | Conowingo, Md. | Nursing |
| Alisa Knopp | Conowingo, Md. | Nursing |
| Hannah Metz | Conowingo, Md. | Nursing |
| Garrett Ragan | Darlington, Md. | Nursing |
| Riley Simpson | Earleville, Md. | Accounting |
| Sadie Aiken | Earleville, Md. | General Studies |
| Seth Edwards | Earleville, Md. | General Studies |
| Megan McCormick | Earleville, Md. | Nursing |
| Jessica McDade | Earleville, Md. | Psychology |
| Kaitlin Magaw | Earleville, Md. | Social Work |
| Deisha McDaniel | Edgewood, Md. | General Studies |
| Rebecca Blankenship | Elkton, Md. | Accounting |
| Jonathan Deveau | Elkton, Md. | Accounting |
| Daniel Palese | Elkton, Md. | Accounting |
| Andrew Terry | Elkton, Md. | Accounting |
| John Wright Jr. | Elkton, Md. | Accounting |
| Christal Wyre | Elkton, Md. | Accounting |
| Jessica Cooke | Elkton, Md. | Studio Arts |
| Kimberly Nolan | Elkton, Md. | Physical Science |
| Dakota Colby | Elkton, Md. | Civil Engineering |
| John De Guzman | Elkton, Md. | Criminal Justice |
| Jessica Jordon | Elkton, Md. | Criminal Justice |
| Chloe Cather | Elkton, Md. | Criminal Justice |
| Avery Alexander | Elkton, Md. | Cybersecurity |
| Kendall Hendron | Elkton, Md. | Cybersecurity |
| Alison Little | Elkton, Md. | Early Childhood Education |
| | | Elementary Education |
| Samaah Wahid | Elkton, Md. | Early Childhood Education |
| | | Elementary Education |
| Jacob Jones | Elkton, Md. | Electrical Engineering |
| Amanda Jo Gilley | Elkton, Md. | Elementary Education |
| Tanya Phelps | Elkton, Md. | Elementary Education |
| Kristin Syva | Elkton, Md. | Equine Studies |
| Nicholas Gregson | Elkton, Md. | Exercise Sciences |
| Jacob Anderson | Elkton, Md. | General Studies |
| Solomon Harris Jr. | Elkton, Md. | General Studies |
| Dorothy Sherman | Elkton, Md. | General Studies |
| Sabrina Thierry | Elkton, Md. | General Studies |
| Amanda Delp | Elkton, Md. | General Studies |
| Samuel Fraser | Elkton, Md. | General Studies |
| Paul Layton II | Elkton, Md. | General Studies |
| Kendra Mastrangelo | Elkton, Md. | General Studies |
| Nicole Paradis | Elkton, Md. | General Studies |
| Brooke Wagner | Elkton, Md. | General Studies |
| Gina Cahill | Elkton, Md. | Management |
| Alesia Franklin | Elkton, Md. | Management |
| Daniel Palese V | Elkton, Md. | Management |
| Shawn Grandval | Elkton, Md. | Management |
| Danielle Mixon | Elkton, Md. | Mathematics |
| Kimberly Nolan | Elkton, Md. | Mathematics |
| Patrick O'Brien | Elkton, Md. | Mathematics |
| Ryan Farmer | Elkton, Md. | Music – Audio Technology |
| | | Music – Music |
| Ethan Scott | Elkton, Md. | Music – Audio Technology |
| | | Performing Arts – Music |
| Haleigh Ash | Elkton, Md. | Music Performance |
| Amanda Brand | Elkton, Md. | Nursing |
| Krysta Chambers | Elkton, Md. | Nursing |
| Patricia Crew | Elkton, Md. | Nursing |
| Tori Gilces | Elkton, Md. | Nursing |
| Samantha Green | Elkton, Md. | Nursing |
| Christina Nordmark | Elkton, Md. | Nursing |
| Rebecca Scott | Elkton, Md. | Nursing |
| Jennifer Storey | Elkton, Md. | Nursing |
| Chloe Cather | Elkton, Md. | Paralegal Studies |
| Russell Houltze IV | Elkton, Md. | Paralegal Studies |
| Aliyah Johnson | Elkton, Md. | Psychology |
| Alexandra Stevens | Elkton, Md. | Psychology |
| Holly Loss | Elkton, Md. | Public Health – Health Navigator |
| Josiah Humphries | Elkton, Md. | Simulation Design and Gaming |
| Sierra Seymour | Elkton, Md. | Simulation Design and Gaming |
| Sean Sjoblom | Elkton, Md. | Simulation Design and Gaming |
| Matthew Smith Jr. | Elkton, Md. | Simulation Design and Gaming |
| Liz Medina | Elkton, Md. | Social Work |
| Joseph Wey | Elkton, Md. | Graphic Design and Multimedia |
| Erick Sjoblom | Elkton, Md. | Photography |
| Eunice Owusu-Siaw | Germantown, Md. | Nursing |
| Alyson Boyle | Havre de Grace, Md. | A&D – Graphic Design |
| | | Vis Com – Graphic Design |
| Lisa Maria Solomon | Havre de Grace, Md. | Nursing |
| Tatiana Houser | Lancaster, Pa. | Public Health -Public Health Generalist |
| Matthew Darby | Lincoln University, Pa. | General Studies |
| Nicole Tighe | Lincoln University, Pa. | General Studies |
| Ashley Dryden | Lincoln University, Pa. | Simulation Design and Gaming |
| | | Communication |
| | | Graphic Design & Multimedia |
| | | Web Design & Multimedia |
| Marvin Anderson | Middle River, Md. | General Studies |
| Kirstie Long-Smith | Middle River, Md. | Nursing |
| Jayde Morgan | Middletown, De. | Equine Studies – Management |
| Darrell Jenkins | Middletown, De. | Digital Imaging |
| | | Video Technology |
| Bria Evans-Stanley | New Castle, De. | Nursing |
| Michael Worthington Jr. | New Providence, Pa. | Business Administration |
| Quentin Fleetwood | Newark, De. | Early Childhood Education |
| | | Elementary Education |
| Andrew Wanros | Newark, De. | Equine Studies |
| Lyndsay Wobbleton | Newark, De. | Nursing |
| Evan Armstrong | Newark, De. | Video Production |
| Bryn Ditchfield | North East, Md. | Accounting |
| Tammy Dukes | North East, Md. | Accounting |
| Nicholas Jayne | North East, Md. | Accounting |
| Kena Koch | North East, Md. | Accounting |
| Elizabeth Haubert | North East, Md. | Art History |
| Arnel LeBlanc | North East, Md. | Drawing and Painting |
| | | Photography and Digital Arts |
| Sean Young | North East, Md. | Civil Engineering |
| | | Aerospace Engineering |
| | | Mechanical Engineering |
| Brianna Bare | North East, Md. | Criminal Justice |
| Tina Ray | North East, Md. | Criminal Justice |
| Corey Walsh | North East, Md. | Criminal Justice |
| Nicolas Steuernagle | North East, Md. | Cybersecurity |
| Julia Clevenger | North East, Md. | Early Childhood Education |
| Taylor Krauss | North East, Md. | Elementary Education |
| Rebekah Lawlor | North East, Md. | Elementary Education |
| Alorra Wynter | North East, Md. | Elementary Education |
| Jessica Everetts | North East, Md. | Exercise Sciences |
| Austin Rice | North East, Md. | Exercise Sciences |
| Kayla Dvorak | North East, Md. | General Studies |
| Daniel Hudgins | North East, Md. | General Studies |
| Alexis Shortt | North East, Md. | General Studies |
| Diere Hodges | North East, Md. | General Studies |
| Stephanie McCardell | North East, Md. | General Studies |
| Tiara Smith | North East, Md. | General Studies |
| Megan Williams | North East, Md. | General Studies |
| Bailee Sten | North East, Md. | Leadership and Management |
| Maria Cintron | North East, Md. | Management |
| Tammy Dukes | North East, Md. | Management |
| Menghong Cao | North East, Md. | Nursing |
| Taylor Clark-Hartman | North East, Md. | Nursing |
| Rachel Cox | North East, Md. | Nursing |
| Esther Cragg | North East, Md. | Nursing |
| Melissa Fitzsimmons | North East, Md. | Nursing |
| Tiffany Godfrey | North East, Md. | Nursing |
| Drew Howell | North East, Md. | Nursing |
| Patricia MacDonald | North East, Md. | Nursing |
| Cassie Mease | North East, Md. | Nursing |
| Stephanie Methven | North East, Md. | Nursing |
| Cynthia Rodriguez | North East, Md. | Nursing |
| Nicole Wright | North East, Md. | Nursing |
| Brianna Bare | North East, Md. | Paralegal Studies |
| Avalon Tortora | North East, Md. | Paralegal Studies |
| Sequoia Kennedy | North East, Md. | Secondary Education |
| Jacob Yanovich | North East, Md. | Simulation Design and Gaming |
| Taylor Gallaher | North East, Md. | Supply Chain Management |
| Sequoia Kennedy | North East, Md. | Communication |
| | | Video Production |
| Jazlin McNeil | Nottingham, Pa. | General Studies |
| Marie Miller | Nottingham, Pa. | General Studies |
| Brian McMenamin Jr. | Oxford, Pa. | Business Administration |
| Gregory Rivera Jr. | Oxford, Pa. | Cybersecurity |
| Alexandra Bennett | Oxford, Pa. | Early Childhood Education |
| Tiffany Kirk | Oxford, Pa. | General Studies |
| Nadia Bakalez | Oxford, Pa. | General Studies |
| Amanda Brake | Oxford, Pa. | General Studies |
| Cira Brake | Oxford, Pa. | General Studies |
| Meghan Brake | Oxford, Pa. | General Studies |
| Brian Brower Jr. | Oxford, Pa. | General Studies |
| Madison Chambers | Oxford, Pa. | General Studies |
| Sierra Cullen | Oxford, Pa. | General Studies |
| Sydney Herrera | Oxford, Pa. | General Studies |
| Grace Kearney | Oxford, Pa. | General Studies |
| Elise Kimes | Oxford, Pa. | General Studies |
| Kylie Klein | Oxford, Pa. | General Studies |
| Juliana Lenge | Oxford, Pa. | General Studies |
| Kyleigh Levinsky | Oxford, Pa. | General Studies |
| Heather Mullins | Oxford, Pa. | General Studies |
| Julia Perpetua | Oxford, Pa. | General Studies |
| Hadden Phillips | Oxford, Pa. | General Studies |
| Lilia Quinn | Oxford, Pa. | General Studies |
| Brianna Shortell | Oxford, Pa. | General Studies |
| Bruce Trimmer | Oxford, Pa. | General Studies |
| Ethan Weir | Oxford, Pa. | General Studies |
| Billie Baird | Oxford, Pa. | Nursing |
| Eirrynn Henderson | Oxford, Pa. | Secondary Education |
| Hailey Lutter | Perryville, Md. | Criminal Justice |
| | | Paralegal Studies |
| Jacob Bratcher | Perryville, Md. | Cybersecurity |
| Leah Sankar | Perryville, Md. | Cybersecurity |
| Ryan Vogt | Perryville, Md. | Cybersecurity |
| Jessie Immekus | Perryville, Md. | Management |
| Alexandra Hudson | Perryville, Md. | Mathematics |
| Joel Hudson | Perryville, Md. | Mathematics |
| Kristopher Campbell | Perryville, Md. | Audio Technology |
| | | Music |
| | | Voice |
| Taylor Fitzpatrick | Perryville, Md. | Nursing |
| Andrew Crouse | Port Deposit, Md. | Accounting |
| Robert Stoflet | Port Deposit, Md. | Accounting |
| Ruvim Kolosey | Port Deposit, Md. | Biological Sciences |
| Faith Laws | Port Deposit, Md. | Elementary Education |
| Zachary Vafakos | Port Deposit, Md. | General Studies |
| Kimberly Patrick | Port Deposit, Md. | Management |
| April Blucher | Port Deposit, Md. | Nursing |
| Gillian Bumba | Port Deposit, Md. | Nursing |
| Kira Honesty-Williams | Port Deposit, Md. | Nursing |
| Thomas Parks | Port Deposit, Md. | Nursing |
| Melissa Semenkow | Port Deposit, Md. | Nursing |
| Nicholas Beamer | Port Deposit, Md. | Social Work |
| Lexas Hayden | Port Deposit, Md. | Communication |
| | | Photography |
| Hollie Brook | Port Deposit, Md. | Portfolio Production |
| | | Studio Photography |
| | | Video Technology |
| Jacob Falko | Rising Sun, Md. | Accounting |
| Elan Martin | Rising Sun, Md. | Accounting |
| Carley Cooperman | Rising Sun, Md. | Drawing and Painti |
| | | Graphic Design |
| | | Studio Arts |
| Cayley Hall | Rising Sun, Md. | Environmental Science |
| Dustin Gilbert | Rising Sun, Md. | Biological Sciences |
| Mallori Beiler | Rising Sun, Md. | Criminal Justice |
| Mark Strojny | Rising Sun, Md. | Cybersecurity |
| Alexa Hull | Rising Sun, Md. | Elementary Education |
| Collin Rich | Rising Sun, Md. | General Studies |
| Kaitlyn Bedsworth | Rising Sun, Md. | General Studies |
| Jennifer Wilson | Rising Sun, Md. | General Studies |
| John Kang | Rising Sun, Md. | Management |
| Dawn Spalding | Rising Sun, Md. | Management |
| Michael Barton | Rising Sun, Md. | Marketing |
| Heather Amos | Rising Sun, Md. | Nursing |
| Katelynn Edwards | Rising Sun, Md. | Nursing |
| Cortney Lawrence | Rising Sun, Md. | Nursing |
| Ashley Lowe | Rising Sun, Md. | Nursing |
| Amber Massimiano | Rising Sun, Md. | Nursing |
| Delana Ringer | Rising Sun, Md. | Nursing |
| Dalton Lahti | Rising Sun, Md. | Paralegal Studies |
| Seth Shepard | Rising Sun, Md. | Supply Chain Management |
| | | Transportation Management |
| Kimberly McMichael | Rising Sun, Md. | Graphic Design & Multimedia |
| | | Video Production |
| Connor Dulin | Smyrna, De. | Management |
| Olivia Uleau | Warwick, Md. | Photography Lab |
| | | Portfolio Production |
| Revenee Aiken | Wilmington, De. | Nursing |
| Julia McDaniels | Wilmington, De. | Nursing |
| Briana Taylor | Wilmington, De. | Nursing |
| Robert Leggett | Wilmington, De. | Basic Photography |
| | | Digital Imaging |
| | | Photography Lab |