Cecil College creates seamless transfer to Moore College of Art and Design
Published on November 11, 2019 under Academics, Faculty & Staff, Fine Arts, General News, Visual Communications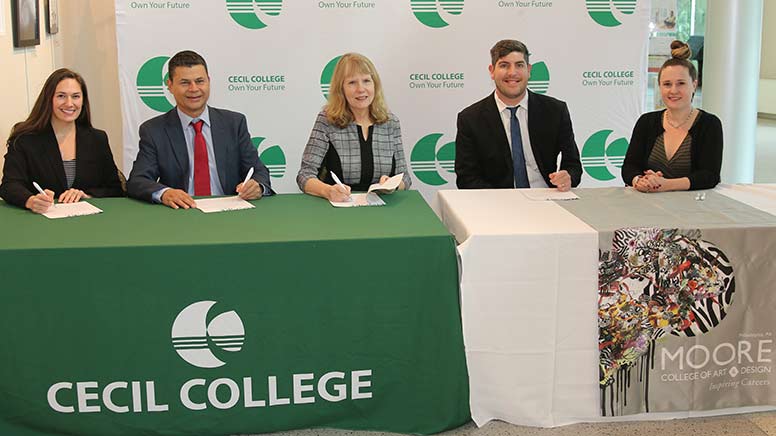 On hand to sign an articulation agreement between Cecil College and Moore College of Art and Design were: Lauren Vanni, Professor of Art at Cecil College; Jon Esser, Dean of Arts, Humanities and Commerce; Mary Way Bolt, President of Cecil College; Jonathan Squire, Dean of Admission at Moore College; Kimberly Brickley, Senior Admissions Counselor at Moore College.
---
ELKTON, Md. – Throughout the past five decades, Cecil College has offered a multitude of services to ensure student success. Among these services is fostering seamless transfer to four-year institutions in pursuit of a bachelor's degree.
Cecil College continues to strive for student success through yet another new articulation agreement. The College is partnering with Moore College of Art and Design, located in Center City Philadelphia, to create seamless transfer opportunities in the field of Fine Arts. Representatives from Cecil College and Moore College of Art and Design gathered on Friday, Nov. 8, to hold an official signing at Elkton Station.
"Cecil College works diligently to reduce the barriers faced by students, allowing them to successfully transition to four-year colleges and universities. Partnering with Moore College of Art and Design ensures our Associate of Fine Arts students will continue to benefit from the support and high academic standards that will allow them to own their future," said Cecil College President Dr. Mary Way Bolt.
"Moore College of Art and Design is delighted to launch a new agreement with Cecil College that creates a clear point of entry and pathway into Moore's Bachelor of Fine Arts programs for Cecil College's associate degree graduates," said Moore President Cecelia Fitzgibbon. "Moore's BFA programs are outstanding, and we look forward to welcoming Cecil College's well-qualified and highly motivated transfer students to the Moore College community."
Under this articulation agreement, Cecil College students earning an Associate of Fine Arts (AFA) will be able to transfer into one of two Bachelor of Fine Arts programs at Moore College. These include AFA degrees in Interactive and Motions Arts being accepted into Moore College's Animation and Game Arts program, while AFA degrees in Drawing and Painting as well as Ceramics and Sculpture, will be accepted into the Fine Arts program.
"We want our students to be able to transfer every credit they take here at Cecil College into their four-year programs. By having this articulation agreement, the arrangements are all worked out for the students," said Dr. Christy Dryer, Vice President of Academic Programs.
Cecil College has more than 150 articulation agreements and state transfer agreements with four-year colleges and universities, not only in the State of Maryland but across the country. Articulation agreements are a formal partnership between two or more colleges and universities, documenting the transfer policies for a specific academic program or degree. These partnerships ensure students do not waste time, money or credits by having to repeat a course at the four-year institution.
"Articulation agreements are critical for students. They can be focused on their coursework knowing the pathway they need to follow. It helps our students to be very selective of the courses they take and cost conscience so they don't use up their financial aid taking a course that won't transfer," said Dr. Dryer.
Cecil College has partnerships for most of the associate degree programs from nursing to engineering, marketing, and fine arts. Four-year institutions look favorably upon these agreements due to the proven track record of transfer students. They, traditionally, excel and are better prepared for the rigorous coursework at their four-year schools. This also results in Cecil College graduates being heavily recruited in many of the academic programs.