Cecil College designated NSA/DHS cybersecurity institute
Published on September 16, 2019 under Academics, Faculty & Staff, Foundation, General News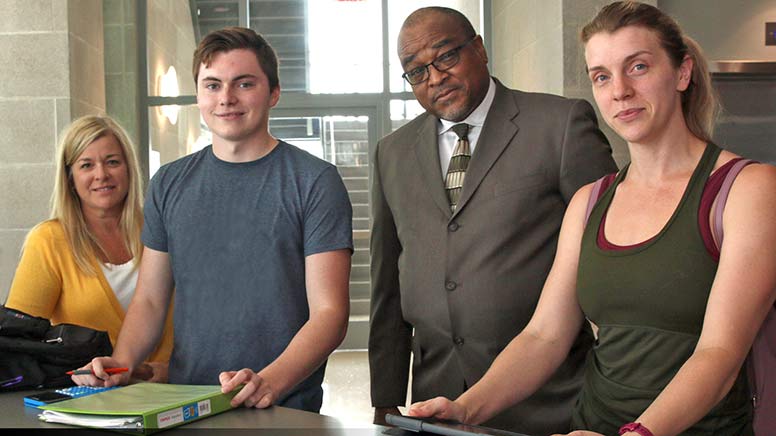 Cecil College was recently designated a National Center of Academic Excellence (CAE) in Cyber Defense Education by the National Security Agency (NSA) and the Department of Homeland Security (DHS). Seen here are Cecil College Cybersecurity Assistant Professor Jackie Wilson, Cybersecurity student Conlan Foster, Cecil College Cybersecurity Associate Professor Dr. James Morgan, and Cybersecurity student Brittney Barnett.
---
NORTH EAST, Md. – The dangers of cybercrimes make the headlines daily from Baltimore to Philadelphia, emphasizing the importance of training today's cybersecurity students to be the best at stopping these attacks. Cecil College is proud to announce it has taken steps to meet these challenges as the institution was recently designated a National Center of Academic Excellence (CAE) in Cyber Defense Education by the National Security Agency (NSA) and the Department of Homeland Security (DHS).
"Your ability to meet the increasing demands of the program criteria will serve the nation well in contributing to the protection of the National Information Infrastructure. The National Cyber Strategy, September 2018, addresses the critical shortage of professionals with cybersecurity skills and highlights the importance of higher education as a solution to defending America's cyberspace," said Karen Leuschner, National CAE Program Manager, NSA, in the acceptance letter Cecil College received this week. "A highly skilled cybersecurity workforce is a strategic national security advantage."
The goal of the program is to reduce vulnerability in national information infrastructure by promoting higher education and expertise in Cyber Defense (CD). There are more than 270 top colleges and universities across 48 states, the District of Columbia, and the Commonwealth of Puerto Rico designated as CAEs in cyber defense.
"The designation signifies that Cecil College's cybersecurity programs meet the National Security Agency and the Department of Homeland Security quality standards and relevance, ensuring that our students receive an education grounded in cybersecurity best practices," said Cecil College President Dr. Mary Way Bolt.
Cecil College is now the seventh community college in the State of Maryland to hold this certification. All regionally accredited two-year institutions in the United States are eligible to apply to become a CAE-CD school. Institutions are designated based on their robust degree programs and close alignment to specific cybersecurity-related knowledge units, which are validated by top subject matter experts in the field.
Cecil College's Associate of Applied Science degree in cybersecurity prepares students to enter the workforce or transfer to a four-year institution for continued study in cybersecurity. Students demonstrate proficiency in programming language, secure Windows and Unix/Linux server and clients, routers, firewalls, email, networks, and other network security appliances and software. They also have an opportunity to earn their A+ Certification, Network Certification, Security+ Certification, and Cisco Certification before graduation. Students with bachelor's degrees in cybersecurity continue their education in graduate school or enter the workforce as a network, forensic, or computer security expert.
To become a CAE-CD institution, Cecil College had to demonstrate its commitment to providing high-quality education in professionally relevant fields. Cecil College's designation in cyber defense extends through the academic year 2024.
"This designation means our cybersecurity program's stringent academic criteria reaffirms our commitment in the fields of Information Assurance and Cyber Defense education," said Cecil College Associate Professor James A. Morgan, Ph.D. "The United States government will continue to invest in and enhance programs that build the domestic talent pipeline, from primary through post-secondary education."
According to the United States Bureau of Labor Statistics, employment in cybersecurity is expected to increase by 18 percent from 2014 to 2024, much faster than the average for all occupations. Additionally, the 2015 Burning Glass Job Market Intelligence report indicates that job postings for cybersecurity positions have grown three times as fast as overall IT jobs and command an average of $6,500 more in annual salaries.