Cecil College hosts LGBTQ+ conference
Published on June 25, 2018 under Academics, Alumni, Faculty & Staff, Foundation, General News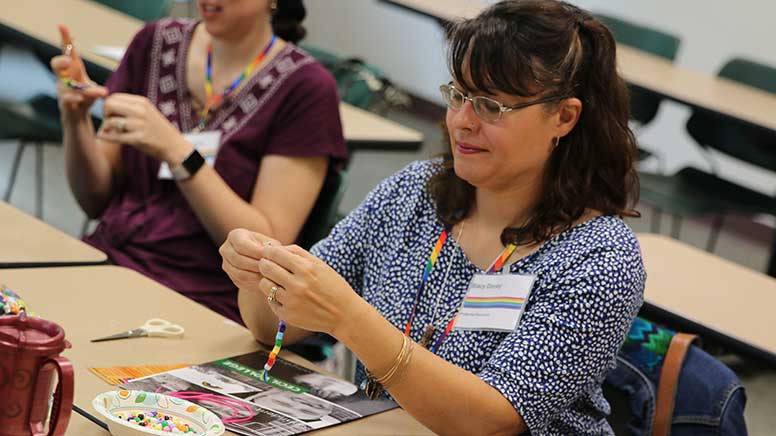 ---
NORTH EAST, Md. – With the aim of promoting safe college campuses for everyone, Cecil College hosted the LGBTQ+ Summer Conference on Community Inclusivity on Friday, June 22, in the Technology Center on the North East Campus.
More than 70 participants representing 10 Maryland community colleges and a dozen more organizations from throughout the tri-state region, were in attendance. The conference was organized and co-sponsored by Cecil College and Harford Community College.
There were three breakout sessions with each offering two lectures. The topics of these lectures and discussion groups included, "Creating a Culture of LGBTQ+ Visibility and Support on Campus," "Activities and Programming for LGBTQ+ Students Organizations," "Opportunities for Equity and Social Justice," and "The Journey from Awareness to Action."
The conference included two workshops on creating Safe Zone sensitivity and advocacy training along with a Wear Your Pride workshop where individuals made "Gay Pride" jewelry.
The keynote speaker was Dr. Luke Jensen, whose lecture "You Gotta Give Them Home" explored the concept of hope and its importance for LGBTQ work in higher education. Dr. Jensen is a leader and pioneer for the underlying infrastructure that supports LGBTQ people and LGBTQ work at the University of Maryland.
The conference wrapped up with a panel discussion on "The Importance of Maintaining Hope in Uncertain Times" followed by a session of closing reflections. Participants were asked to reflect on one hopeful takeaway from their experience during the conference as well as what can individuals do to change the culture on their college campuses.