Cecil College hosts Mind, Body & Spirit Festival
Published on January 5, 2023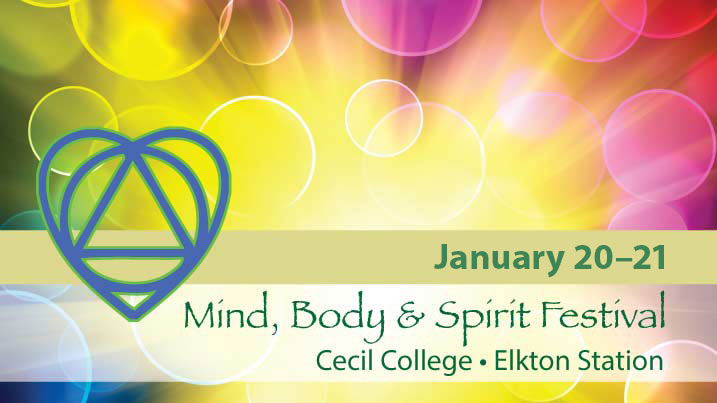 ---
ELKTON, Md. – Celebrating the start of a new year and nurturing the body and soul is the message for the 2023 Mind, Body & Spirit Festival, held annually in the halls of Cecil College's Elkton Station, located at 107 Railroad Avenue in Elkton, Md.
The two-day festival slated for Friday, Jan. 20, and Saturday, Jan. 21, is billed as a rejuvenating event that aims to draw people from all over the county and region to hear and meet local health vendors.
This annual holistic exhibition attracts hundreds of visitors looking for non-traditional remedies, elements, and exercises to aid them on their pathway to a fulfilling life. Along with discovering natural lotions and soaps for sensitive skin, a vast selection of healing crystals, aura photography, card readings, crystal energy, essential oils, health and nutrition resources, massage, meditation, reflexology, reiki, spiritual counseling, holistic medicine, and other practices aimed at making people healthier mentally, physically, and spiritually will be available.
Vendors will occupy the lobbies, hallways, and rooms of various sizes on all three floors of the building known as Cecil College's Elkton Station. A variety of sessions and workshops will be available along with a multitude of products relating to the vendors field of expertise.
The Mind, Body & Spirit Festival is free and open to the public. There is a $10 fee to attend all the workshops and breakout sessions, which can be purchased at http://cecil.mobi/eventbright or with cash on the day of the event. The scheduled hours are Friday, Jan. 20 – 6 – 9 p.m.; and Saturday, Jan. 21 – 9 a.m. – 5 p.m. For more information, visit www.cecil.edu/MBS.