Cecil College inducts seven to Athletics' HOF
Published on April 25, 2022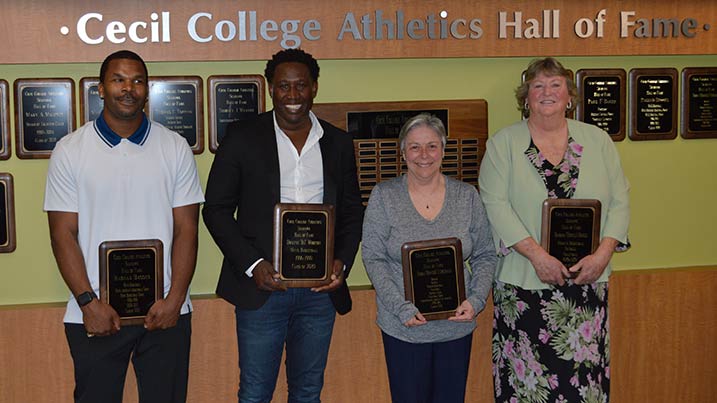 Seen here are Rashad Brooks, Dwayne "DJ" Wootson, Debra (Bowers) Fitzgerald, and Barbara (Howell) Monger.
---
Induction was delayed two years due to the pandemic
Cecil College held its Athletics Hall of Fame induction ceremony on Saturday, April 23, with seven of its icons recognized. The Class of 2020 includes pioneers who all had a hand in the Cecil athletic programs' creation, development, and growth. These individuals were honored as the Class of 2020 as the ceremony was originally planned for two weeks after the pandemic lockdown.
The Hall of Fame committee, made up of alumni, current coaches, and staff, will bestow honors upon Paul Bauer, Debra (Bowers) Fitzgerald, Barbara (Howell) Monger, Rashad Brooks, Dwayne "DJ" Wootson, Michael McCardell, and Wayne Franklin, at the ceremony honoring the Class of 2020.
The induction ceremony was held in the Physical Education Complex on the North East Campus. Also being honored was Baseball Coach Charles "Charlie" O'Brien for his induction into the NJCAA Baseball Coaches Association Hall of Fame!
The purpose of the Cecil College Athletics Hall of Fame is to honor individuals who, through participation, support or interest, have made outstanding contributions or brought recognition to the athletic programs of Cecil College.
Members of the public and campus community joined Cecil College Athletics in celebrating these individuals. The accolades of this year's class include:
A professor of philosophy and social sciences, Paul Bauer's devotion to the success of student-athletes during his career at Cecil College was second to none. His belief in the impact of athletics on a student's success in the classroom and life was evident when he established the Ted and Mary Bauer Softball Scholarship in memory of his parents. His influence reached beyond Cecil College as he taught each student-athlete inducted this year.
Debra Fitzgerald was a four-sport athlete at then Cecil Community College from 1978-1980, earning an Associate of Arts in Business Management. She competed in the volleyball, basketball, bowling, and softball programs, earning Most Valuable Player honors both years on the softball diamond and at the net for the volleyball team in 1979, along with Athlete of the Year in 1980. Upon graduation, she continued her career with the Seahawks as a volleyball and softball programs coach. She went on to coach volleyball at Goldey Beacom College in Delaware.
A native of North East, Md., Barbara Monger was a three-sport athlete at then Cecil Community College, having turned down a scholarship to American University to remain close to home. During the 1978 and 1979 seasons, she competed in the women's basketball program, softball squad, and volleyball team. Monger received multiple post-season honors, including All-NJCAA Second Team in volleyball, All-Region XX Second Team twice for basketball, and All-Region XX Second Team twice for softball. She currently lives in Rising Sun, having had a 37-year career with the Department of the Army at Aberdeen Proving Grounds.
Rashad Brooks was a standout on the men's basketball team from 1996-1999, having red-shirted one season. He was a 1,000 point scorer for the Seahawks while averaging 17.5 points per game, 4.9 rebounds, and 5.9 assists over 61 games. In the post-season, he was honored with First Team All-Maryland JUCO, All-Region XX, and Third Team All-American. He returned to Cecil College in 2009 to coach the Seahawks for three seasons, accumulating a 79-18 record and guiding Cecil to a sixth-place finish at the NJCAA National Tournament.
Dwayne "DJ" Wootson was the iron man for the Seahawks during the mid-90s and became the all-time leading scorer at Cecil College. Scoring 1,519 points in 62 games over two seasons, Wootson averaged 24.5 points along with 5.3 assists and 3.5 rebounds. In the 1998-1999 season, he was named First Team All-Maryland JUCO, Second Team All-Region XX, and All-Tournament Team at the NJCAA National Tournament.
Michael McCardell was a standout in the Seahawks' baseball program, drafted by the Cincinnati Reds organization. During his freshman season at Cecil, he earned All-Maryland JUCO honors and was named to the All-Region XX team. The following season, he was again honored as one of the top players in Maryland JUCO and Region XX. He was also selected to the NJCAA All-American team, highlighting his being named Cecil College Outstanding Male Athlete. He was drafted in the tenth round and went on to be signed as a free agent by the Pittsburgh Pirates in 1981.
Wayne Franklin is a North East High School graduate who played for Cecil College before competing at the University of Maryland at Baltimore County. The Los Angeles Dodgers drafted Franklin in the 36th round of the 1996 amateur draft. His Major League debut was July 24, 2000, with the Houston Astros, and he played for five teams over six years. His MLB record was 11-16 with a 5.54 ERA.
Charles "Charlie" O'Brien's presence throughout the tri-state region goes far beyond the chalk lines on the baseball field. With more than 20 years of NJCAA coaching experience, O'Brien has made a difference in the lives of hundreds of students through support long after they have left Cecil College.
At Keystone College in northern Pennsylvania, his teams won 136 games before returning to Cecil County in 1995. Under his guidance, the Seahawks have accumulated 586 victories, earning him the Maryland Junior College Conference Baseball Coach of the Year award three times. He was also a three-time recipient of the NJCAA Region XX Coach of the Year and the 2011 NJCAA Northeast District Coach of the Year.