Cecil College launches new STEM degree
Published on November 20, 2020 under Academics, Faculty & Staff, General News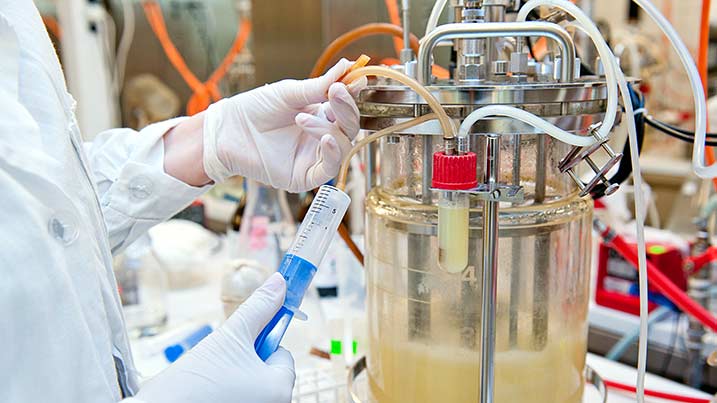 ---
NORTH EAST, Md. – As part of its continuing commitment to provide education pathways for in-demand careers, Cecil College is offering a new degree program focused on cutting edge technology in the field of bioprocessing. The Bioproduction Program is an Associate of Applied Science degree that harnesses cellular processes to create vital industrial and medical products.
This program can be completed in just four semesters. Students are introduced to the requisite skills and knowledge that support transfer to a four-year program or start working in entry-level positions in the industry.
"Pharmaceutical products are of great importance at this time due to the current pandemic crisis and the immediate need for treatments and vaccines on a global scale.  Career opportunities in this field are available to community college graduates who wish to seek employment, but transfer to four-year institutions for advanced degrees is also available," said Christine Warwick, Assistant Professor of Biology and Department Chair at Cecil College.
Bioproduction uses living cells to produce desired products, incorporating aspects of biology, engineering, and chemistry, and integrates many technologies, including cell culture, protein production and analysis, microbiology, and biotechnology.  Students will learn these techniques in Cecil College's state-of-the-art laboratories and during their fourth-semester internship that immerses them in the field of bioproduction.
"Community Colleges have always been known to provide students with pathways to cutting edge academic and employment opportunities. Cecil's Bioproduction degree is the perfect example of Cecil College's ability to develop a course of study that allows a student to translate life science into a variety of in-demand careers," said Cecil College President Mary Way Bolt, Ed.D.
This degree program is the stepping stone to health and medicine careers, therapeutic proteins production, vaccine development and production, and biofuel production. In this career field, graduates are involved in preparing cell cultures for virus inoculation and viral seeds, and other laboratory procedures.
"Bioproduction is a hands-on program that allows students lab experience at Cecil and culminates in real-world experience in bioproduction during their last semester.  Students working in the field will use living cells to produce protein products such as antibodies or enzymes.  Environmental products such as biofuels as well as pharmaceutical agents including therapeutics and vaccines are manufactured using upstream and downstream biomanufacturing processes," said Warwick.
The Bioproduction program is especially attractive to anyone interested in STEM, specifically biology, cellular and molecular biology, microbiology, biotechnology, engineering, and chemistry.
There are many ways to learn more about the Bioproduction Program or the many other STEM degrees offered at Cecil College. You can visit cecil.edu/stem, contact Assistant Professor Christine Warwick at cwarwick@nullcecil.edu, or contact Admissions at  admissions@nullcecil.edu or 410-287-1006.