Cecil College participates in sixth annual Shop With a Cop
Published on December 20, 2017 under Faculty & Staff, General News
---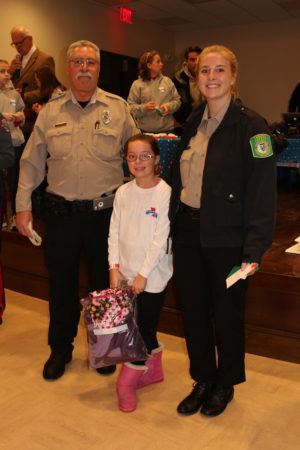 Cecil College Public Safety participated in its first Shop With a Cop event on Saturday, December 16.  The event, which pairs area law enforcement with local children to help ensure an enjoyable holiday for deserving kids, is in its sixth year of providing toys and gifts in a fun way. Shop With a Cop has grown from 8 children participating in the inaugural year to 106 children enjoying the festivities in 2017.
On that morning, children, along with their parent or guardian, gathered at the North East Fire Company to meet their law enforcement shopping companions.  On the way to the North East Walmart, many were able to ride in an official police vehicle with lights and sirens blaring.  Upon arriving at Walmart, the children chose holiday gifts for themselves and, in many cases, a sibling or loved one.
Special Police Officer, Curtis Barranco and Public Safety Officer, Michelle Keane, both from Cecil College, participated for their first time in this memorable event.  "It was an eye-opening experience to witness less fortunate children obtaining Christmas presents while bonding with local law enforcement officers," said Officer Barranco.
Alyssa Ratliff, age 9, strolled the aisles with her companion officers from Cecil College, in search of snow boots, sweatpants, a nice dress, roller blades, a helmet, and new stuffed bears for her room. Alyssa found most of the items on her list.
After shopping at the North East Walmart, families gathered at the North East Fire Company for a meal while volunteers wrapped the gifts. This is Cecil College's first year participating in Shop With a Cop; a heart-warming event made possible through community efforts and fund raising events throughout the year.  "Having a positive outreach to the community and to aid a family less fortunate than my own was a powerful and meaningful experience," noted Officer Keane.