Cecil College receives PTDI certification
Published on September 27, 2019 under Academics, Faculty & Staff, General News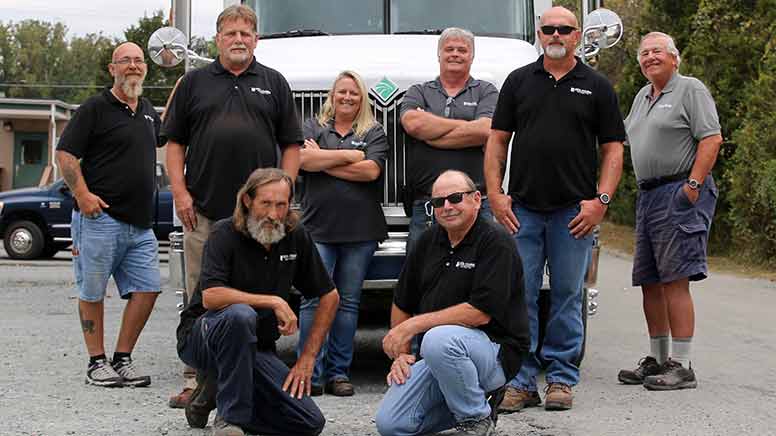 Seen here are the instructors at the Cecil College CDL Training Program: Front row: James Feininger and Ronald Phillips. Back row: Scott Richardson, Robert Classon, Tina Durborow, David Schirling, David Kachel, Daniel Benham.
---
NORTH EAST, Md. – Cecil College recently received a certification of its truck driver training course from the Professional Truck Driver Institute (PTDI).  PTDI, a standards-setting and certification body, verified the school's excellence through a full review.  The rigorous process ensures high-quality training for entry-level truck drivers.  With its new certification, Cecil College's CDL Training Program exceeds all government minimum training requirements.
"Cecil College's outstanding truck driving program has earned certification from the Professional Truck Driver Institute, acknowledging the quality education provided by our professional truck driving staff. This certification also gives merit to the fact that local and regional employers have sought out our truck driver graduates since the program's inception because they know Cecil College students have completed a rigorous program with industry-leading standards," said Cecil College President Mary Way Bolt.
Founded in 1986 as a nonprofit organization, PTDI has long recognized the need to ensure that entry-level commercial motor vehicle drivers are responsible, safe professionals who adhere to established industry standards.  As a result, the organization facilitated the development of skill, curriculum, and certification standards by bringing together representatives from various industry stakeholders, including driver training schools and trucking safety interest groups.  These industry-leading standards ensure that students are adequately trained to handle the demands of the truck driving profession safely.
"We are very excited to award Cecil College, the PTDI certification. They join an exclusive group of programs who are committed to driver professionalism and the highest quality training available," commented Tim Blum, Executive Director of PTDI.
"The PTDI certification is confirmation of the outstanding job our instructors do to ensure each student receives the training they need to become safe and lifelong professional drivers. Their dedication and professionalism show through in the success of our students," said Director of Transportation Training Tina Durborow.
To earn certification, Cecil College's CDL Training Program was required to demonstrate how it meets the gold standard of truck driver training.  PTDI requires minimum training hours even though the U.S. federal government does not.
Hallmarks of the PTDI standards include: truth-in-advertising; training from qualified instructors who receive ongoing professional development; capable student, instructor and vehicle ratios; good quality and well-maintained vehicles; professional classroom and range conditions; a minimum 148 hours of combined instruction; 44 hours of student hands-on-the-wheel driving instruction; and a minimum of 80 percent pass rate on classroom tests and driving assessments.
"This designation (PTDI Certification) is great for our students.   They will enroll in our program confident the training they receive has been vetted by a nationally recognized organization and that it meets federal standards.  Furthermore, graduates of PTDI programs have an advantage over the competition in the job market," said Dean of Career and Community Education Miles Dean.
PTDI standards and certification promote a variety of valuable interests and objectives, including enhanced safety for the motoring public, reduced risk exposure for insurance companies and motor carriers, minimal remedial driver training time, improved sense of driver professionalism, and enhanced student driver opportunities.
For additional information, contact Tina Durborow, Director of Transportation Training, at (410) 287-1615 or email tdurborow@nullcecil.edu, or PTDI at 720-575-7445, info@nullptdi.org, www.ptdi.org.
—–
PTDI is a nonprofit organization established for developing uniform entry-level truck driver training and motor-carrier driver finishing standards.  Widely known as the gold standard for driver training best practices, PTDI helps organizations adequately prepare their drivers for the responsibility of operating a heavy vehicle on our roadways.  Headquartered in Denver, Colorado, PTDI Certified training courses can be found throughout North America.