Cecil College student's artwork in juried exhibition
Published on October 15, 2019 under Academics, Faculty & Staff, Fine Arts, General News, Student Life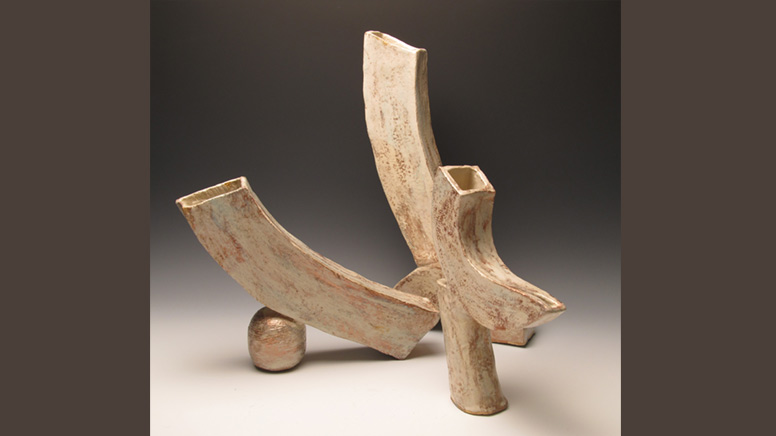 ---
ELKTON, Md. – Discovering one's passion can lead to opportunities never thought possible. For Mary Jo Fitz, it led to a possibility she hadn't considered but is now providing her with significant confidence in her abilities.
As a non-traditional student, Fitz discovered her passion for ceramics later in life while taking a non-credit course in Cecil College's Lifelong Learning program. Fast forward to today, and her work is gaining regional recognition.
Fitz, a resident of Port Deposit, had her first piece selected to be included in the Fifth Annual National Juried Exhibition that is being hosted by the Oxford Arts Alliance in Oxford, Pa.
"This is a big thing because an independent juror selects the exhibit pieces from hundreds of submissions," said Fitz, who is enrolled at Cecil College with a focus on ceramics.
For this juried exhibition, there were more than 370 submissions, with only 40 pieces selected to be shown. The juror is Ryan Grover, curator of Biggs Museum of American Art in Dover, Del., which houses a remarkable collection of American fine and decorative arts, with regional strengths, made from 1700 to the present.
The opening reception for the Fifth Annual National Juried Exhibition is slated for Friday, Oct. 18, from 5 – 8 p.m.
"This is my first time submitting a piece for this kind of exhibit, so it is exciting," said Fitz. "I tend to do one-of-a-kind pieces, which are what they are looking for in a gallery show."
The award ceremony and juror talk will be Sunday, Oct. 20, at 1 p.m. This exhibit runs through Nov. 8.