Cecil Fest celebrates 50 years
Published on August 14, 2018 under 50th Anniversary, Academics, Alumni, Athletics, Faculty & Staff, Fine Arts, Foundation, General News, Student Life, Visual Communications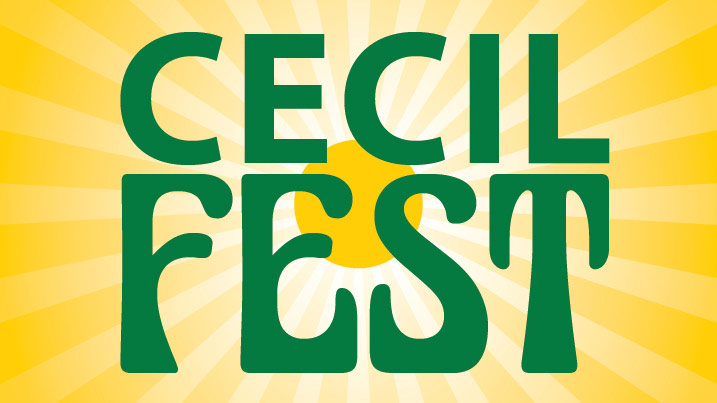 ---
NORTH EAST, Md. – Join Cecil College in celebrating 50 years of transforming lives through education across the tri-state region during the Cecil Fest on Saturday, Sept. 22, from noon to 4 p.m. on the North East Campus. Cecil Fest is free and open to the public.
Cecil Fest will highlight everything the College has to offer the community in a fun and entertaining atmosphere. Take advantage of the 50th Anniversary Photo Booth and share your photos with #cecilfest, or enjoy free popcorn while viewing short films written and produced by Cecil College students. Purchase a snack or meal from the many food trucks and enjoy your meal while listening to musical selections performed by Cecil College Performing Arts students.
If you want to be blinded by science, come experience chemistry demonstrations that'll enlighten all as they see first-hand the power of "Gas Laws." Spectators will watch exploding cans, freezing balloons, and the ever-growing giant marshmallow. Further exhibits in the STEM field will include the science behind sound waves created by lightning and the mysteries and power of tornados.
For the health conscious, the Nursing department will demonstrate healthy living styles while the Fitness and Wellness Center will provide tips and information on how to get the most out of a daily exercise routine without injury.
For anyone interested in learning the tricks and trades of photography and videography, or just getting a glimpse behind the curtain of video gaming, the faculty in the Visual Communications department will provide access to the College's photo studios and computer gaming lab. The English department's faculty will hold book readings for children throughout the day while adults enjoy poetry readings by renowned local author Susan Bernadzikowski.
Cecil College is home to the region's prestigious Milburn Stone Theatre and its art gallery. Visitors will be able to browse the artwork of local students and tour the theater at the top of each hour. Watch as your children, or the children of your neighbors, perform improv stage renditions of well-known plays. Be amazed by the wandering minstrels and Shakespearian readings.
Cecil Fest offers something for everyone. Did you know Cecil College is the host of the region's only truck driving school, as well as offering drivers' education and motorcycle training classes? It is also home to one of the most intriguing and active summer camp programs in Cecil County and provides life-long learning opportunities.
Are you thinking of attending Cecil College? Admissions representatives will be providing campus tours (1 p.m., 2 p.m., 3 p.m.) as well as information and resources regarding the numerous degree and certificate programs at the College. Stop by their table on the first floor of Building A.
To learn more about what Cecil College has to offer in both the credit and non-credit divisions, many representatives will be on hand to answer questions and guide participants to the music, classroom games and demonstrations. Attend three Cecil Fest activities, get your "schedule" stamped, and get entered to win Cecil Fest prizes. Take your stamped schedule to the Cecil College Foundation table to enter.
(NO PETS PLEASE)