Cecil hosts annual nursing-student workshops
Published on April 15, 2019 under Academics, Faculty & Staff, General News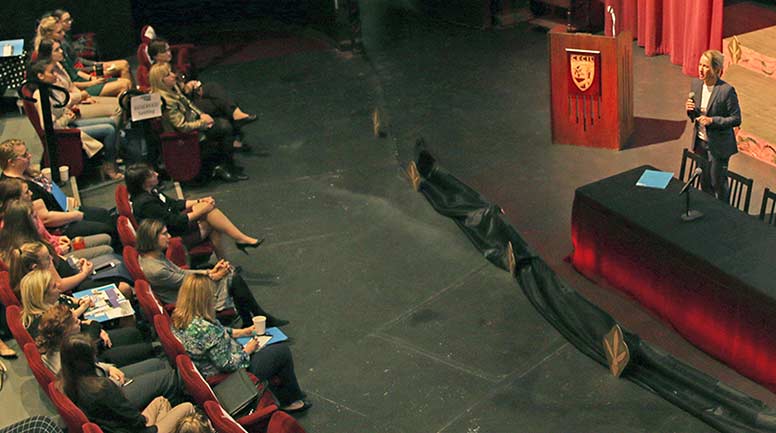 ---
NORTH EAST, Md. – Cecil College hosted the Third Annual Nursing Student Professional Development Workshop on Friday, April 12, in the Milburn Stone Theatre on the North East Campus with more than 130 participants from across the State of Maryland.
These workshops are designed to provide students in their final year of nursing programs with the tools necessary to support transition into nursing practice. This annual conference is sponsored by a grant from the Maryland Higher Education Commission's Nurse Support Program, which is shared by the nursing programs at Cecil College and Harford Community College.
"The purpose behind these workshops is to support career goals. The grant's initiative focuses on academic progression and professionalism in nursing," said Academic Progression Coordinator, Laura Schenk. "This year's panel discussion covers the transition into nursing practice and maintaining their professionalism through professional nursing organizations."
Cecil College hosted this event two times with last year's event held at Harford Community College. This year's conference drew students from both colleges as well as from Carroll Community College, University of Maryland School of Nursing, Johns Hopkins University, Anne Arundel Community College, Essex Community College, and Community College of Baltimore County.
"The attendance has grown as well as the topics presented," said Schenk, who earned a Bachelor in Science in Nursing from Stevenson University along with a Master in Science of Nursing in Education. "My role is to personalize the workshops to meet the students' needs. I reviewed the surveys from the last workshop to see what specific areas the attendees liked the most. We found they enjoyed the panel discussion and I also took feedback from Maryland nursing program directors and deans to know what the focus of the keynote speaker should be."
This year's keynote speaker was Sorrel King, author of  "Josie's Story: A Mother's Inspiring Crusade to Make Medical Care Safe." She began an initiative around patient safety after a medical mistake in the hospital caused the death of her 18-month-old daughter, in 2001. Also on hand for the conference were university representatives for nursing students who wish to continue their education towards a BSN or MSN.
The Nursing Student Professional Development Workshop is part of a five-year grant initiative awarded to Cecil and Harford colleges, to support academic progression and professional development. This grant was a collaborative effort spearheaded by Dr. Christy Dryer, Vice President of Academic Programs at Cecil College and Laura Cianelli Preston, Dean of Nursing and Allied Health Professions at Harford Community College.
"I would like to see this program become a statewide focus. In the planning of this workshop, I reached out to the other program coordinators to make sure it was tailored to their students' needs. I found we have similar goals of supporting our students to see them go on to achieve their professional goals," said Schenk.